The Dovpo Riva proves that there's still place for large dual battery DNA devices, but it's not without fault. It's bulky, power hungry and awkward to carry, but it performs absolutely flawlessly.
---
Dovpo Riva DNA 250C Verdict – 79%
It feels as if DNA mods have become less relevant after the sudden influx of AIOs, even if some of these cary some form of DNA chip. Thankfully, Dovpo still believe in the benefits of an efficient, highly customizable chipset, which works oh-so-well in the Dovpo Riva. It's a take on the Wismec Reuleaux RX200, that attempts not to fix anything, but instead keep the legendary design from dying.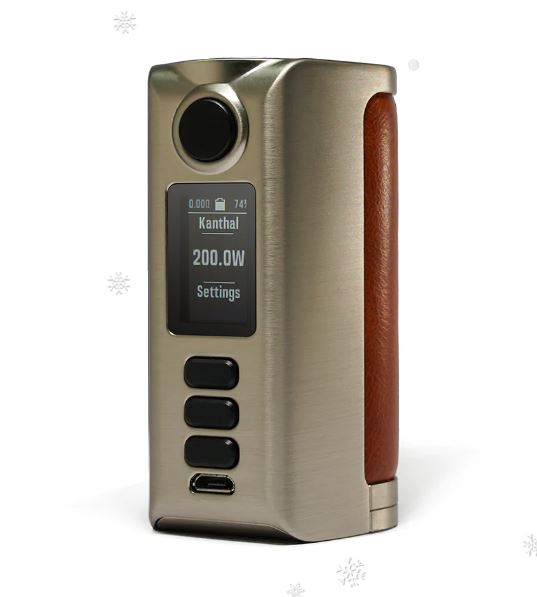 ---
Design
Dovpo haven't just taken a page out of Wismecs design book, but they ripped the page out, made a photocopy and provided it to their design team. The result is a device that's near indistinguishable from the Wismec Reuleaux, a device loved by those who used them for its comfort and pocketability, even as a dual 18650 setup. If the Riva was sold by Wismec, this would be nothing more than a refresh, which I am certainly not complaining about.
True, a dual 18650 mod will never be tiny, but the Dovpo Riva maximizes real estate by employing a triangular chassis made from Zinc-Alloy that allows parallel placement of the batteries behind the chipset and screen versus the more traditional row styled battery sled. This allows a smaller footprint of the mod at the expense of added girth.
The design isn't to everyone's taste, but it works well if comfortability and mobility is your main aim. Dovpo have updated the Wismec design by adding a leather grip around the rear of the device.
Being a DNA250c device, the front facia is familiar to most. A large, colour 0.96 inch screen sitting directly below a round fire button with power adjustment and menu buttons at the bottom. An old school mini-usb port sits at the bottom most edge of the device. Archaic, but something you need to accept if you want a DNA 250c device.
The battery door was a major concern on the Reuleaux and here Dovpo have managed to learn no lessons and use the same style hinged door of the notorious Dovpo Topside Dual; a door that is well know for failing. Take care of it and it'll last, but treat it like a summer fling and goodbye battery door.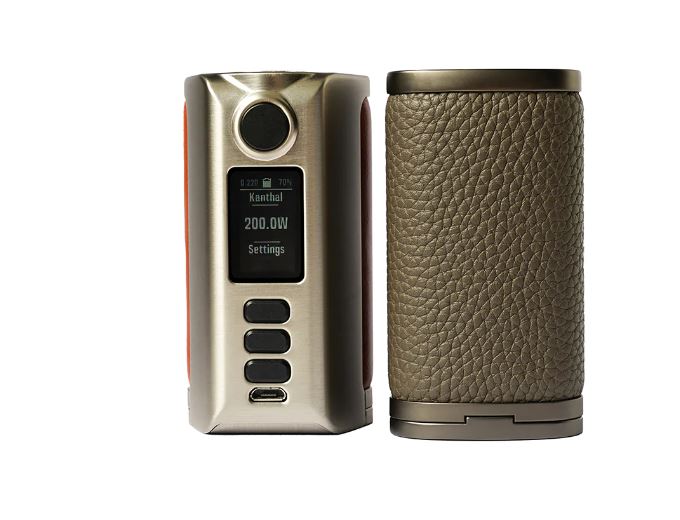 The top of the Riva can comfortably fit up to a 28mm atomizer, which should be more than enough for most of us, I can't help but wonder why the 510 connection isn't moved to the centre to fit a theoretical 32mm atty. I'm assuming bean counters deemed atomizers of that size isn't commonly used and the added cost isn't justified, but I'd certainly love to plop a Steam Crave Ragnar on there for giggles.
Apart from a flimsy battery door, build quality is excellent and the Riva looks right at home between other DNA devices. No creaks or rattles and a solid hand feel. Full marks here.
Performance
The Dovpo Riva DNA250c performs as you would expect, it's a DNA after all.
As with all DNA250s, the Riva has a maximum power output of 200 watts that's easily obtainable with a set of good quality 18650, if you're crazy enough to try. Don't expect your batteries to last though as 200 watts will be extremely taxing on any cell.
Power output feels (and is) accurate and delivery is smooth and effortless with almost no ramp up.
I've said this over and over again, but temperature control is spot on, it is what DNAs are built for after all. From 200F to 600F, the DNA keeps the temperature constant even as your tank runs dry, preventing dry hits. To be fair, it is a pain in the arse to setup in Evolv (DNAs customization software) if you're new to it, but get it right and man, you'll never want to use anything but a DNA. I despise TC, but every time I pick up a DNA, that's what I use, it's that good.
Battery life on the Dovpo Riva is good too if you're keeping power to normal level. Anywhere to around 60-70w will see you happily get 2-3 days of usage out of a single charge on good, fresh shells. Go over that 70w limit and you'll drop to a day and a half, which is still pretty darn good.
I'm thankful for the efficiency, because DNAs still use a charging port from back when Noah had to charge his sat phone with micro USB to find dry land. Someone needs to tell Evolv that they need a serious hardware update.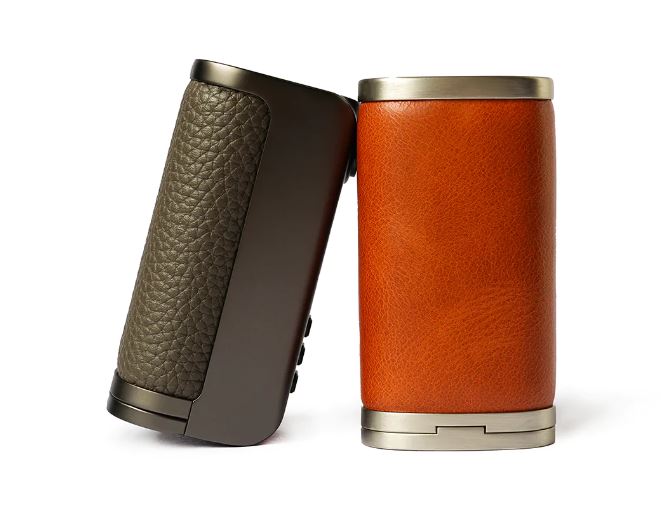 Look, I am under no false illusions that the DNA chipset is pulling the heavy weight in the Riva. A non-DNA variant is available, but I wouldn't even look at a non-DNA version of this mod, even if the form is fantastic. It makes little sense not o spend a tiny bit extra to grab the vastly superior version, even if it's only to add custom themes.
Specs:
Size: 80mm x 43mm x 39.5mm
Weight: 151g
Materials: Zinc Alloy + Leather
Wattage Range: 1-200w
Temperature Range: 200F to 600F
Battery: 2 x 18650
Dovpo Riva 250c Conclusion
The Dovpo Riva 250c takes a tried and tested chassis, shoehorns a tried and tested chipset into it and sells it below retail for similar devices. The end result is a fantastic dual 18650 mod with not quite enough issues to deduct points. As with most Dovpo products, they've missed the homerun mark by an inch, but still made a good enough effort to deserve a solid round of applause.
If you were/are a fan of the Realuex, the Riva is right up your alley, just make sure not to get the non DNA 200 version, which is lackluster even on a good day.
Red
Internationally published journalist and reviewer, unofficially certified vape connoisseur. MTL, DTL, RDTL, Red takes it any which way