EZZY Super Disposable Vape Pen – 800+ Puffs In One Pen!
By Drake Equation • Updated: 05/06/20 • 3 min read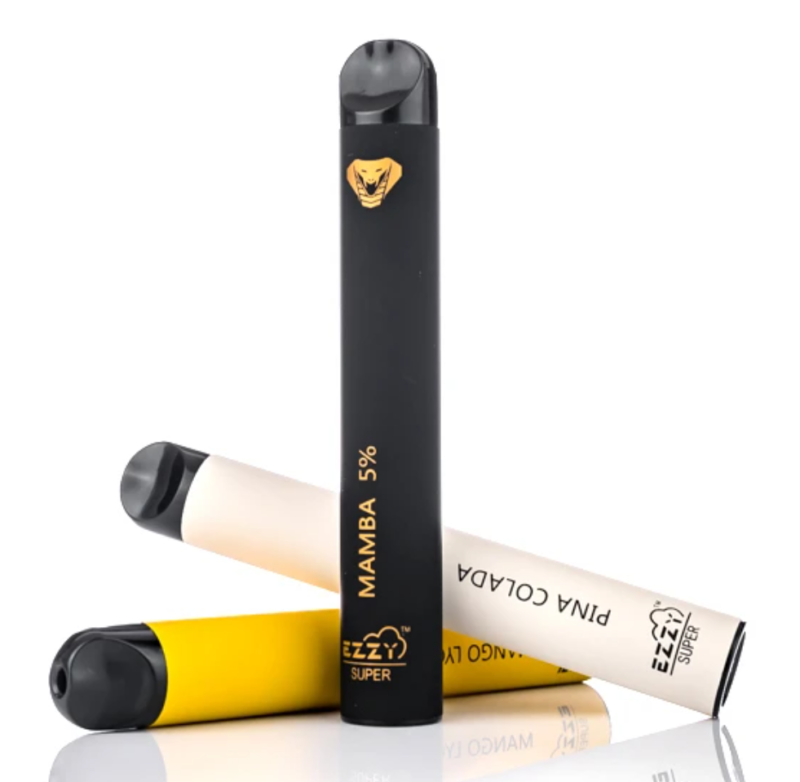 If you're looking for a disposable vape that'll go the distance, the EZZY Super Disposable Vape Pen is just what the doctor ordered – it's good for 800+ puffs!
---
One of the biggest issues associated with using disposable vape pens is that, for the most part, they don't last very long. You might get a couple of days, or a single day of use, depending on your usage.
But none really go the distance – at least they didn't until now…
The EZZY Super Disposable Vape Pen is a brand new disposable vape, available in a range of tasty flavors, that, as its main party trick, will provide you with over 800 puffs per unit. And it packs in 50MG of Nic Salts.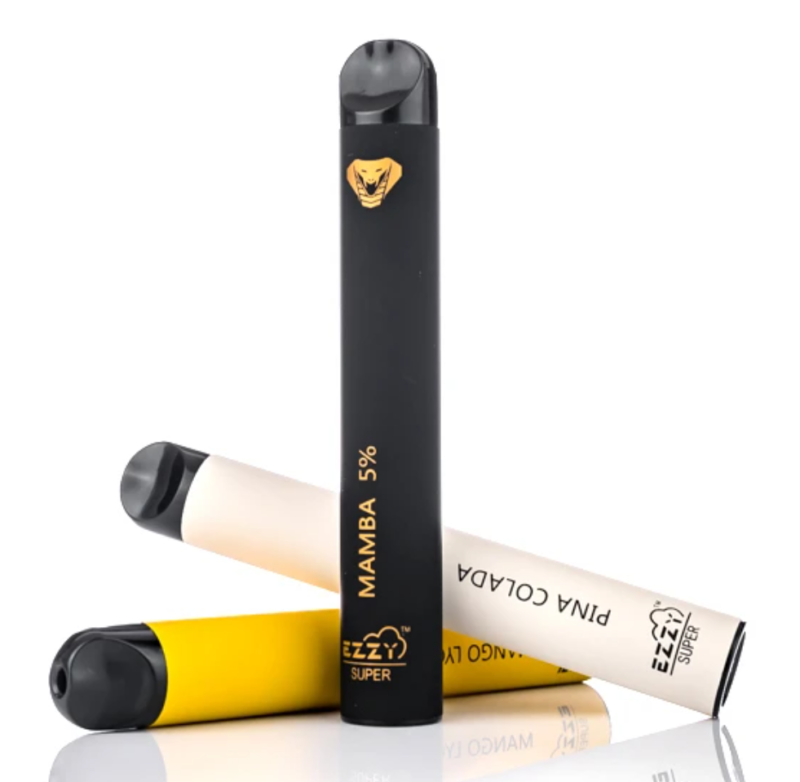 Pin
Where To Buy? VaporDNA – $13.95
That is an ungodly amount of puffs versus the current average for 99.9% of disposable vapes on the market. In our recent case study, where we compared the most popular disposable vape pens on the planet, most, at best, managed anywhere from 200 to 400 puffs before they died.
The EZZY Super Disposable Vape Pen will do 800. That's better than double the lifespan on nearly everything else on the market. And then we come to the price, which is where things get really cool: the EZZY Super Disposable Vape Pen is no more expensive than normal disposable vapes at just $13.95 a pop – not bad at all, right?
EZZY Super Disposable Vape Pen Specs
Lightweight, Small, and Portable
Internal Battery
500mAh
3.2ml E-Liquid Capacity
50mg
Draw Activation
Up to 800 Puffs
EZZY Super Disposable Vape Pen Flavors
Icy Cola
Orange Soda
Mamba
Pomegranate Ice
Guava Ice
Pina Colada
Blue Razz
Kiwi Strawberry
Berry Cool
Honeydew Ice
Frozen Banana
Mango Lychee
Lush Ice
Lemon Mint
Caramel Popcorn
Lychee Ice
Vanilla Custard
Strawberry Lemonade
Pineapple Twist
Should You Buy It?
I don't tend to use disposable vapes, as I'm a fairly hardcore vaper. My office is full of gear and I always have new stuff to test out. But if you're new to vaping, or currently smoking and want to get off the smokes and onto a vape, a device like the EZZY Super Disposable Vape Pen is perfect for doing this.
It's simple to use, there are NO moving parts, you don't need to worry about buying vape juice, and when it's done you can simply throw it away. But the really cool thing about the EZZY Super Disposable Vape Pen is that, unlike 99.9%of disposable vape pens, it will last you almost an entire week – and for just $13.95 that's pretty good value for money.
My advice? If you fit the criteria above, get yourself a few EZZY Super Disposable Vape Pens, try out as many flavors as you can, and then once the time comes to get yourself a proper vape setup, you'll know exactly what kind of flavors you like. Oh, and if you like flavor, the EZZY Super Disposable Vape Pen has some of the best-tasting flavors of any disposable vape on the market right now.
Where To Buy? VaporDNA – $13.95
Drake Equation
Co-founder and Editor of VapeBeat. I make the words.