The IQOS is now pretty much dead, thanks to some pretty serious patent infringements. But what are some of the best IQOS alternatives on the market? Let's find out…
---
If you've been thinking about picking up an IQOS, you might want to reconsider – especially if you live in the USA. After a slew of court battles between IQOS' owner – Altria – and R.J. Reynolds has effectively put a nationwide ban on the product in the United States.
---
---
Altria said its Philip Morris USA unit doesn't expect to have access to IQOS devices or Marlboro HeatSticks in 2022. An importation ban and cease-and-desist orders were imposed by the International Trade Commission in November 2021 on IQOS and the HeatSticks after a patent case was filed by rival R.J. Reynolds. Altria sells IQOS devices, while Philip Morris International makes them.

Barrons
Altria claims it is keen to bring IQOS back to the market but the odds of this happening aren't looking great. And this means that its current users, as well as those thinking about switching to IQOS, would be better off looking elsewhere for their smoking alternative.
IQOS is a weird beast, anyway. It runs on tobacco sticks that are heated not burned. In this respect, it is more like a vaporizer than a traditional vape. Personally, I tried IQOS and I absolutely hated it – it just tasted disgusting, like a damp, warm cigarette. Not good. Not when you can get vape juice that actually tastes nice and is considerably cheaper.
Best IQOS Alternatives
All of the pod vapes listed above are simple to use, highly effective and run refillable pods, so you can use your own vape juice inside them. This means you can use thousands of different flavors and brands which is way more useful than being lumbered with a few heat sticks, as you are with IQOS.
And if you don't want to make the full jump to a proper vape, you also have a plethora of very decent disposable vapes to choose from right now as well. A disposable vape is essentially the simplest way to switch to vaping. You get a pen-style device that is filled with flavored e-liquid, you unbox it and start vaping. That's literally it; there are no settings and no buttons.
As of right now, these are the best disposable vapes we have tested inside the last 18 months. They all have very decent amounts of puffs, great flavor options, and are strong enough to kick even the most brutal of smoking habits into touch.
The Best Disposable Options (Ideal For Absolute Beginners)
My Advice?
If you want my advice, go with a pod system vape. They're cheaper to run than a disposable and the IQOS. You have more freedom with flavors and juice and, for the most part, the battery life is far better too. Using any of the pod vapes listed above will save you money and get you a much better vaping experience.
And for my money, the best pod system on the market right now has to be the UWELL Caliburn G2. It vapes just like a cigarette, its coils last weeks at a time, and the flavor it delivers is always off the charts.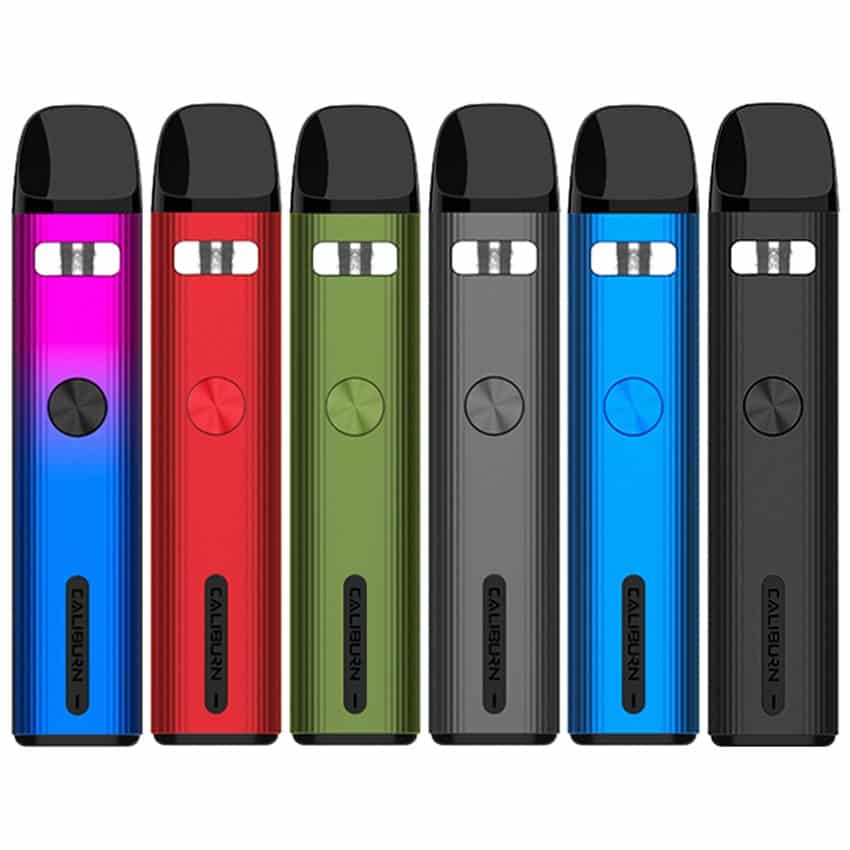 UWELL Caliburn G2
The UWELL Caliburn G2 takes everything that made the OG Caliburn so good and dials it up a notch. This means a better battery life, better coils, and better flavor. For this reason, it is easily one of our favorite pods on the market right now. A classic in the making, this one.
BEST USA DEAL
BEST UK DEAL
We earn a commission if you click this link – commissions help keep this site going.
Drake Equation
Co-founder and Editor of VapeBeat. I make the words.