If you smoke weed and want to limit your exposure to noxious chemicals, switching to a vaporizer is definitely a solid move – here's why…
---
I remember the first time I ever saw a weed vaporizer. I was in Amsterdam, it was the mid-2000s. I was young and I smoked. Both cigarettes and weed. I had no idea what it was, how it worked, or why it involved a balloon. I figured it was a Dutch thing that was exclusive to Amsterdam.
---
---
I later learned that the vaporizer I saw was a Volcano vaporizer. It had a balloon which is what threw me off so much. I watched a guy add some bud, hit a switch, and fill up a massive balloon with vapor. A man with excellent grunge-style hair then set about inhaling the entire bag. And he nailed it inside a few minutes.
Can You Buy A Weed Vaporizer?
In 2021, things have progressed massively. The Volcano vaporizer, the one I saw with the balloon, is not portable and it costs a FORTUNE. You're looking at $600 for the cheapest model. Mercifully, you don't need to worry about this type of vaporizer – unless you're swimming in cash.
Obviously, it goes without saying that you CAN buy weed vaporizers. Despite cannabis being illegal in many parts of the world, weed vaporizers are readily available to buy online and in stores. And weed vaporizers are 100% legal.
The only time you'll run into trouble with a weed vaporizer is if you're in a country or city where weed is illegal and you're packing a weed vaporizer loaded with weed. This would be a problem, so make sure you're careful if you plan on traveling with your weed vaporizer.
Are Weed Vaporizers Worth It?
Weed vaporizers are a healthier option than smoking cannabis. There is no burning involved with weed vaporizers; instead, the weed is heated up until it emits a vapor. At no point is the weed burnt; instead, it is vaporized which is markedly different from combustion, whereby the weed is burnt inside a joint or a bong.
A weed vaporizer only tends to draw out the essential stuff you want. When you burn cannabis, there are loads of noxious by-products – things like carbon monoxide and other nasty cancer-causing chemicals. With a weed vaporizer, you essentially stop your exposure to these chemicals.
And if that wasn't enough to persuade you to drop your joints and bongs in favor of a weed vaporizer, you can actually re-use your vaporized weed (sometimes called keif) to make things like space cakes and other baked goods. One of my good friends uses his vaporized weed to make THC-infused Jack Daniels.
What Vaporizer Should You Get?
Most people – meaning 99.9% of current weed smokers – will be fine with a portable vaporizer. A portable weed vaporizer like my personal favorite, the Davinci IQ2, are small devices, around the same size as a normal vape mod, and have pretty decent battery life, so they'll run for a good few hours at a time.
---
---
I own around 12 vaporizers – desktop and portable – and my current go-to vaporizer is the Davinci IQ2. For me, it is the best weed vaporizer you can buy right now for less than $300.
It beats the PAX 3 with its overall design, the fact that it runs removable 18650 batteries, and I think it delivers bigger and more flavorful vapor. You also don't need a phone to run the IQ2, unlike the PAX 3.
My Personal Favorite Weed Vape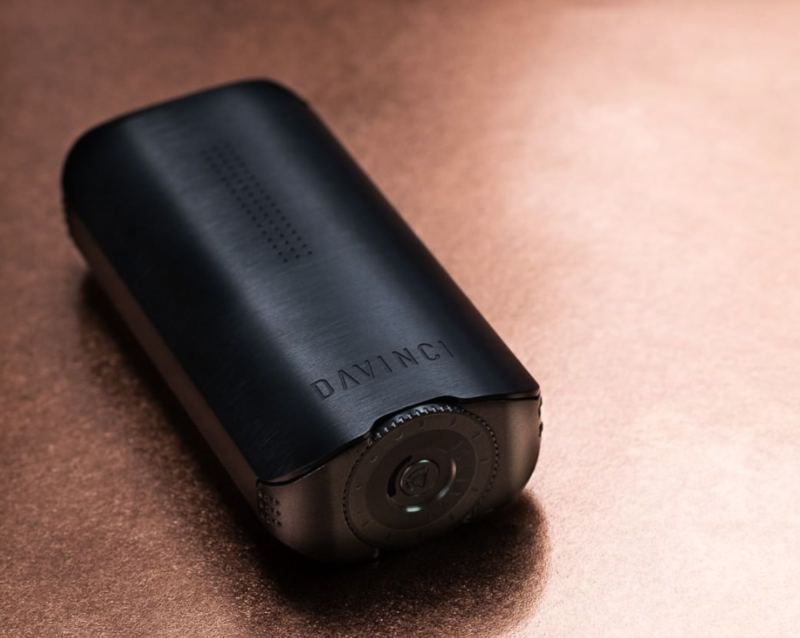 Davinci IQ 2
The Davinci IQ is a killer vaporizer. But its successor, the Davinci IQ 2, is a vastly superior weed vaporizer. The design remains largely unchanged, it still looks amazing, finished in brushed aluminum, but it now features an adjustable airflow, located on the bottom of the device, faster heat-up times, and 30% more performance. For me, the IQ 2 is 2020's #1 portable vaporizer. Bar none. 
BUY IT NOW
READ THE REVIEW
---
Davinci also does a cheaper model called the IQC. It looks the same as the Davinci IQ2 but it lacks the IQ2's adjustable airflow. If you can live without that – and you want to save some money – go with the Davinci IQC (it is $50 cheaper).
Me? I like having adjustable airflow on my vaporizer, it allows for more control during your session. But both the IQC and IQ2 are brilliant weed vaporizers. If you want a vaporizer that delivers exceptional flavor, decent vapor clouds, and is simple to use, go with the Davinci IQ2, it is fantastic. And it has been my go-to weed vape for over 12 months now.