If you smoke weed, you should be vaping it – just like Snoop Dog and Wiz Khalifa
Plenty of people smoke weed these days. Loads, in fact. People, all across history, have used Marijuana in one form or another for things like getting high, contacting spirits or just kicking back after a long day at the office.
But did you know you can vape weed?
Regardless of your opinions on weed, if you don't smoke it or condone it, that's fine, we can all agree that those that do should be encouraged to do it in the safest way possible.
Right?
Vaping weed is the safest way to "smoke" pot available – save for eating it. But that's a whole other kettle of fish (trust me!).
There are a plethora of mods and devices for doing it with too, and my personal faves are listed below.
I've tried a good few in my time, but the vaporisers listed below are the best vaporisers for vaping weed or dry herbs around.
They vary in price, but the more expensive options, predictably, are the ones that offer the best overall performance.
I own both the PAX 3 and DAVINCI IQ and they are both stunning devices.
You can read more about these below, as well some other, cheaper options.
PAX 3 Dry Herb Vaporizer – AKA One of The Best Ways To Vape Weed PERIOD.
FULL REVIEW – Click Here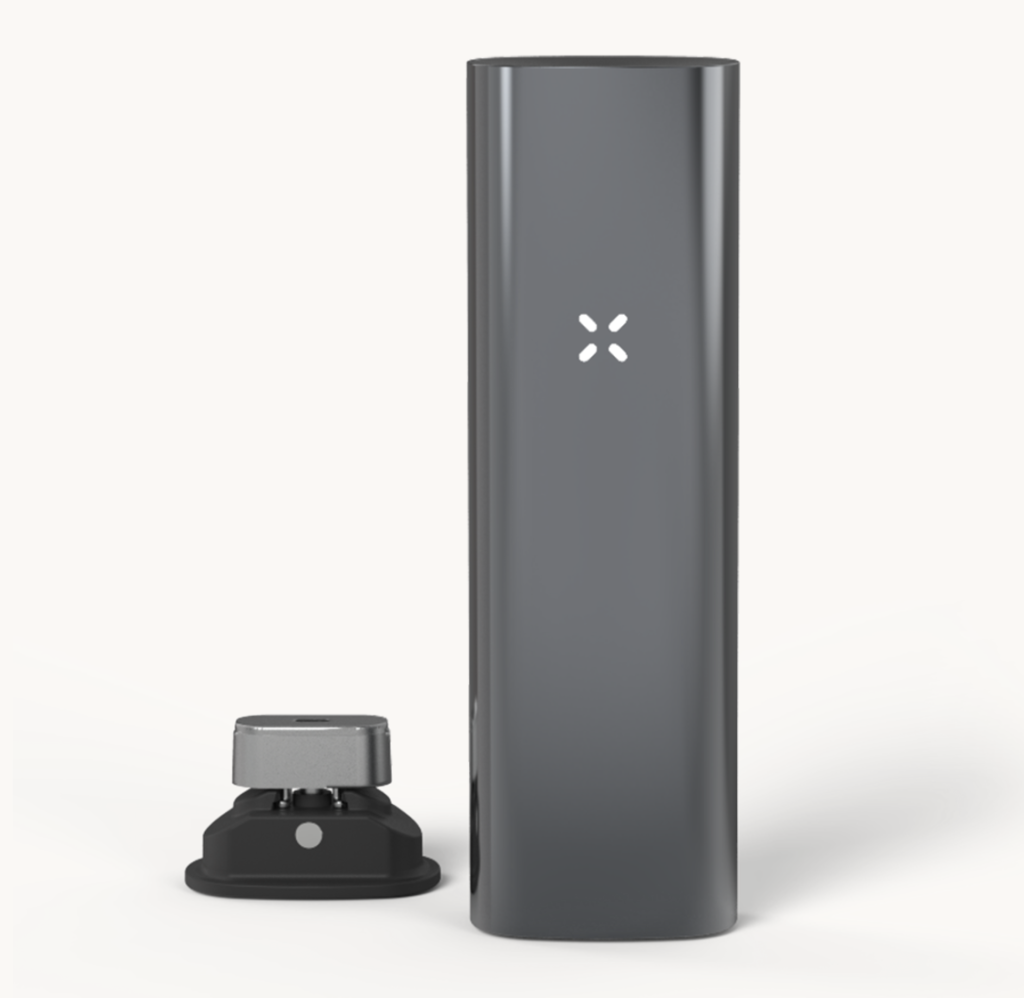 If you're looking for the absolute MAC DADDY of dry herb vaporizers though… there really is only one name in the game, and that is the PAX 3, which is highly regarded as the best performing dry herb vaporizer on the planet.
You will have to pay a rather large premium for all of this awesomeness, however – prices set at $274.99.
Once you fire up the PAX 3, though, you WILL KNOW where all that extra dosh went – this thing is insanely powerful.
Building on from the momentum established by the PAX 2, the PAX 3, while similar looking, has been re-designed from the ground up to include more power, better heat-up time, wider support via a phone app, and, best of all, twice the power of its predecessor.
PAX 3 Specs & Features
PAX 3 Vaporizer
Charging Dock
3500 mAh Replacement Battery
Concentrate Insert
PAX Screens
USB Cable
Cleaning Kit
Flat Mouthpiece
Raised Mouthpiece
Manufacturer's 10 Year Warranty
[letsreviewunique title="PAX 3 Review – How Other Reviews Rated It " score_subtitle="Is This The Best Mod For Weed?" affiliate_title="Best Place To Buy? " pros_title="PROS" pros="Amazing Design & Features,Super Easy To Use ,Wireless Support; You Can Use Your Phone With It,Outstanding Vapor Production,Great Battery Life" cons_title="Things To Keep In Mind" cons="It's Pricey. ,
PAX 2
is Cheaper (And Just As Good Where It Counts)" criterias="VapeCritic,84,VaporizerWizard,93,Vaping Daily,89,
ECIG
Click,98″ affiliate="Vapor4Life – $274.99,http://fave.co/2vFD5iG,DirectVapor – $274.95 (FREE SHIPPING),https://www.directvapor.com/dry-herb-wax-vaporizers/dry-herb-vaporizers/pax-3-portable-dry-herb-vaporizer.html?A=1190″ gallery-title="PAX 3 Pictures" gallery="3027,3026,3025″ accent="#dd3333″ final_score="95″ format="1″ skin="1″ animation="1″ design="2″ main_image="4427″]It's no surprise why the PAX 3 is likened to the iPhone, it's simple to use and performs admirably. One problem I did find, the price! All this prestige and greatness comes at a cost (though it's worth every penny). However, this is a sound investment if you're serious. PAX labs provide you with a 10-year warranty and you can certainly get your money's worth out of it. The other issue, as mentioned, is the dabs oven. It's a great idea for dual use but in my opinion to two tend to separate for reason, it's messy and dry herbing after using some dabs is annoying as you will have to give it a decent clean out.[/letsreviewunique]
---
DAVINCI IQ – Another, AMAZING Premium Option
FULL REVIEW – Click Here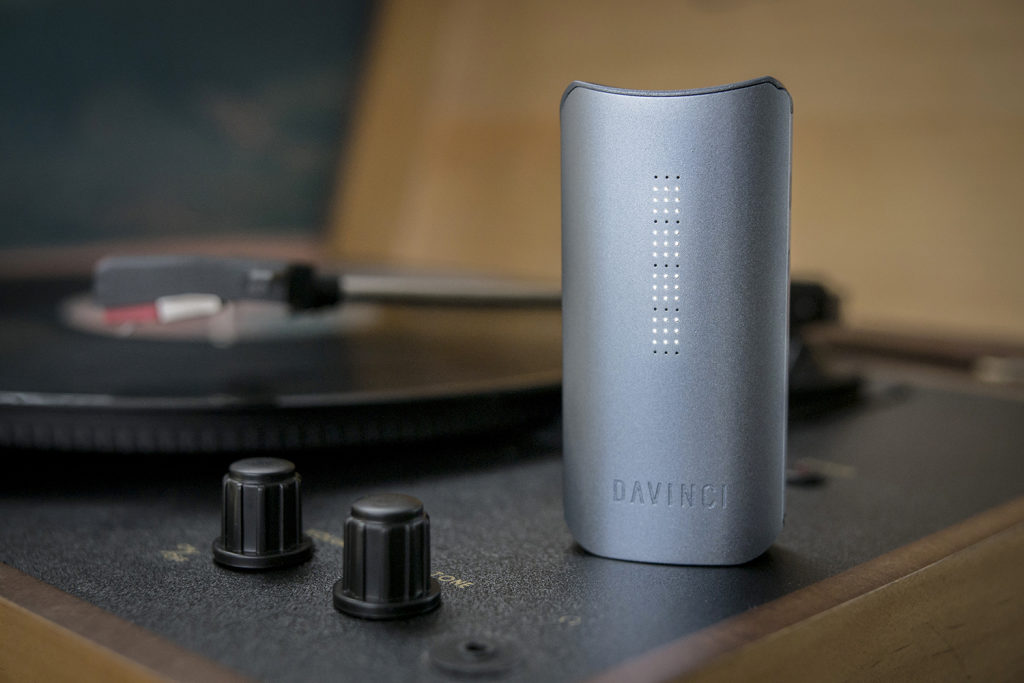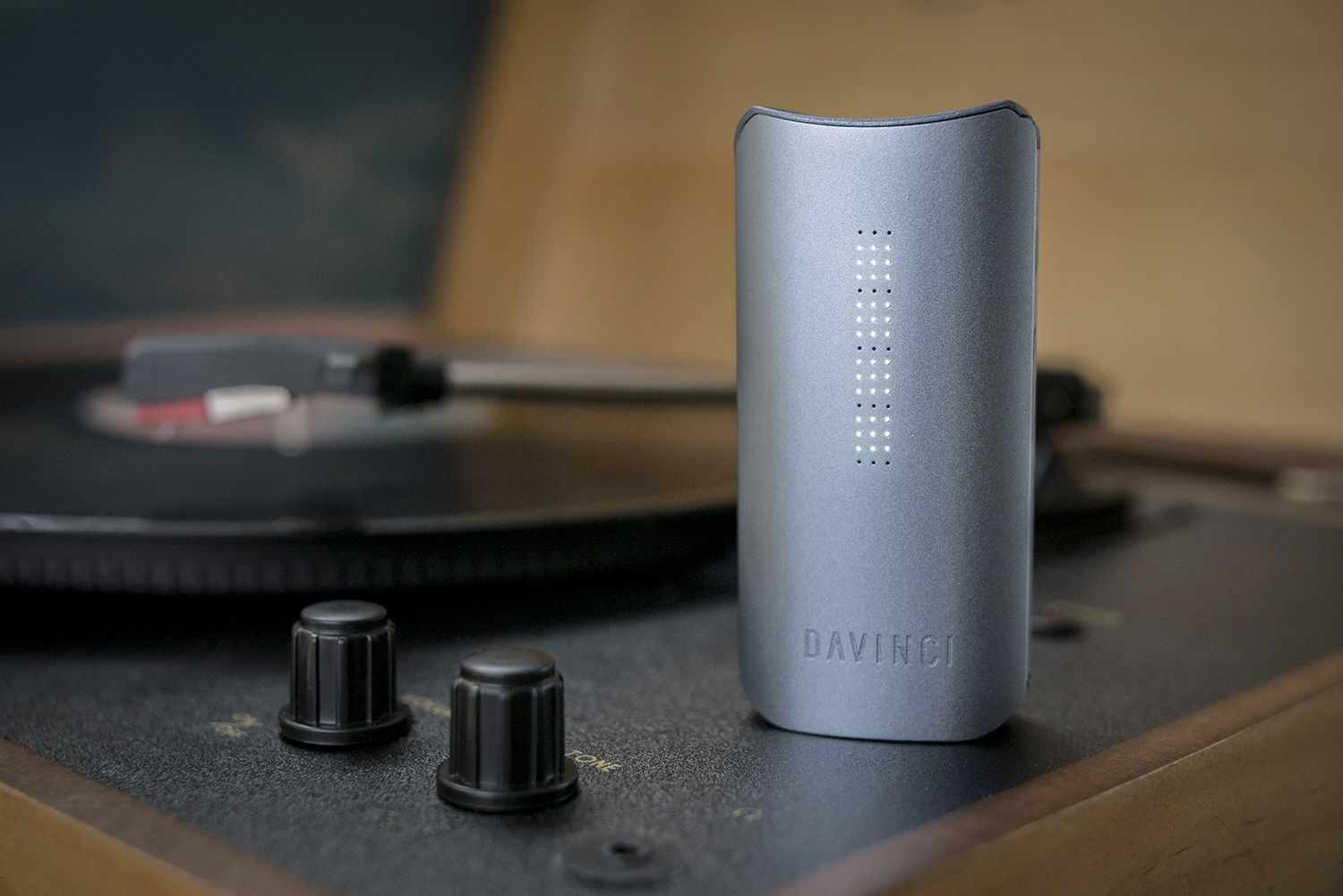 Again, when it comes to vaporizers you basically get what you pay for. This is why the PAX 3 and DAVINCI IQ are the most well-loved and respected vaporizers on the planet right now.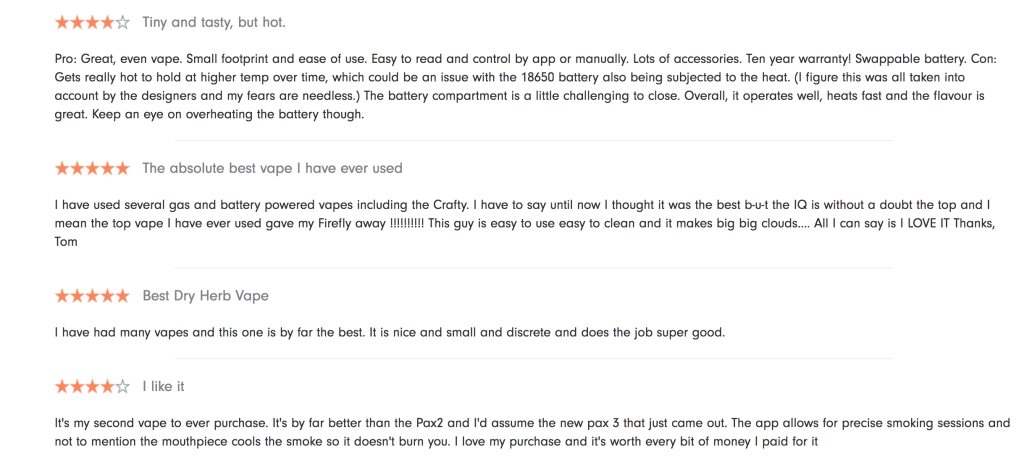 The DAVINCI IQ, like the PAX 3, is an exceptional device, packed with technology, that will make vaping the good stuff a truly amazing experience.
The DAVINCI IQ features a 100% ceramic zirconia air path, which allows for unparalleled flavor and clarity, whatever you're vaping – be it weed or dried herbs.
You can craft your own power profiles as well, meaning once you find your sweet spot, you can lock it in. This aspect of the DAVINCI IQ's capabilities is powered by the company's bespoke Smart Path Technology, which ensures every drag is bang on the money.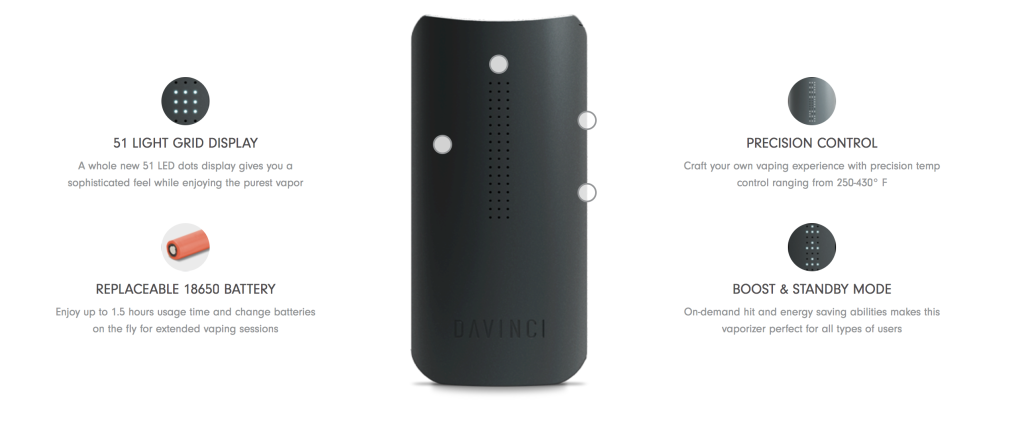 And if that wasn't enough, the DAVINCI IQ will also connect via Bluetooth to either an iPhone or any Android phone. All you have to do is download the DAVINCI app and you can start tracking things like temp profiles, draw times and battery life.
This vaporizer comes highly recommended, especially if you're after the absolute best performance, design, and power on offer right now.
[letsreview postid="3423″]
---
The G-Pen Elite Vaporiser 
Key Features: largest fully ceramic chamber on the market, with a revolutionary 360 ceramic heating element that provides fast and even convection vaporization of ground material from all sides
Not only is this one of the best-looking mods on the planet, decked out in black and featuring a gorgeous, easy to read display, it also produces awesome vapor and great flavour.
Snoop Dog even liked Grenco's mods so much that he worked with them to develop is own line of vaping mods.
[letsreview postid="3413″]
---
Vaping Weed is WAY Healthier Than Smoking Weed
And vaping weed, like vaping in general, is a HELL of a lot better for you. Science, as always, is on hand to support this claim as well:
"Cannabis smoking can create respiratory problems. Vaporizers heat cannabis to release active cannabinoids, but remain cool enough to avoid the smoke and toxins associated with combustion. Vaporized cannabis should create fewer respiratory symptoms than smoked cannabis.
We examined self-reported respiratory symptoms in participants who ranged in cigarette and cannabis use. Data from a large Internet sample revealed that the use of a vaporizer predicted fewer respiratory symptoms even when age, sex, cigarette smoking, and amount of cannabis used were taken into account. Age, sex, cigarettes, and amount of cannabis also had significant effects.
The number of cigarettes smoked and amount of cannabis used interacted to create worse respiratory problems. A significant interaction revealed that the impact of a vaporizer was larger as the amount of cannabis used increased. These data suggest that the safety of cannabis can increase with the use of a vaporizer. Regular users of joints, blunts, pipes, and water pipes might decrease respiratory symptoms by switching to a vaporizer."
It's not just for marijuana, though. You can put all kinds of dried herbs into these devices. Even tobacco. And they work in a very similar fashion to normal vaping: you hit a button and the contents of the tank is heated — either by conduction or convection — and this then turns the dried goods into vapour, which you inhale.
There are A TON of dry-herb vaporisers out there but one of the most well-known brands, likely because it is endorsed and used by Snoop Dog, is the G Pen. If you're after the best overall performance, great design and awesome features you NEED to go for the G Pen ELITE, as it is just about the best one we have ever tested.