What's the hardest part of starting to vape? Finding a simple vape kit that you can ACTUALLY live with…
---
When you make the decision to quit smoking, you're doing yourself a massive favor.
Big time.
So, hat's off to you for making the switch.
But you now have a problem…
You're about to enter a world you know nothing about.
A world filled with thousands of products that all kind of look the same but are slightly different.
You're unsure how to proceed, you feel like you wished you'd paid more attention in Engineering 101.
You start to wonder if you made the right choice?
I know the feeling. It sucks.
I spent around £300 on vape gear before I found my first proper setup, the one I ended up using happily for a good few months.
And that was back in 2009 – AKA The Dark Ages (compared to nowadays).
What Do Those New To Vaping Want From A Vape Kit?
Pretty simple, in my mind – because I was once one of these people.
Now, I'm not saying I speak for all newbies in the vaping field.
But I have a couple of things that I think most of us can agree on when it comes to starter vape kits.
#1 – you want something simple, so you can learn the ropes.
#2 – you want something that has good battery life, so it'll see you through the day without crapping out and forcing you to go and buy some smokes.
#3 – you want something that uses things (coils, juice) that you can get hold of easily and reliably, so you're never left hanging.
The Simplest of ALL Vape Kits And Probably The Best (If You're In The US)
If you're in the US, and you're looking for a simple, solid, reliable vape kit that produces create flavor, has decent battery life, and is supported by a robust ecosystem… it's simple.
You get a JUUL.
Not only is it a great all-around device, but it is so easy to use – like super-super simple.
Anyone, regardless of their experience with e-cigs, will be able to unbox it, load it, and vape it within minutes.
So, if you're in the US and you want a simple vape kit that simulates the effect of smoking, just in a far tastier and healthier manner, stop what you're doing right now and just get the JUUL.
MILLIONS of smokers have already quit with JUUL.
You could be the next.
But What If You're Outside The UK?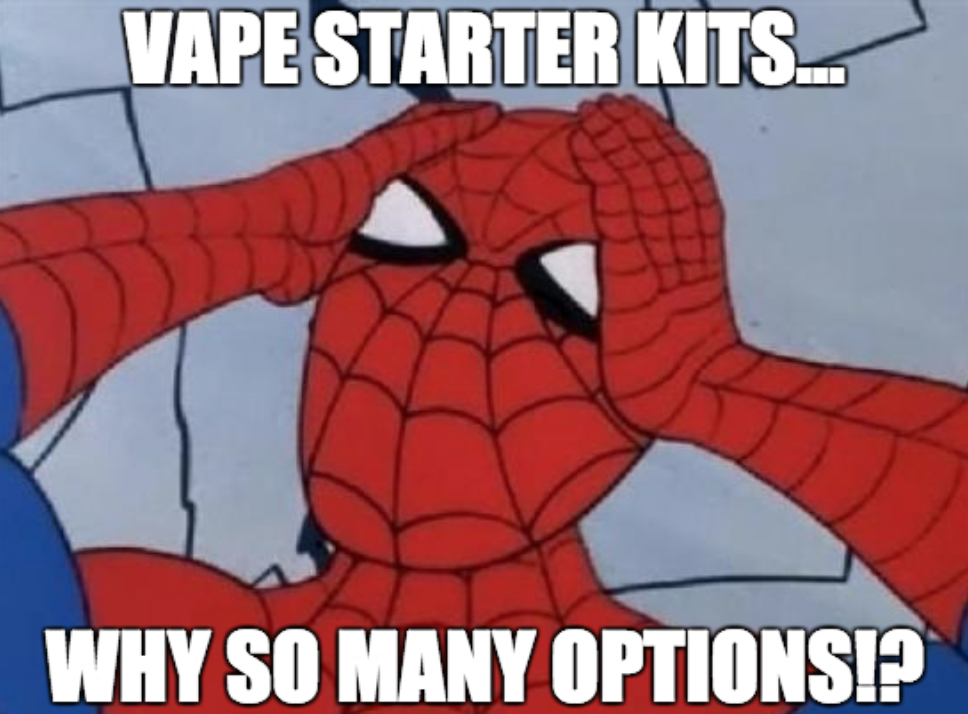 Then you're screwed.
Only messing, you're not!
There are a ton of basic, super-simple vape kits available in the UK.
You got everything from sub-ohm kits to vape pens. But herein lies the problem:
There's almost too much choice; there are literally thousands of products all aimed at people just like you – noobs.
But here's the catch: you're new to vaping, you don't understand it, you don't care about sub-ohm vaping, or RDAs, or Mech Mods, or Bypass Mode.
No, you just want to get off the fags. That's it – a clear objective that needs to get done ASAP.
You can worry about all the fancy stuff once you understand the basics, have a solid few months vaping under your belt and have put smoking fags well and truly in your rearview mirror.
For this reason, you're probably going to want something that simulates the sensation of smoking, right?
These types of tanks are called MTL tanks. And it's probably where you're best starting.
---
Definitions:
MTL Vaping – mouth-to-lung vaping; inhale is similar to how you drag on a cigarette (best for beginners)
DTL Vaping – direct-to-lung vaping; inhale is more like an inhaler, as you take the hit straight to you (best for more experienced vapers)
---
OMG! I'm Bored! Just Tell Me What Vape Kit To Get Already!
Sorry, I like to ramble on when explaining things. It's just to be thorough. And, hey, if you've learnt anything by reading this, then that's a good thing, surely?
If you're in the UK and you want a solid, reliable, simple vape kit, I would strongly recommend you go with the JAC Vapour SERIES-S22 starter kit.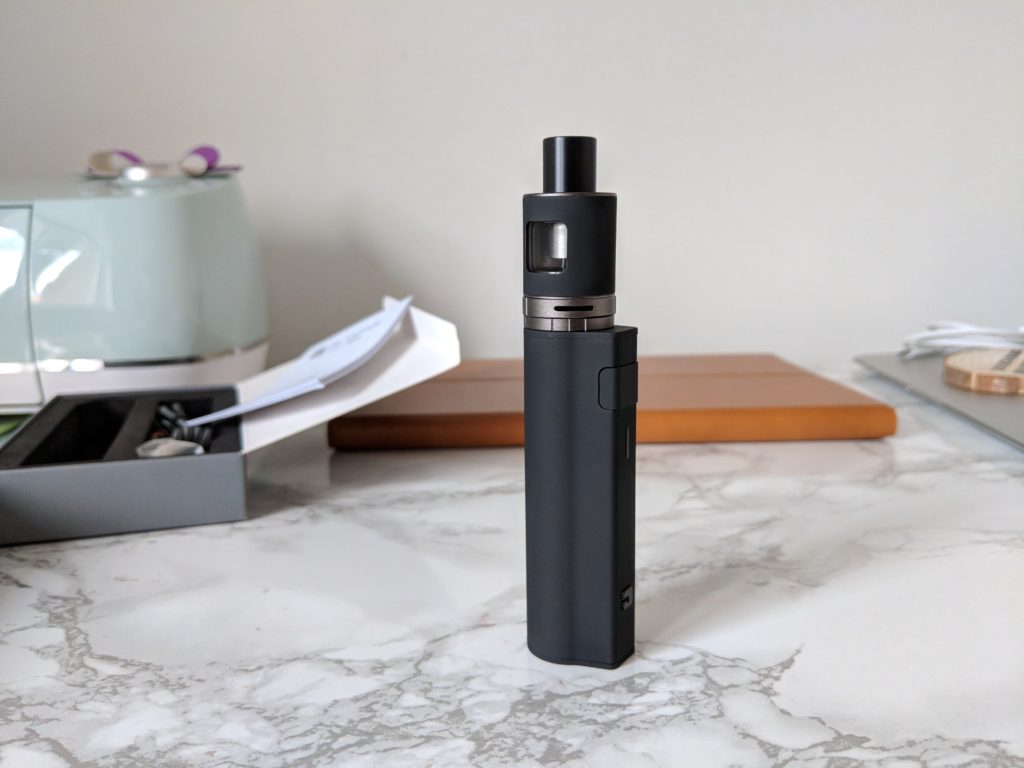 I was sent this to test a while back and was genuinely impressed by its build quality, packaging, performance, ease of use, and brilliant flavor.
It also has an EXCEPTIONAL battery life, so you can rip it all day long and never run out of juice.
JAC Vapour makes and designs all of its own products, so when you buy JAC Vapour, you're buying into an ecosystem, which makes getting replacement parts, new coils, even juice, really easy. Take a look at their site – it's awesome and simple. 
They have great customer service, excellent warranties, and they also do higher-performance gear too, for when you're ready for your next step up the vaping ladder.
They even make a DNA 75 mod, if you're feeling like splashing the cash!
The # 1 Reason To Give Vaping A Try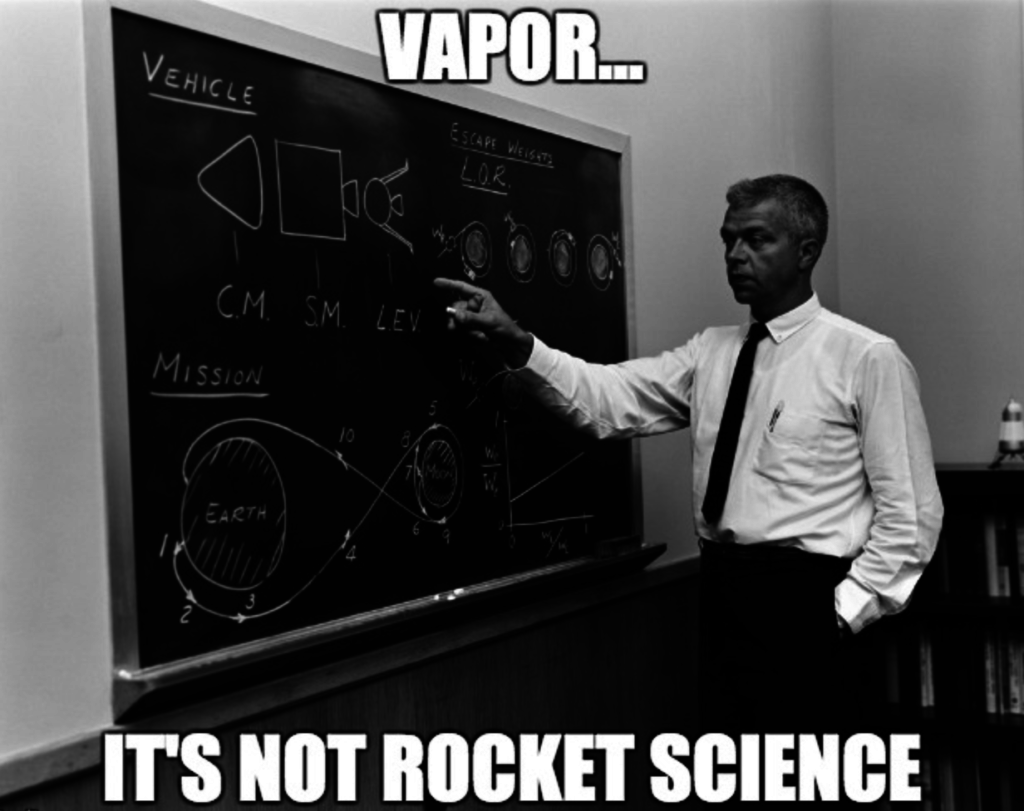 If reading this and still smoking…
WHAT ARE YOU DOING?
It has never been easier (and more pleasant) to quit smoking than right now.
Vaping is 95% safer than smoking. And that's not conjecture on my part – it's scientific fact.
In the UK, vaping is being lauded as a life-saving technology.
The NHS and Royal College of Physicians have signed off on it.
Millions of people have used it to stop smoking OVERNIGHT.
And the health benefits of it are enormous.