If you're sick of your vape mod running out of battery ALL the damn time, it's likely time you got a mod with more battery power. And right now these two box mods are my #1 picks for overall battery life
---
New to vaping? Sick of your vape constantly running out of battery?
When you're trying to stay off cigarettes, this is literally the LAST thing you want to happen.
Especially since it tends to happen most often at night when you're out with friends and drinking.
There are a few learning curves you have to understand when you first start vaping.
But the MAIN one is battery life.
So here's lesson one: not all vape mod batteries are created equally; some positively suck and some will go for three days solid.
For Battery Life AVOID Pod Mods Like The JUUL
And the worst offenders for rubbish battery life are pod mods.
But what makes matters worse is that pod mods are the most commonly used vape devices by beginners.
So you're doubly screwed: 1) you don't know anything about vaping, and 3) you're constantly running out of battery power.
Portable Pod Mods and disposable ecigs (devices like the JUUL) will not last a full day's worth of vaping.
The reason? They have TINY batteries – like 300-700mAh on average.
Hell, most of them won't even do half a day.
Pod Mod Vapes Are Great (Just Not For Battery Life)
They're small.
That's part of their appeal. But their size comes with big downsides, and the most significant one is battery life.
Some are better than others, but everybody's who's honest about these types of things agrees that the JUUL really sucks in this regard.
I'm not bashing pod mods, either. They do serve a purpose; I use them all the time.
But they should never be used as a daily driver.
Think of them as more of a supplementary device, something for when you're out with friends or driving.
Which Type of Vape Has The Best Battery Life?
Two words: BOX MOD!
These devices, traditionally, were quite large and cumbersome; hence the name, "box mod".
Nowadays, thanks to years of evolution and design tweaks, you can get box mods that are actually pretty diddy (meaning they'll fit snugly in your pocket or purse).
A box mod (or vape mod, as they're also known) has LOADS of features and vaping modes, as well as all the safety features you'll ever need.
Chuck in the amount of power these things can kick out, anywhere from 100W to 300W, and you're basically set for any style of vape tank from low-wattage MTL tanks to dual-coil RDAs and performance sub ohm tanks.
We already have an article on the best vape mods you can buy right now, so I'm not going to waffle on about that for too long.
Instead, I want to focus on just two vape mods that I believe KILL pretty much everything else in the space right now with respect to battery life.
Best Vape Mod For Battery Life
I've included a couple of handy box-outs from our reviews of these mods below for an overview of them:
1) Wismec RX GEN3
Wismec Reuleaux RX GEN3 Review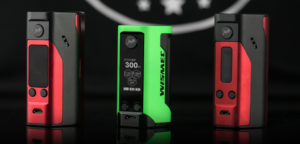 Product Name: Wismec Reuleaux RX GEN3
Product Description: For good looks and overall battery life, the Wismec Reuleaux RX GEN3 is very hard to beat – even now, months after its release. The Wismec Reuleaux RX GEN3 runs three 18650 cells inside its tiny chassis. You won't believe it does when you unbox it! How Wismec did this, I don't know. But it works and it is awesome. I love the styling of this mod, the battery life is exceptional, as you'd expect, and it vapes like an absolute champ in power and TC modes. For me, this is one of the stand-out mods of the last few years. It tackles the "battery life problem" head on and kicks it into submission.
Design -

100%

Battery Life -

100%

Specs & Features -

90%

Durability -

90%

Value For Money -

95%
VERDICT
All in all, the Wismec Reuleaux RX GEN3 simply blew me away.
The size is what really shocks everyone, I personally STILL can't believe you can fit three batteries inside!
This is one of the ALL-TIME great box mods. If you value battery life and performance and design, get this mod.
It is more or less unbeatable at its current price.
Pros
Awesome, Iconic Design
Exceptional Battery Life
Great Vaping Performance
Tons of Vaping Modes
Sturdy Construction
Masses of Power (300W)
Cons
You Might Need To Buy More Cells (If You Only Have Two)
---
2) iJoy CAPTAIN PD270
Read iJoy CAPTAIN Pd270 Review
iJoy CAPTAIN PD270 REVIEW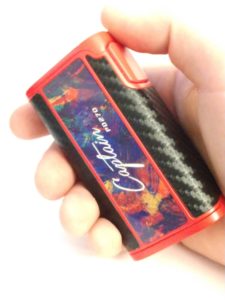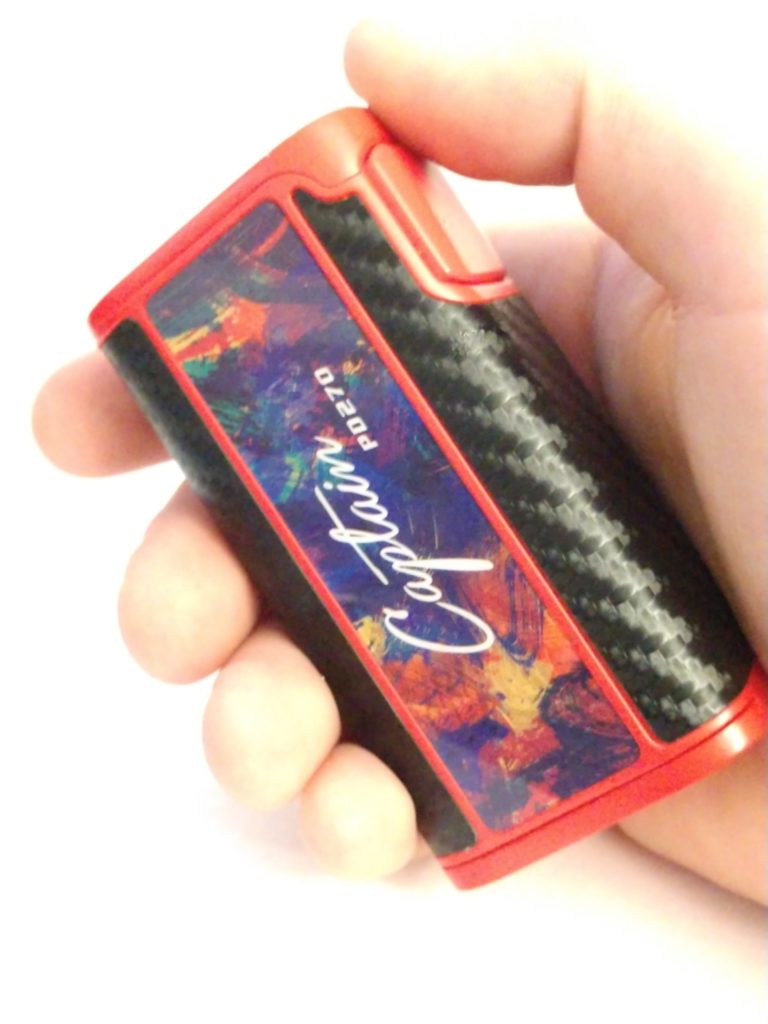 Product Name: iJoy CAPTAIN PD270
Product Description: The iJoy CAPTAIN PD270 is one of the only dual-20700 cell mods around right now, and if you're a power-vaper, well… this is the mod you've been looking for. The iJoy CAPTAIN PD270 offers unparalleled battery performance, especially if you're vaping at high wattages. Beyond this is it is a stunningly designed mod that is perfectly ergonomic in the hand. The iJoy CAPTAIN PD270 does not get the props it deserves; but here at VapeBeat, we're huge fans. If you want a mod with exceptional battery life that also does everything else really well, then the iJoy CAPTAIN PD270 should be very high on your hit list.
Design -

90%

Specs & Features -

75%

Battery Life -

100%

Durability -

80%

Value For Money -

100%
VERDICT
With the introduction of the 20700 batteries from iJoy, the next generation of powerful devices will soon arrive.
The Captain PD270 is iJoy's first release utilizing these revolutionary new batteries, and it does NOT disappoint.
The form factor, the power capability, and the battery life at that maximum power are all fantastic!
Honestly, had I been unable to review this device, I would have gone and bought it anyway.
Pros
Unparalleled Battery Performace
Great Design + Looks
Simple To Use
Ideal For Sub-Ohm Tanks + RDAs
Lots of Color Options
Brilliant Performance In All Vaping Modes
Cons
20700 Cells Need To Be Purchased Separately
---
Wismec RX GEN3 vs iJoy CAPTIN PD270 | Quick Points
If you've just read through both the tables and have a few questions, I've outlined the most common differences between the two mods.
These, at least, for me, are the key differences between the mods.
The RX GEN3 is cheaper. It also runs 18650 cells (three of them) which are cheaper than 20700 cells. 
The iJoy CAPTAIN PD270 runs on two cells, but they are larger (and more expensive) 20700 vape batteries. 
The RX GEN3, despite running three 18650 batteries, is actually smaller than the CAPTAIN PD270. 
On a personal note, I much prefer the look of the RX GEN3
Both mods are solid, reliable performers though
Whichever you prefer the look of, both have insanely good battery life. With moderate vaping, you're looking at a solid couple of days in between charges.
Things To Keep In Mind (Especially If You've Never Run A Box Mod)
The first and most important thing is the actual batteries these mods run: they use external, rechargeable batteries (18650s and 20700s, in this context).
And they're very powerful too, so you need to look after and respect them.
NEVER charge a box mod via its USB port. Always use a dedicated, external charger.
I use the NITECORE DigiCharger D4 (you can get it via Amazon for around $20/$30).
Don't Cheap-Out on Vape Batteries!
You do not want to cheap-out on vape batteries; things can go wrong with poorly made batteries and this can lead to fires, explosions and general bad times.
Fortunately, there is a raft of trusted research on vape batteries, so you don't have to ever worry about buying dodgy vape batteries that could end up doing you damage.
Best Vape Batteries 2018
Sony, LG, and EFEST are all decent. I've used them all over the years.
More recently, I'm using AMPKING batteries; I run both its 18650s and 21700s, and they're bloody marvelous.
Solid, reliable power delivery and they even come with handy travel containers for each cell.
Here's what Mooch – the Oracle of Vape Batteries – had to say about AMPKING cells.
Ampking 30A 3000mAh 20700 Bench Test Results…accurately rated, a good 20700 battery

Bottom Line: This is an accurately rated 20700 cell (20mm diameter x 70mm length) that performs well but not quite as well as the Sanyo NCR20700A. Its appearance is similar to a Panasonic cell, with its 5-leg top contact, but I cannot confirm that this is indeed a Panasonic cell. It appears to be the same cell used by the iJoy 20700.
I know this was a long post, but it is intended for new and inexperienced vapers. I know how tricky vaping can seem when you first get started, so I wanted to cover EVERYTHING.
Details and clear-explanations are what help with understanding, so rather than just list some mods, I decided to dig down into everything else you'll need to know about – batteries, battery safety tips, and the best battery chargers.
The two mods I listed in this post, however, are proper bangers. I love and use both, though if I had to lose one… like if someone put a  gun to my head and got me to choose which one I could keep…
I'd probably go with the RX GEN3.
I just love the way it looks, especially in neon green, and its three-18650 cells give me insane battery life.
---
All The Products Mentioned In This Post | Checklist | What You'll Need To Get Started
Wismec RX GEN3 Mod | $46.99 (VaporDNA)
iJoy Captain PD270 Mod | $55.99 (VaporDNA)
AMPKING Batteries | Check Latest Prices (HeavensGifts)
NITECORE DigiCharger | $34.99 (Amazon)