Nick takes the epic VGOD Pro Mech for a spin. Is this the best mech mod in terms of value for money around at the moment? 
---
VGOD Pro Mech – Quick Verdict (98%)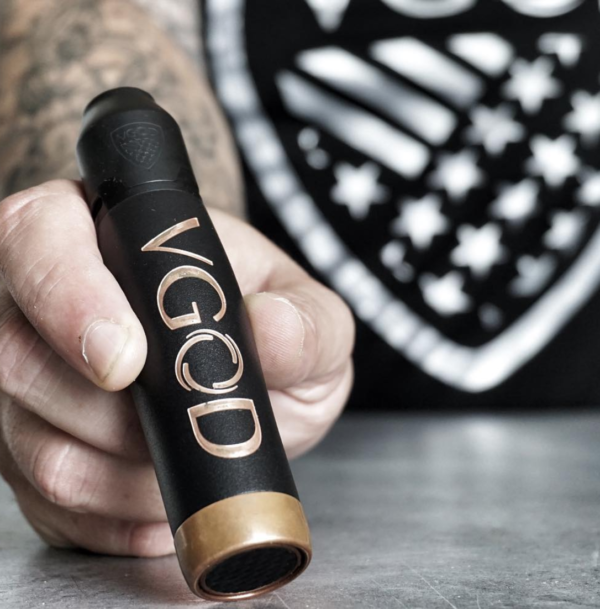 For the quality of the build materials and the performance, this thing is outstanding. I just cannot get my head around the price: it's so cheap compared to many of its (lesser) peers. For this reason, I think the VGOD Pro Mech is just about the best value mech mod on the planet.
Nothing else that I can think of right now comes even remotely close to what VGOD has achieved with this mech. Sure, there are cheaper options available but they ALL lack the finesse and quality of this mech. And that is what makes this mechanical mod so very special.
It's also why it features inside our Guide To The Best Mech Mods You Can Buy Right Now.
It looks and feels like a $150-$200 mech mod. But it retails for less than $80. Combine this with its beautiful design, the way it locks your 18650 battery in place, and you're in a very good place. Oh, and it also hits like a freight train. As I said: this thing is special. And for the asking price, VGOD is practically giving it away…
VGOD Pro Mech Pros
Premium Design & Build Materials

Expertly Crafted Firing Pin & Mechanism

Solid, Robust Construction

Ideal For Atomizers of Any Size

Insane Value For Money
---
Full VGOD Pro Mech Review – Design, Build Quality & Performance
Most US companies charge a pretty hefty premium for hardware (and, sometimes, E Juice). But the VGOD Pro Mech bucks that trend by serving up some pretty extreme performance for a very reasonable price.
I've been using the VGOD Pro Mech for about a month now; it's been a blast – this is easily one of the best mech mods I have ever had the pleasure of using. The fact that it's cheaper than anything by Able or Timekeeper is just a massive bonus.
Obviously, mech mods are NOT for beginners. So if you're reading this and you've only just started vaping, please, for the love of God, do not try your hand at mech mod vaping.
You need a good deal of knowledge to do it safely, you need to know about Ohm's Law, batteries and everything else in between. If you don't, stuff can get real nasty, real quick.
Also: most mech-mods, well, any that are worth using, are usually rather pricey – prohibitively pricey in a lot of cases. This is one of the reasons I was so excited by the VGOD Pro Mech.
It offers superb value for money, given its a US-made mech.
I'll go into much more detail below. But I just wanted to get the main point of this review established nice and early – the VGOD Pro Mech could well be the best value mech mod on the market right now.
With that out of the way, it's time to meet the VGOD Pro Mech properly.
VGOD Pro Mech Review: Package and Appearance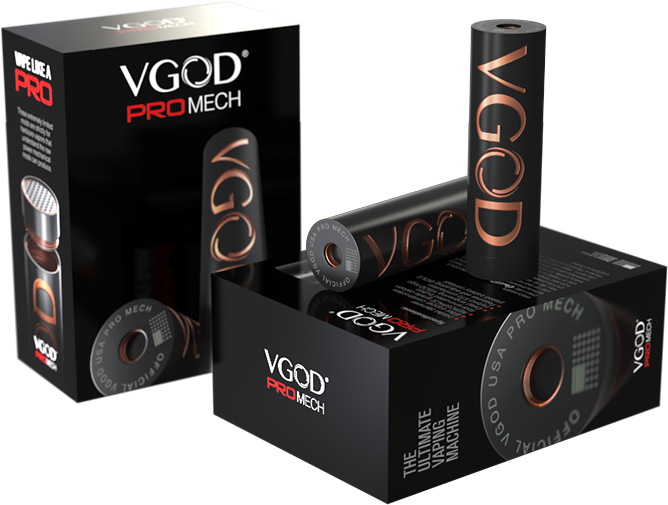 The packaging the VGOD Pro Mech comes in is suitably impressive. Everything is safely hidden inside so as to ensure all the hardware is pristine. The matte and gloss finish box is elegant and simple. Lovely, basically.
When you open the box, you're presented with a zippered nylon case embellished with a rubber, VGOD patch. Unzip the bag, remove the foam (this is here to protect the mod), and you're presented with the VGOD Pro Mech.
Coming in four different colors: Black/Copper, Black/Silver, Red/Copper, and White/Copper, the VGOD Pro Mech is a beautifully engineered piece of kit. My model is the Black/Copper version, though I do love the Red/Copper combo.

Upon picking up the VGOD Pro Mech I was a bit surprised by the weight of it; it is no way near as heavy as it appears. The meat of the mod is honed from Billet aluminum and is solid black. The only break is the VGOD logo that is etched on its side.
The top of the VGOD Pro Mech says Official VGOD USA Pro Mech with a US Flag all etched lightly into your Mech. The firing button is also made from carbon fiber, meaning plenty of grip and comfort.
Everything comes apart and fits back together with ease. The machining on the VGOD Pro Mech is of outstanding quality.
Everything else of the VGOD Pro Mech is made from copper, from the tube to the firing pin.
All the threading is expertly implemented; it is perhaps the smoothest threading I have ever seen on any vape gear to date.
All in all, this is one hell of a well-put-together mech mod. I own a few mech mods and NONE of them come even halfway close to the quality of this one.
Exemplary stuff, indeed.
VGOD Pro Mech Specs
24mm diameter
Billet copper construction
Aerospace grade carbon fiber encrusted firing button
Hybrid 510 connection
Self-adjusting copper battery contact
Gold plated spring
VGOD Pro Mech Review: Performance
After dropping my newly acquired iCon RDA (in another review very soon) on top and inserting a fresh Sony VTC 5a cell I was ready to go. I run a 4 wrap basic build just for testing purposes and it's a 26g 4wrap over 30 and ohms to 0.18-.0.2 not bad.
I grabbed a few extra cells and left for work. As I'm driving my car I took my first toot off the VGOD and I was shocked! Like a Tesla, the power is delivered instantaneously.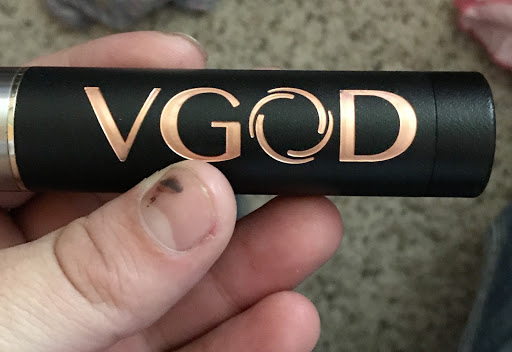 Each and every time you fire the VGOD Pro Mech, it responds with that same amazing power. I then tried other RDAs and got the same results.
I have had the VGOD Pro Mech for about a month now. Traveling with it, taking it to work, using it all the time. And it doesn't have a scratch on it yet, which tells me one thing: it is super durable – especially if you look after it.
VGOD Pro Mech Review: Final Thoughts
The VGOD Pro Mech mod has blown me away. This is easily one of the best value, pro-grade mechs on the market right now, so if you're in the market for one and you're operating on a tight budget, you NEED to be looking at the VGOD Pro Mech.
It looks stunning, is honed from premium build materials, and it delivers power like it's going out of fashion.
I cannot say enough nice things about the VGOD Pro Mech, but, perhaps, the best thing about it, for me, is the small touches – the engravings, the carbon fiber, the self-adjusting copper battery contact – as the show a company going WELL out of its way to deliver excellent value for money.
If you want a pro-grade mech mod, but you don't want to pay "pro money", the VGOD Pro Mech should be HIGH on your hit-list. I freakin' love this mod.
Nick Jennings
Reviews & Tutorials Guy. If You Can Build It & Vape It, I'm Your Man!