Herakles RTA by Sense is PHENOMENALLY good. Maybe even the best RTA tank you can buy right now.
It's TIME for the Herakles RTA — and, BOY, am I excited about this vape tank! And the reason for this is threefold:
Sense make AWESOME tanks.
Sense has NEVER made an RTA before
I have a bunch of new UBER powerful mods to test the Herakles on
With a lot of companies bringing out RTAs of their own it was only a matter of time before Sense decided to join the fray. The company is already very well known (and respected) for its Herakles tanks, so it comes as no surprise that the company has used that brand for its first RTA.
RTAs are a different beast altogether, though. They're not your usual sub-ohm tank, so there is the risk of spoiling the Herakles brand appeal should this set-up not hit the spot.
Fortune favours the brave, though, and in order to stand out in today's vapersphere, you NEED to offer a solution for every conceivable desire and every type of vaper. This is why we now see more and more brands expanding their product lines with RDA and RTA versions.
I just spent a couple of weeks getting acquainted with the Herakles RTA.
Read on to find out how I got along and to see whether or not this RTA is worth your time and money.
Herakles RTA Review: Packaging
The packaging is identical to the Herakles Plus with a few choice exceptions. The iconic black sleeve adorns the acrylic case and located on the reverse side is some information about the Herakles RTA and an authentication scratch off code.
The contents of the package are the Herakles RTA with an extra pyrex glass tube and a nicely presented plastic tube with some extras on the inside.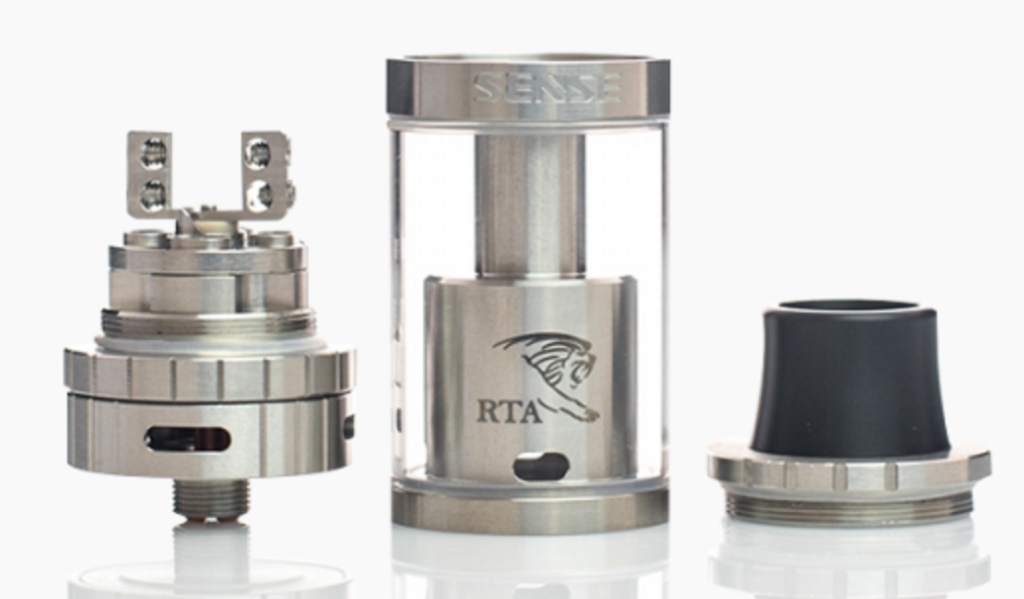 In the spare parts tube we find: extra 510 copper pin, 510 drip tip adapter, 4 extra grub screws, yellow screwdriver, hex key and extra O-rings both clear and black. As of writing the Herakles RTA only comes in black and stainless steel.
Herakles RTA Review: Tank
The Herakles RTA has some really nice features that make this RTA perhaps one of the best. It's two-post side-tension posts are very easy to work with. Dual terminal per post resembles the Velocity RDA.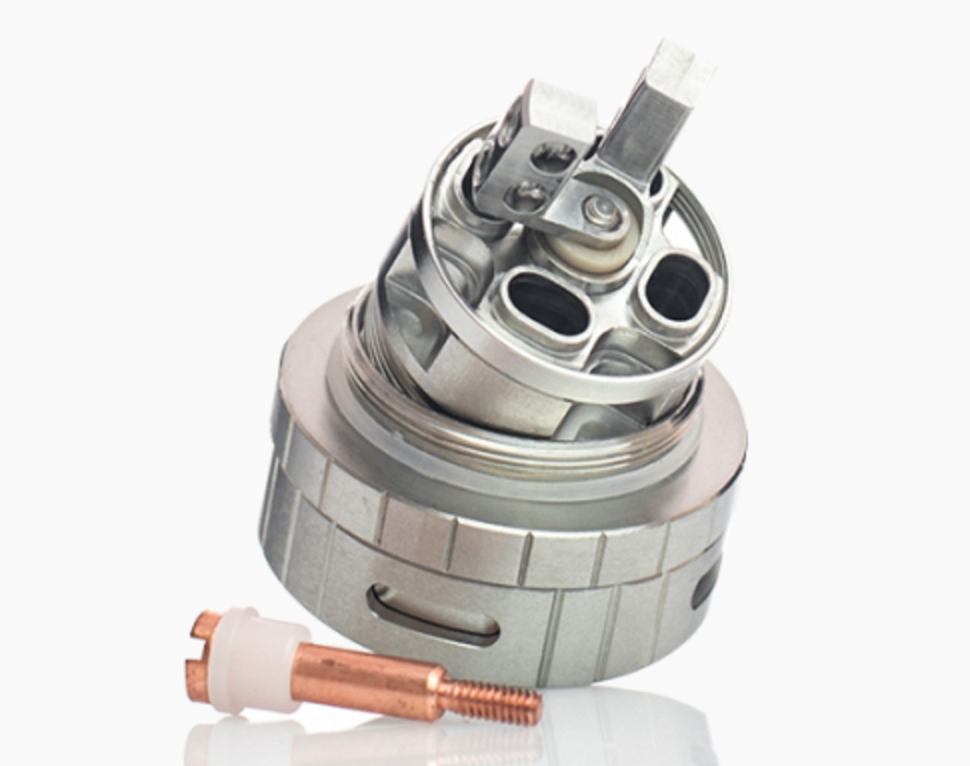 Having adjustable wicking holes is great and makes you feel like you're using the Herakles Plus. Dual unified wicking channels is very nicely done. Top fill design has become the standard and this RTA did not skip out on top fill, featuring wide fill design makes for easy filling. Quad adjustable exterior airflow gives you a feeling of an RDA.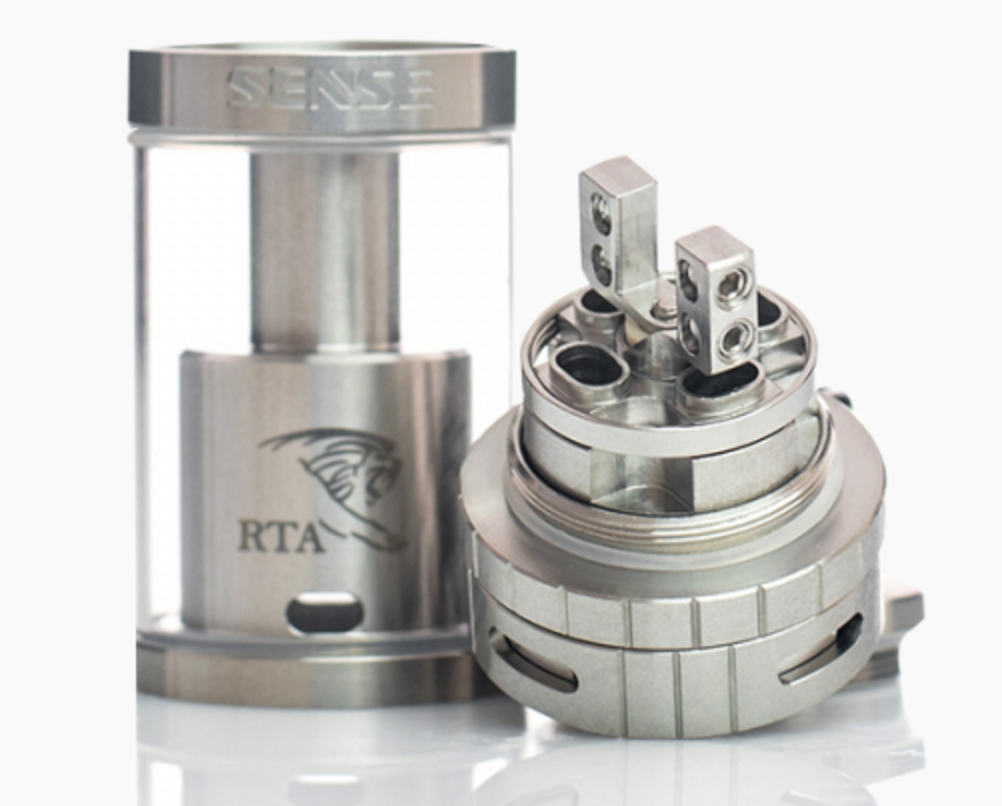 The copper 510 connection pin ensures maximum current for a superior vape experience. The 10 mm wide bore drip tip gives great, all round performance. The tank's 25mm diameter makes for a larger tank but sits nicely atop good devices such as the Cuboid, Wismec RX200 and Sigelei 213.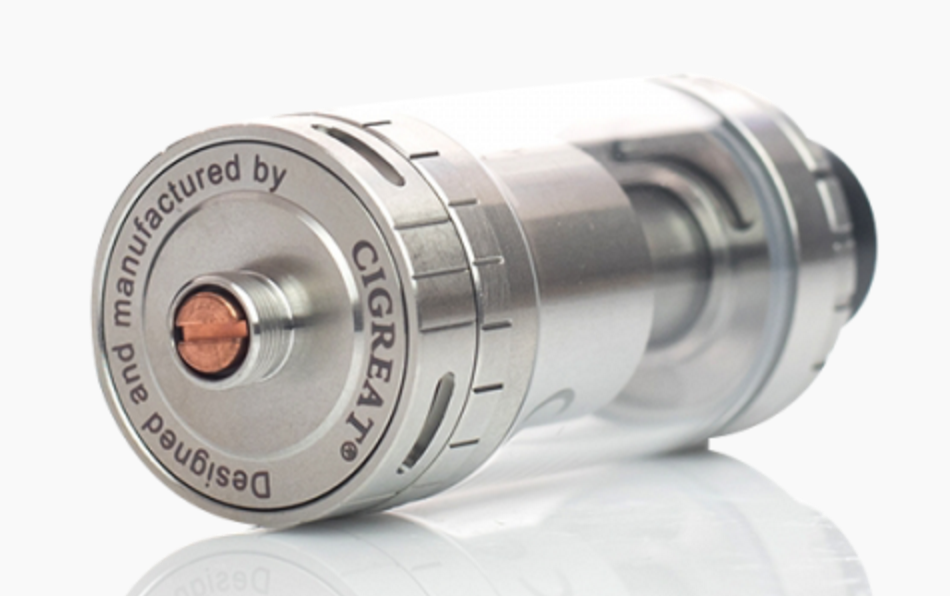 With the larger size comes larger capacity and at 6ml you can be sure that once you top off you will be good for awhile. You do also have the option for a 510 drip tip with the 510 adapter, both of which are included, as well. The threading on the Herakles RTA is very smooth and everything fits together very nicely. Being a 25mm RTA it is also very easily cleaned.
Herakles RTA Review: Performance
Since this is an RTA I had to build and wick myself, I seized on the opportunity to use my dual twisted 24g kanthal 6 wrap build. The entire process was a walk in the park, so you shouldn't worry about ANY issues in this regard. Everything just slips into place as it should, with minimal fuss.
After checking and rechecking and making all needed adjustments my coils, I wicked and saturated the cotton and put the top of the RTA on and closed off the juice holes. I then filled up my new Herakles RTA and opened up the juice holes and watched as a few bubbles rose to the top, a sign that things were working properly.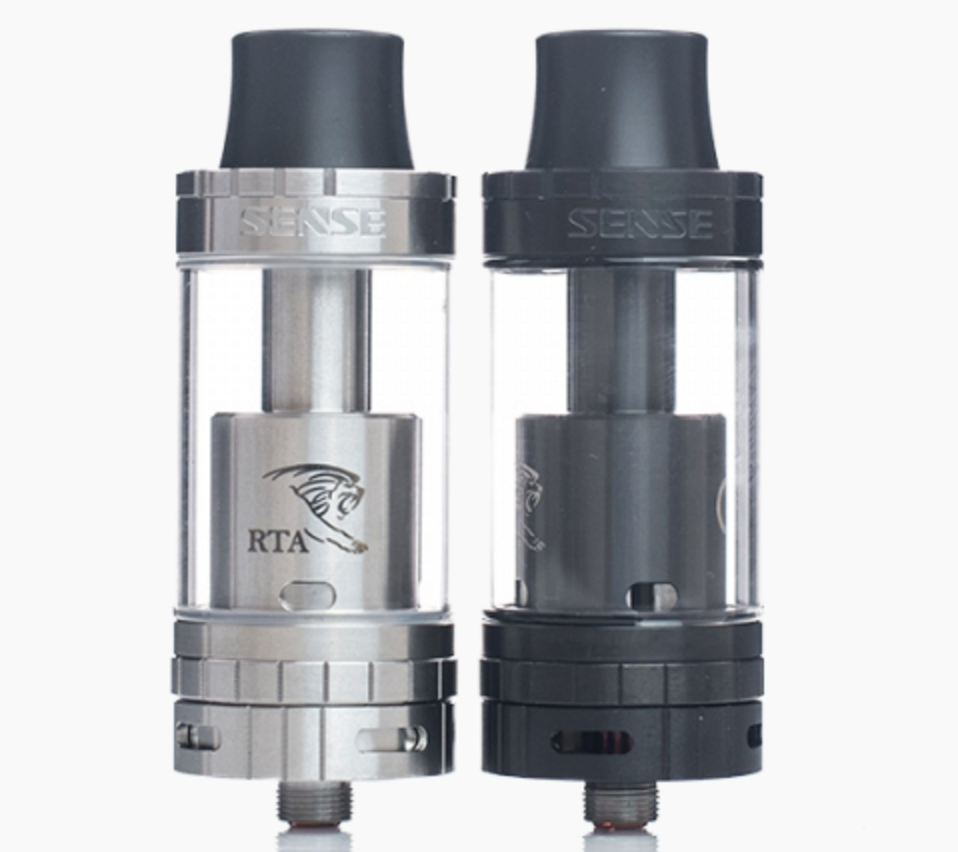 Then came the ACTUAL test — AKA the first hit. I grabbed my Sigelei 213 and screwed on the Herakles RTA, set the wattage to 60W and had my airflow wide open. The rush of vapor and flavor was amazing! The exhale had me blinded for a few seconds, as the clouds were, well, VERY dense. This RTA is a SERIOUS fog machine!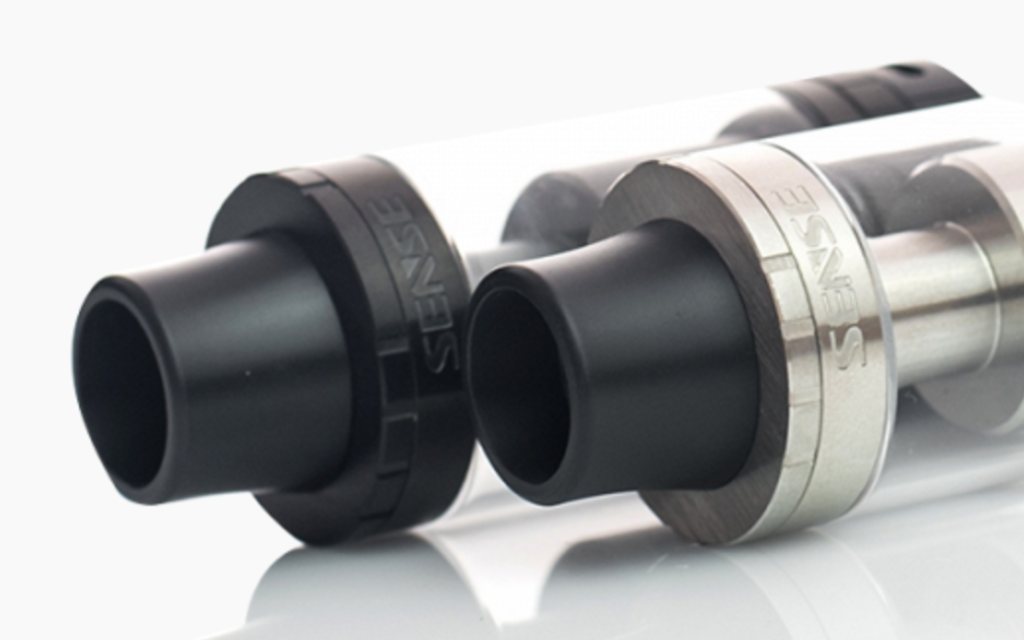 I began to up my wattage so I could begin to push the limits of not only my coils, but also the Herakles RTA as well. 70W was up next and even better performance so I decided to really push it. I set my Sigelei to 95W and the flavor was more than amazing, it was simply outstanding, way better than an RDA!
My normal wattage for this setup is 72W and the 6ml capacity gets me through 6 hours of normal vaping, which is great for any RTA. This far out does my Smok TFV4 mini, which is supposed to be an RTA killer.
Sense really smashed it out the park with the Herakles RTA.
Herakles RTA Review: Conclusion
I never thought that Sense could outdo their Herakles Plus but with the RTA version they really have — this thing is special. The Herakles RTA is like a super-powered Herakles Plus and then some. With excellent performance and off the scale build quality, this RTA may just be the best RTA you can buy right now.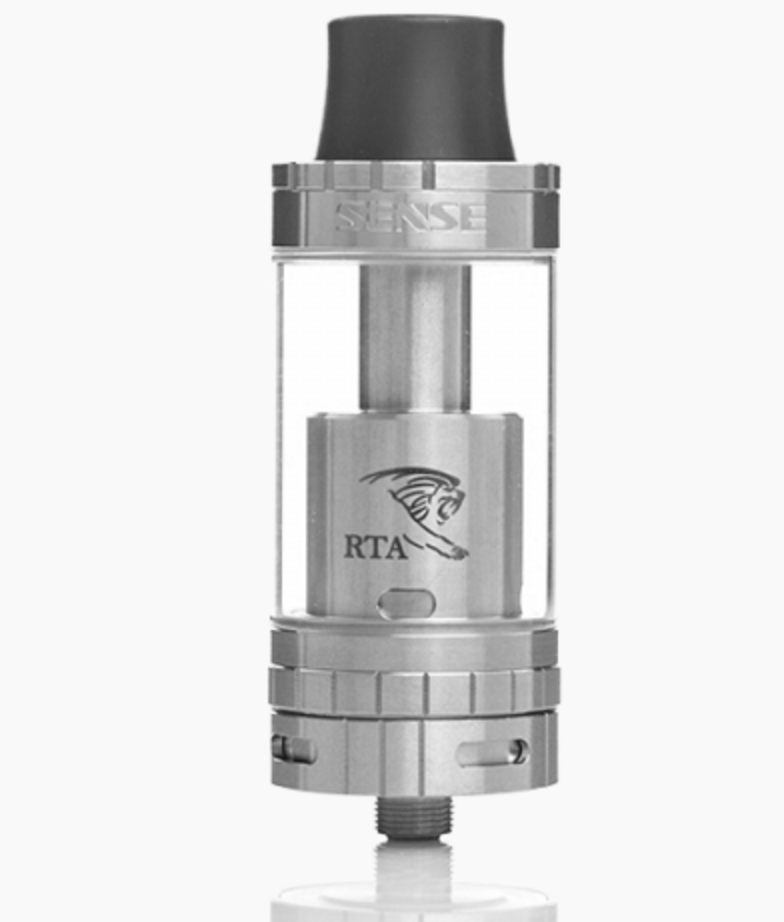 I will most definitely recommend the Herakles RTA to anyone and everyone. More than a home run from a well established company. Make sure you pick one of these up!
---
You can Buy The Herakles RTA RIGHT Now For Just $36.95 and FREE SHIPPING

---
Nick Jennings
Reviews & Tutorials Guy. If You Can Build It & Vape It, I'm Your Man!