The Aspire Cleito EXO picks up where the original Aspire Cleito left off, adding in some BIG design changes and a new airflow system. But is it any good? 
The Aspire Cleito is a well known tank in the sub-ohm space. It delivered decent results with on-point flavour and excellent cloud production. A LOT of people bought this tank. But now Aspire has a new dog in the fight, and it goes by the name of the Aspire Cleito EXO.
Having had the pleasure of using the previous versions of the Cleito, I was really looking forward to taking the Aspire Cleito EXO for a whirl.
---
---
Below are my thoughts and conclusions about the Aspire Cleito EXO.
Aspire Cleito EXO Review – Box & Contents: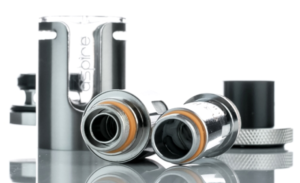 I've always thought Aspire could do better with packaging. It does include everything you need, but the company does tend to keep things rather minimalistic and basic.
The container for the EXO is about the size of a tube of toothpaste. You have the Aspire branding adorning the side and inside everything is kept nice and safe inside the case's plastic housing.
In the box, you will find: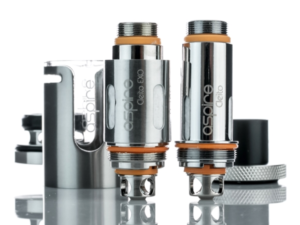 Cleito EXO tank (0.16ohm coil preinstalled)
Extra 0.4ohm Coil
Extra Drip Tip
Extra O-rings
Warranty Card
TPD Version
Cleito EXO tank (2ml version with 0.16ohm coil preinstalled)
Extra 0.16ohm Coil
Extra Drip Tip
Extra O-rings
Warranty Card
User Manual
Aspire Cleito EXO Review – Design: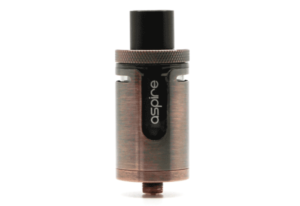 The EXO has had a serious overhaul in the design department.
The original design of the Cleito has been thrown out the window in favour of something, well… quite a bit different. I mean, the Aspire Cleito EXO looks so different it could probably be called something completely different.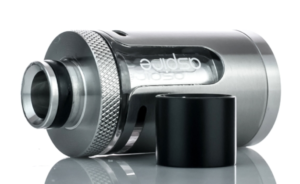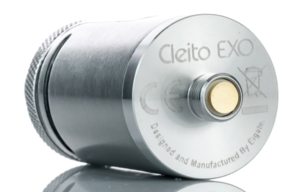 So, what's new? First, the Cleito EXO has top flow air system, with the air slots wide open on the side tank. The airflow travels from the top and then passes through the coil.
---
---
However, you can't adjust the airflow as it only has one position- open-ish. I'll get into that more later.
The look has changed too, the EXO sports an EXO skeletal enclosure around the glass, the open glass is no longer present and the tank is now encased now in metal armour. Personally, I am a fan of the new design, it also comes in a variety of colours too!
The EXO also has a rather handy feature that will no doubt be very popular. Yep, I'm talking about backwards compatibility with standard Cleito coils. Another advantage of this is that it provides a rather crafty way of increasing the storage of the tank if you're in TPD territory.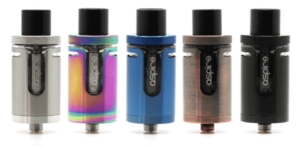 How you ask? Simple: the older coils take up less space, giving you more e juice capacity.
The Cleito EXO is easily dismantled for maintenance and Aspire states that it has a completely leak-less design. It doesn't appear like they were lying, either, as I had zero leaks while testing the EXO.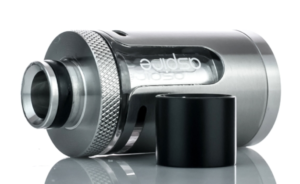 As with the previous Cleito, the Aspire Cleito EXO is a top-filler. You access the juice holes by removing the top piece of the tank. Simples.
Aspire Cleito EXO Review – Performance
The Cleito EXO performs admirably, different than its previous incarnations, but it still manages to kick out very decent clouds and flavour.
The flavour in particular is very impressive and this, Aspire says, is due to the air flow system that the tank has.
Which brings me on to my next point. Whether you like this tank really depends on how comfortable you are with not being able to change the airflow, as the Aspire Cleito EXO has one airflow system – and that is quite literally that.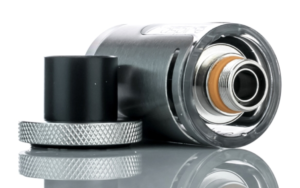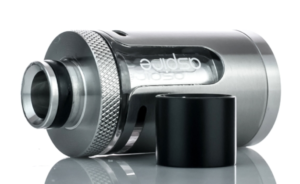 I would liken the draw you get to hitting a normal tank with the airflow half closed. It is permanently in this state. Personally, it took some getting used to but after using it for some time I actually started to really like it.
It's also very portable, the leak proof design means no more messes on your hands or coat pockets. When testing the EXO, I took it everywhere with zero spillages. It even survived a stint a plane ride with no leaks (impressive stuff, given all that freaky pressure).
The Coils are also very decent, both in flavour and longevity. The fatter lower resistance .15 provides a more TFV8 style of vaping, delivering similar performance for heavy hitters.
The downside is you sacrifice space when using this coil (1.5ml). If like me you got your hands on a non TPD Aspire Cleito EXO you also get a thinner higher resistance coil at .4ohms that are similar, if not identical to previous Cleito coils. Again, you gotta love that backwards compatibility.
This is a more casual, lower wattage, flavour affair. Operating at lower wattage and providing an extra 1.5ml worth of storage. If you can get your hands on these coils inside a TPD country, there's nothing stopping you popping a Cleito coil in the tank and giving yourself some more storage!
Aspire Cleito EXO Review – Conclusion:
The Aspire Cleito EXO is an all-round decent tank, I have very few negative things to say about it. It takes ALL the performance of the original Cleito tank and adds in a few more tricks that help expand the flavour performance.
The only potential downside for some will be the air flow, though as I discovered, this isn't necessarily a bad thing once you get used to it.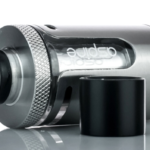 Aspire Cleito EXO VERDICT
Is This Tank Worth Buying?
The Aspire Cleito EXO is very reasonably priced too compared to a lot of similar specced sub-ohm tanks. This makes it an easy recommendation for anyone that is looking for a tank that looks great, has a decent coil system, and delivers brilliant clouds and flavours.
PROS
Reasonably priced
Good flavour production
Long lasting inexpensive coils
CONS
No adjustable air flow
Best Price – Vapor4Life – $19.99 (Down From $24.99)