Best GeekVape Mods 2020 | My #1 Picks (Starter Kit & Mod)
By Drake Equation • Updated: 09/04/18 • 4 min read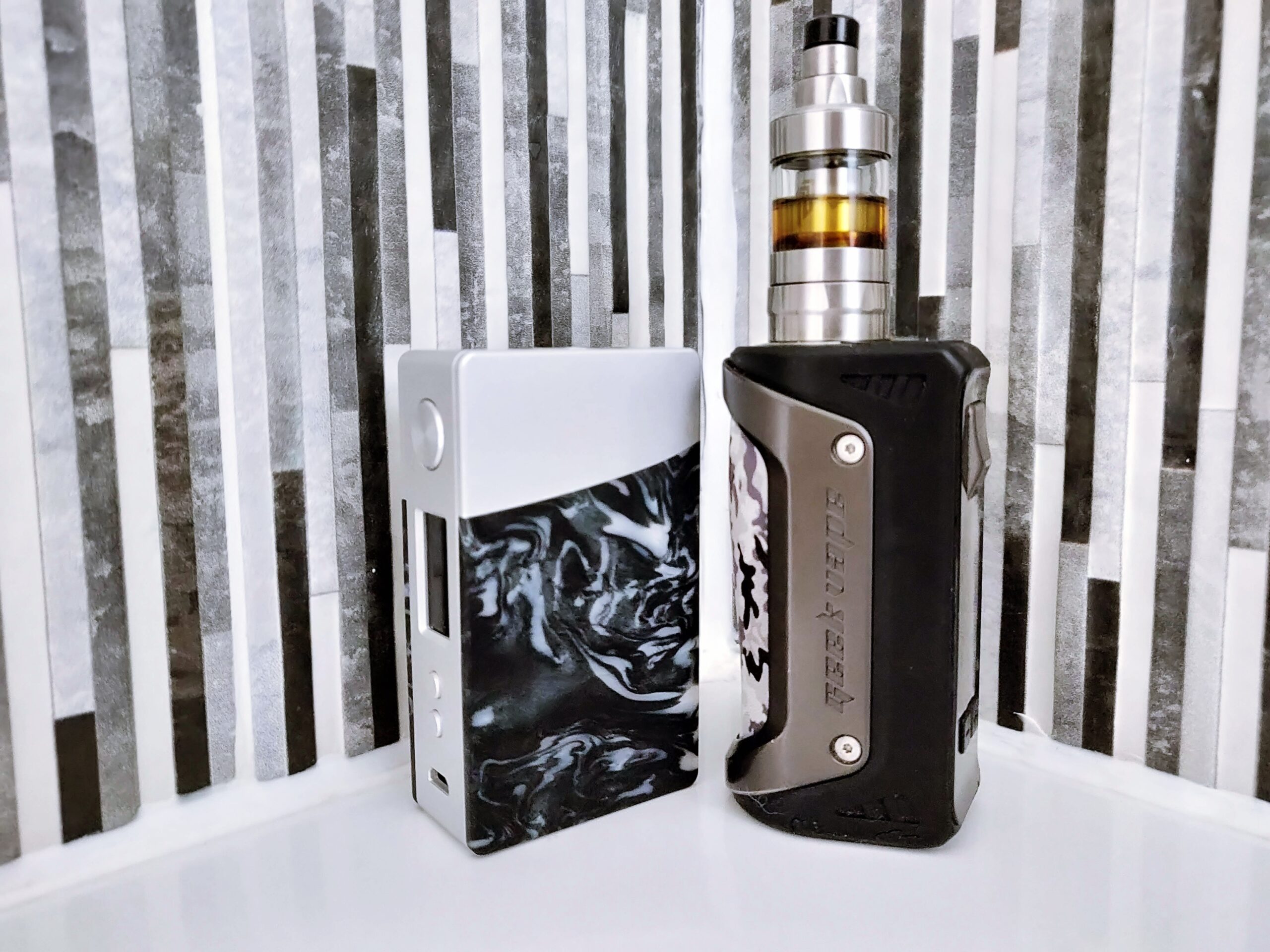 The Best GeekVape Mods For 2018 Based On My User Experience. I've Used Both of These Mods Extensively, And They Come Highly Recommended
---
If you're a big GeekVape fan, you have a lot of choice in 2018 when it comes to GeekVape Mods as the company produces a lot of hardware.
However, my picks for the best GeekVape Mods right now are listed below – and there are only two options.
I based this on the time I spent with each of them.
And the fact that both made it into our coveted Best Vape Mod Guide. And, trust me, that's not easy!
Both are solid, reliable, well-built mods. But they're also kind of different.
First, let's take a look at my two picks for mid-2018.
Best GeekVape Mods 2018
I picked a starter kit device (the NOVA kit) and a standalone mod (the AEGIS) for this article.
1) The GeekVape NOVA Kit
Read FULL GeekVape NOVA Kit Review
[letsreview postid="6650″]
---
2) The GeekVape AEGIS Mod
Read FULL GeekVape AEGIS Mod Review
[letsreview postid="5925″]
---
Why Did I Pick These Two GeekVape Mods?
Simple, really. They're both exceptional devices that are well priced and ultra-reliable.
Beyond this, I know a lot of users out there will want a vape tank with their mod purchase, and the NOVA comes with a proper stellar mesh coil tank in the form of GeekVape's Cerberus.
The AEGIS is a standalone mod that is water, dust, and shock resistant.
It runs on a single 26650 cell, or a single 18650 with a converter, and is suited to single coil RTAs, RDAs and lower-power MTL tanks like the Zenith and Kayfun Prime.
I've used both extensively in 2018, and they both treated me very well.
GeekVape NOVA vs. GeekVape AEGIS mod
There are some marked differences between these two mods, and the biggest one is that the NOVA kit comes with a sub-ohm mesh tank.
Beyond this, you have the following differences:
GeekVape NOVA Specs:
Size: 88x52x25mm
Color screen
Output: up to 200W
Battery: 2×18650 (not included)
AS chipset
Aluminum alloy and resin body
10ms fire response
Lightweight (120g without batteries)
GeekVape AEGIS Specs:
Dimensions: 37.8mm x 46.8mm x 88mm
Maximum Power Output: 100W
Material: Aluminium, Zinc Alloy, Silicone
Battery Low Voltage Warning: 3.3V±0.1V
Maximum Firing Duration: 10 Seconds
Operation Temperature: -40℃~+80℃
Requires a Single 18650 or 26650 Battery
How I Use Both Mods
I tend to use the NOVA kit as a standard box mod. I run high-power sub ohm tanks on it, as well as dual coil RDAs and RTAs.
It has dual-18650 cells and a max output of 200W, so it can handle this style of vaping easily.
The AEGIS is my go-to mod for all my single coil tanks – so, RTAs, RDAs and my Kayfun tanks.
Running it at lower wattages means you can get days from its battery. This is why I tend to run my Kayfun tanks on it, as they run very low – always sub-20w.
Bottomline? If you want power and like sub ohm tanks get the GeekVape NOVA Kit.

Prefer lower wattage vaping? Go with the AEGIS.
They're both great looking devices. And the AEGIS is fully water-proof, which is a quite a USP.
I like to MTL vape quite a bit, so I tend to use the AEGIS very regularly.
The NOVA is my current go-to for when I'm testing out new sub ohm tanks or RDAs.
Both are great and, best of all, they're both very affordable in true GeekVape fashion 🙂
Best Prices For Both Mods?
GeekVape NOVA Kit | DirectVapor | $71.95 
GeekVape AEGIS | VapeWild | $48.00
Drake Equation
Co-founder and Editor of VapeBeat. I make the words.