What can we say about Elf Bar? It is one of the biggest disposable vape manufacturers on the planet, shifting hundreds of thousands of units a day across the globe.
The Elf Bar comes in a massive array of flavors, covering every possible taste and kink – from Mango to Red Bull. If you want the best selection of flavors, Elf Bar is 100% where it is at right now.
Best Elf Bar Deals UK & Europe
---
Best Elf Bar Flavors
When it comes to Elf Bar flavors, you have A LOT of potential options. The best Elf Bar flavours – meaning the most popular – based on sales from the VapeBeat store are as follows: 
Most Popular Elf Bar Flavors
Watermelon
Strawberry Ice Cream
Banana Milk
Blue Razz Lemonade
Strawberry Cheesecake
Kiwi Passionfruit Guava
Grape
Cherry
Bubblegum
Cheesecake
Double Apple
Cola
ElfBull
Elf Bar Number of Puffs – How Many Do You Get?
Most people think Elf Bar just makes disposable vapes. But this isn't the case – Elf Bar also makes refillable pod systems too. But the company is, of course, most well known for its extensive range of disposable vapes.
With Elf Bar disposables, you have quite a few different options to choose from. The vast majority of Elf Bar disposable vapes, including the OG model, the Elf Bar Lost Mary, the Elf Bar Lux, and the Elf Bar MC600 Shisha, will all do 600 puffs – or, about the equivalent of three packs of cigarettes.
Elf Bar also does a selection of disposables that do 500 puffs too which are ideal if you're not a heavy user. Most people, however, will want to go with the 600 puff Elf Bar models – these will deliver the most bang for your buck. And there are plenty of options to choose from as you can see above.
Is Elf Bar Good For Quitting Smoking?
If you're a current smoker and you're looking to stop smoking, an Elf Bar disposable vape is one of the easiest ways to do this.
Unlike traditional vapes that run coils and batteries and require charging and the application of settings to get them working, disposable vapes like the Elf Bar are incredibly simple to use.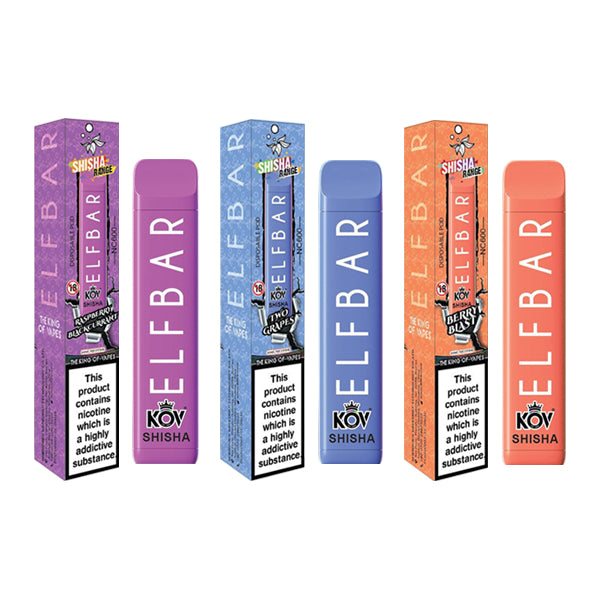 There are no buttons, nor is there any setup required. You simply unbox the Elf Bar, take it out of its plastic packaging, remove the rubber stoppers from it, and start vaping – it literally couldn't be simpler. Most Elf Bar vapes don't even have buttons.
You just place it on your lips and inhale and the device does everything for you.
This makes Elf Bar an ideal choice for current smokers that are looking to quickly and easily transition to vaping. You don't need to worry about anything with Elf Bar.
Just open up the package and use it until it runs out of juice and/or battery. Once the device is finished, simply throw it away and crack open a new one. No messing with wires, no coils, no charging, and no messing around with vape juice.
How Much Nicotine Is There In An Elf Bar?
The amount of nicotine inside each Elf Bar is dictated by the EU's TPD laws, so the maximum amount of nicotine you can have inside an Elf Bar, or any disposable vape for that matter, is 20MG.
Elf Bar also sells its products in 10MG and 0MG as well. This means, you can start on the stronger nicotine strengths and gradually work your way down to 0MG before quitting entirely.
How Long Do Elf Bar Disposable Vapes Last?
Elf Bars – well, most of them – are rated for 600 puffs per device. How long said 600 puffs last you, however, is anybody's guess. If you're a light vaper, you could potentially stretch a single Elf Bar over an entire week or several days. But if you're a heavy vaper, you could just as easily burn through one inside a couple of days.
My advice? Treat the Elf Bar as you would a cigarette; use it on your breaks at work, go outside when you use it, and don't use it like a dummy that is locked to your lips 24 hours a day. If you do this, you'll reduce how often you use the vape and this will ensure it lasts longer. And that will save you money in the long run.
Top-Selling Elf Bar Products