Can You Vape Weed? 
Yes. Yes, you can. Although it is technically called "dry herb vaping". No idea why, though!?
Dry Herb Vaping — as the name suggests — is all about turning dry herbs like Marijuana into healthier, smoke-free vapor which you can then hit via a standard vape pen or similar device.
Dry herb vaping has risen in popularity in recent years, following the legalisation of medical marijuana in some states in the US. It is a vastly healthier means of inhaling herbs than smoking and more convenient than cooking brownies, for instance, as you can take your dry herb vape pen with you wherever you go.
And vaping weed, like vaping in general, is a HELL of a lot better for you. Science, as always, is on hand to support this claim as well:
"Cannabis smoking can create respiratory problems. Vaporizers heat cannabis to release active cannabinoids, but remain cool enough to avoid the smoke and toxins associated with combustion. Vaporized cannabis should create fewer respiratory symptoms than smoked cannabis.
We examined self-reported respiratory symptoms in participants who ranged in cigarette and cannabis use. Data from a large Internet sample revealed that the use of a vaporizer predicted fewer respiratory symptoms even when age, sex, cigarette smoking, and amount of cannabis used were taken into account. Age, sex, cigarettes, and amount of cannabis also had significant effects.
The number of cigarettes smoked and amount of cannabis used interacted to create worse respiratory problems. A significant interaction revealed that the impact of a vaporizer was larger as the amount of cannabis used increased. These data suggest that the safety of cannabis can increase with the use of a vaporizer. Regular users of joints, blunts, pipes, and water pipes might decrease respiratory symptoms by switching to a vaporizer."
It's not just for marijuana, though. You can put all kinds of dried herbs into these devices. Even tobacco. And they work in a very similar fashion to normal vaping: you hit a button and the contents of the tank is heated — either by conduction or convection — and this then turns the dried goods into vapor, which you inhale.
There are A TON of dry-herb vaporisers out there but one of the most well known brands, likely because it is endorsed and used by Snoop Dog, is the G Pen. If you're after the best overall performance, great design and awesome features you NEED to go for the G Pen ELITE, as it is just about the best one we have ever tested.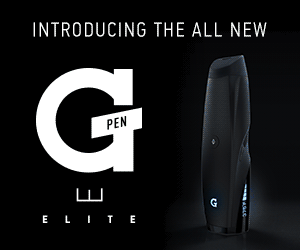 Other Options: Different Strokes For Difference Folks
There's a whole bunch of dry herb vaping products available out there, and all of them do different things, which means before you commit to one you need to know what you're vaping needs are beforehand: do you want to vape weed, dried herbs, oils, ejuice or all of the above?
You can pick up multifunction weed pen vaporisers that let you switch between waxy concentrates and dry herbs, as well as dedicated marijuana vaporiser pen products that feature chambers for vaping essential oils and e-juice.
Another option is the NEW VaporFi ATOM, which is now available for $139.99.
VaporFi ATOM Specs & Features
Battery Capacity: 3000mAH
LED Temperature Indicator
Temperature Range: 360°F-464°F
Output Voltage: 3.3-4.2V
Output Wattage: 15 Watts
Max Operating Current: 4A
Circuit, Over Voltage and Overload Protection
Motion Sensing Technology
Single-Click Activation
Streamlined Mode Navigation
30 Second Standby Shut-Off
Heat Ramp LED DIsplay
Blue Light: 360°F
Yellow Light: 410°F
Red Light: 464°F
Battery Life LED Indicators
Green: Full Battery
Yellow: Partial Battery
Red: Low Battery
White Light: Prepared for Use
Purple Light: Heating
Charged Via USB
100% Food Grade Mouthpiece
I don't use these types of vaporisers all the time. Just for "special" occasions, like unwinding in the bath with a glass of red, or with a nice single malt on a Friday night after a long week.