What Is The Best Box Mods You Can Buy? Below is a break-down of ALL the best box mod devices VapeBeat tested throughout 2017 [This List is UPDATED Regularly]
What are the best box mods you can buy right now? That's a good question.
We get asked what the best box mod to buy is ALL the time. This is why we did this feature, which lists all the best mods we've tested.
Further down we've listed ALL the best box mod devices we tested inside the last 12 months. All prices, budgets and styles accounted for!
If you're also in the market for a new tank, then you'll definitely want to check out VapeBeat's guide on the best sub-ohm tanks, RDA tanks and our pick of 2016's Best RTA Tanks.
We also have a guide to The Best Vape Brands (And Where To Find Them), so, if you're new to the scene, you know who to look out for!
For instance, you can get a mod these days that will handle multiple styles of vaping from standard power-wattage to temperature control, as well as having support for every conceivable type of coil under the sun.
One of the main things to consider when buying a powerful box-mod is price — it can vary greatly depending on the brand and technology inside it.
For instance, the Reuleaux Rx200 costs around $60, while the DNA 200-powered variant costs almost $100 more at $159 — and if you're on a budget this makes a difference.
Related Content: 
If you're looking for something slightly more pricy we'd suggest you take a look at our Best DNA 200 Mods piece, which includes some of the best mods in existence right now.
If you're in the UK, you might want to check this post out — The Best Box Mod UK Edition: BEAST MODE Mods
The Best Box Mods and Vape Mods Include:
| BRAND | MINI-REVIEW | RATING | BEST PRICE ONLINE | PRICE |
| --- | --- | --- | --- | --- |
| SMOK ALIEN 220W | IMPRESSIVE, POWERFUL – AN ICON IN THE MAKING | 10/10 | DIRECTVAPOR | $54.95 |
| INNOKIN MVP 4.0 | THE MVP 4 IS ONE OF THE BEST LOOKING MODS AROUND. PERIOD | 9.5/10 | DIRECTVAPOR | $57.95 |
| VAPORFI VAIO 80W | POWERFUL, GREAT-LOOKING PREMIUM MOD | 9/10 | VAPORFI | $139.99 |
| VAPORESSO TAROT PRO | OMNI BOARD-POWERED STUNNER. LOVE THIS MOD | 9.5/10 | DIRECTVAPOR | $59.95 |
| LAVABOX DNA 200 | ONE OF THE BEST DNA200 OPTIONS AROUND | 10/10 | VOLCANO ECIGS | $169.99 |
| Lost Vape Triade DNA250 | THE MOST ADVANCED MOD ON THIS LIST | 10/10 | DIRECTVAPOR | $154.95 |
| Wismec Reuleaux RX2/3 | BRILLIANTLY VERSATILE MOD WITH GREAT DESIGN AND EXCELLENT PRICE | 10/10 | VAPORDNA | $54.99 |
| iStick Pico | A POTENT LITTLE MOD CAPABLE OF BIG THINGS | 9/10 | DIRECTVAPOR | $39.95 |
| SIGELEI 213W (NEW MODEL) | NEW VERSION KICKS ASS. BIG TIME. AND TC WORKS, TOO | 8.5/10 | DIRECTVAPOR | $59.95 |
| WISMEC REULEAUX RX300 | THE BEAST. THE BIGGEST MOD ON THIS LIST. BY FAR | 9/10 | VAPORDNA | $59.99 |
| VAPORESSO NEBULA | SINGLE-CELL-POWERED, LIGHTWEIGHT MOD WITH PERFECT STYLING | 8.5/10 | VAPORDNA | $69.99 |
Read on for more detail on ALL these mods, including pictures, specs and features.
Best Box Mod: Vaporesso Nebula – Potent, Portable, Packed With Features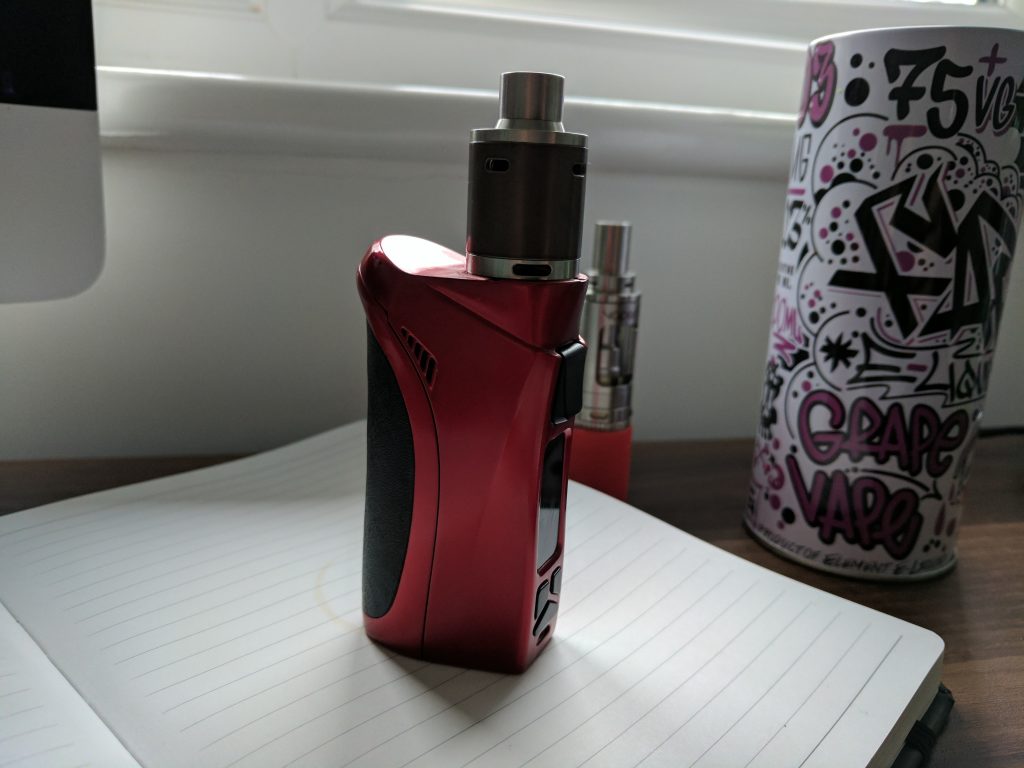 I could talk and write for hours about how much I dig Vaporesso's latest run of hardware, but I won't. Not here – here I'll keep things brief.
The Vaporesso Nebula is part of Vaporesso's 2016 hardware range and, like the Tarot Pro and Attitude mod, it runs on the company's brilliant OMNI Board chipset.
This chipset is a revelation; it packs in tons of features – you can even get it to mimic a mech-mod – as well as all the latest safety updates. Basically, if you're looking for DNA 200-style capabilities but for a fraction of the price you need to check out these mods.
The Nebula is a small, compact mod that is ideal for anyone that's after a stylish-looking, high-power mod. It runs one cell only, but it does run larger, 26650 cells and these translate into improved battery life.
Basically, if you want a mod that can do it all and then some, you need one of these OMNI Board-powered Vaporesso Mods in your life.
---
Best Box Mod: The Wismec Reuleaux RX300 – A Beast of The Most EPIC Proportions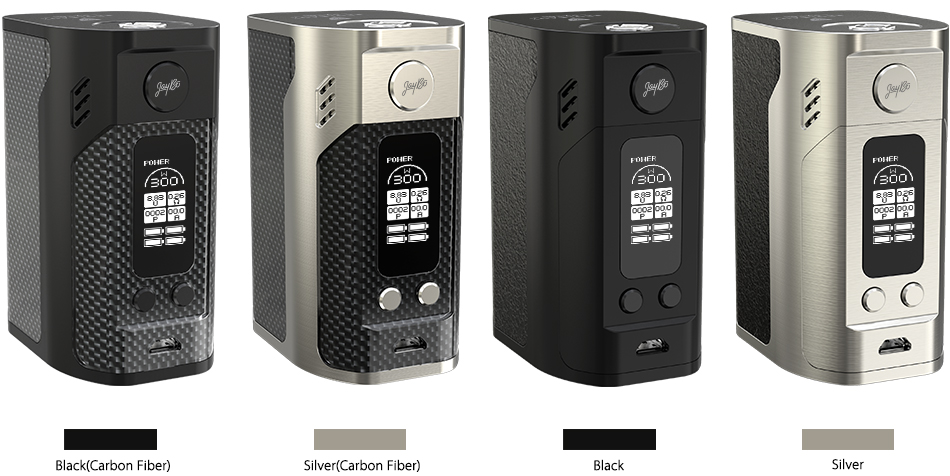 No one ever said the Wismec Reuleaux RX200 was too small. No one ever said it needed space for another TWO batteries. But what the hell: most people don't know what they want until its right there in front of them.
The Wismec Reuleaux RX300 is here and it is easily one of the most monstrous mods we have ever encountered. It's big – huge, in fact – and because it can now accommodate four batteries, you'll be vaping for longer and longer between charges.
The only real downside to this is that you'll have to buy more batteries and likely jeans with bigger pockets as this mod has quite the footprint.
But if vaping's your thang, money's always gonna play second fiddle to acquiring the best gear in the business. And the new Wismec Reuleaux RX300 is definitely one of the best mods in the business.
If you're in the UK and you want to get your's for A LOT less, you need to go to GearBeat. They're offering the Reuleaux RX300 for just £44 – UK Ecig Store, by comparison, is selling the same mod for almost £100.
Key New Features
300W Max Output
New Interface (Way More Information On Display)
Beautiful New Design
0.96inch OLED screen
Preheat Function
Upgradable Firmware
Changeable Stickers for Decoration
GearBest Has The Cheapest Prices We've Seen So Far For The Wismec Reuleaux RX300 – They're Retailing It For Just $69 (Way Cheaper Than Anywhere Else!)
---
Best Box Mods: Innokin iTaste MVP 4.0 PRO 100W TC MOD
The Innokin iTaste MVP 4.0 PRO looks amazing and comes from Innokin's well known lineup of MVP mods. Back in the day you saw the Innokin MVP 2 everywhere. Even Leonardo DiCaprio used one – and if its good enough for Leo…
The Innokin iTaste MVP 4.0 PRO is a whole other kettle of fish, though. This ultra-powerful, stylish mod is here to do one thing: take the fight direct to the likes of Wismec and SMOK with cool design, awesome features and BIG specs.
It features a HUGE 4500mAh battery cell and a maximum output of 100W, meaning it will comfortably be able to handle any style of tank. Even monsters like the SMOK TFV8.
Other notable features include support for firing coils as low as 0.1 ohms as well as advanced coil-sensing technology for super-accurate readings on your tanks.
If you like style, power and features. The Innokin iTaste MVP 4.0 PRO is the one for you.

---
Best Box Mods: Lost Vape Triade DNA250 TC Vape MOD
EVOLV's DNA 200 chipset is world-renowned as the best in the business. But now EVOLV is back with its next-generation version, the DNA 250, which brings more power, more features and even more control over your vaping than its predecessor.
The Lost Vape Triade DNA250 is a beautiful looking, premium mod that performs like it has a nuclear reactor inside it. If you can handle the price, the Lost Vape Triade DNA250 is pretty much untouchable in terms of overall looks and performance.
There are plenty of DNA 250 mods around at the moment, but a scant few can hold a candle to just how good-looking this one is – pictures DO NOT do it justice.
And if that wasn't enough the Lost Vape Triade DNA250 features support for up to three battery cells, which means truly EPIC battery performance.

---
Best Box Mods: Vaporesso Attitude
I've only been using the Vaporesso Attitude for a couple of days but it has already made a rather HUGE impression on me. The Vaporesso Attitude is a teeny little mod that runs on a single cell and has a max output of 80W.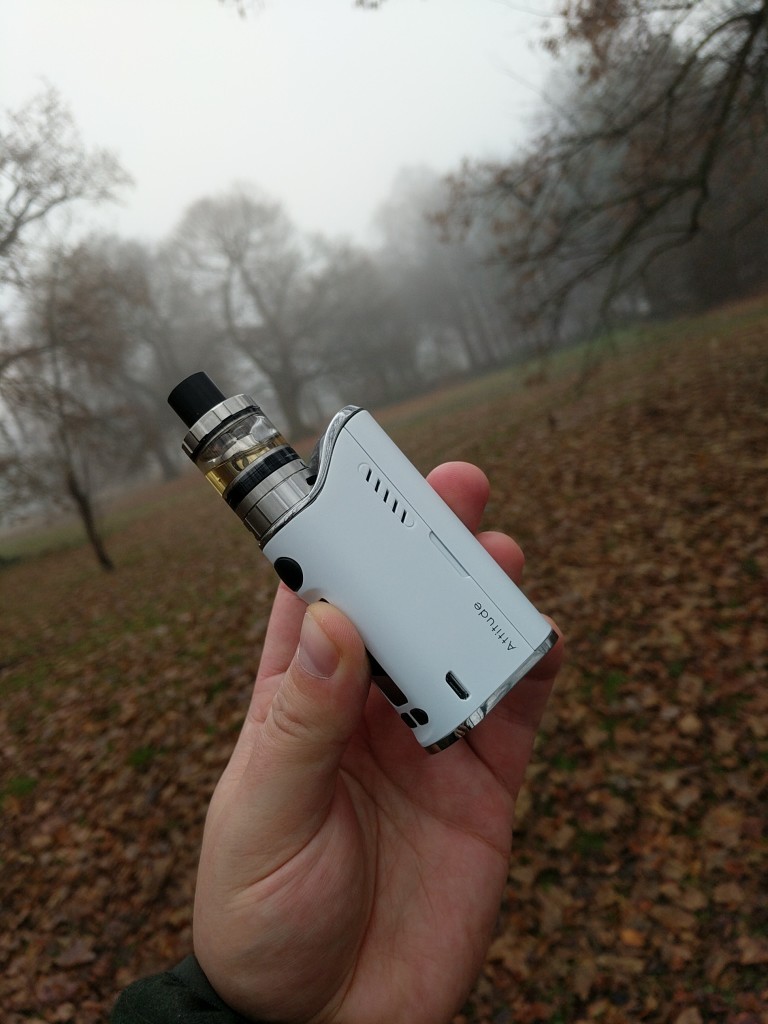 Now, this isn't quite as powerful as some of the other mods on this list, but it is more than enough for me, as I seldom go above 80W. The Vaporesso Attitude comes as a kit, so you get the mod itself and rather unique tank which supports Vaporesso's propriety EUC ceramic coils.
The Attitude features six output modes: Customized Curve of Wattage, Customized Curve of Temperature, Bypass Mode, Smart Variable Wattage Mode, TCR, and Ni200, Titanium, and SS316 TC modes are also fully supported.
Everything is powered along by Vaporesso's excellent OMNI board, which is fast becoming one of my favourite vape chipsets on the planet. So while this may look like a starter kit DO NOT be fooled: the Vaporesso Attitude is one HELL of a mod and it can perform on a par with the best of them!
Vaporesso Attitude Key Specs
Dimensions: 81mm by 48mm by 25mm
5 to 80W Output
OMNI Board
Six Total Output Modes
0.05 to 5.0 ohm Atomizer Resistance Range
Firmware Upgradeable
Two Row 0.91 OLED Display
Zinc and Aluminum Alloy Construction
Spring Loaded Gold Plated 510 Connection
---
Best Box Mods: SMOK ALIEN 220W Box Mod: HUGE Performance
SMOK has had an excellent 2016. The company released what is easily the best sub-ohm tank earlier on in 2016 in the form of the SMOK TFV8 and now it is back with a box mod called the SMOK ALIEN 220W Box Mod, which, as you might have guessed, is also pretty darn EPIC!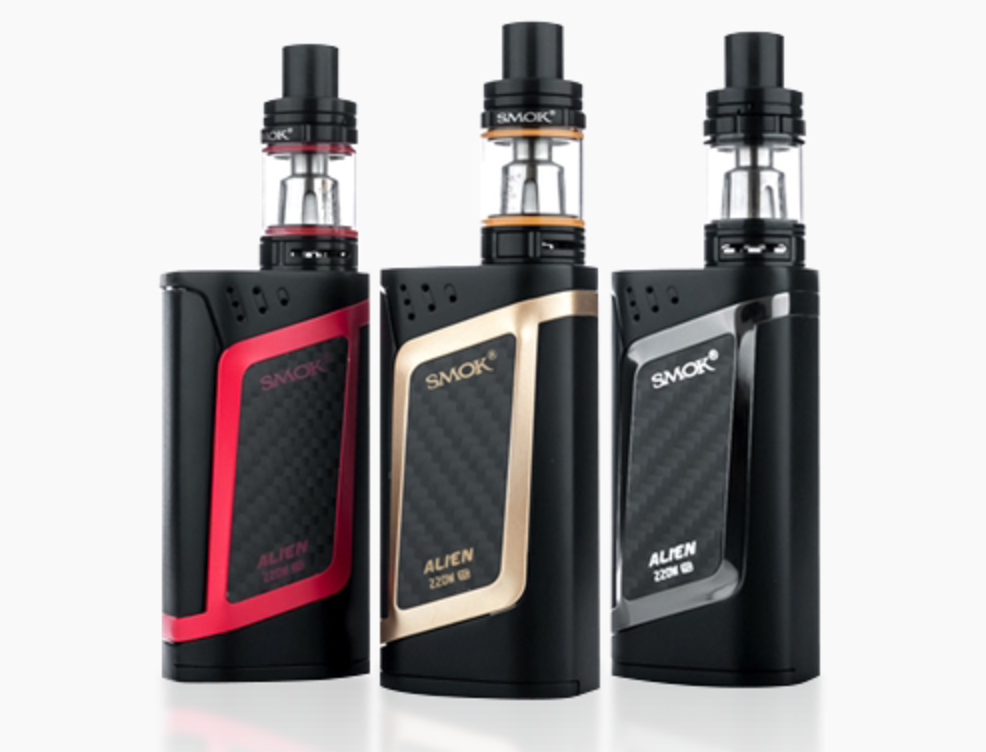 Featuring a TON of useful features and masses of power, the SMOK ALIEN 220W Box Mod is one hell of a performer. Nick praised the SMOK ALIEN 220W Box Mod for its utility and overall solid performance in his review – SMOK ALIEN 220W Box Mod Review: HUGE Performance – but was most impressed by the RRP which, at less than $60, is very compelling for a product of this quality.
If you're looking for power, a large, detailed display and TONS of features that allow for an superbly tuned vaping experience then you need to check out the SMOK ALIEN 220W Box Mod right now!
SMOK ALIEN 220W Box Mod Specs & Features
Dimensions – 44mm X 30mm X 85mm
Wattage – 6-220Watts
Temperature – 100-315*C/200-600*F
Memory Mode for 22 different memories
Individual Battery Monitor
Resistance Range – 0.1-3.0ohms in VW 0.06-3.0ohms in TC
Voltage – 0.35-8V
---
Best Box Mods: Vaporesso Tarot Pro: The Best-Looking Mod EVER
This mod is just exceptional – it looks amazing and it performs like an absolute champion! This thing is jam-packed with innovative features and safety modes, so not only do you look like an absolute boss vaping on it but you're also doing so using one of the safest mods on the planet.
Nick gave the Vaporesso Tarot Pro 9.5/10 in his review, which you can read in full by clicking here – Vaporesso Tarot Pro Review: The Best-Looking Mod EVER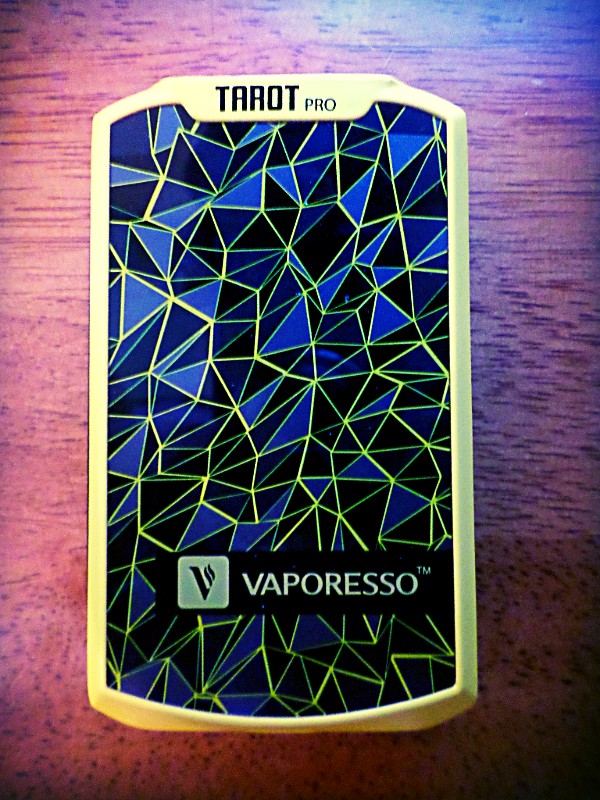 The Vaporesso Tarot Pro supports the following vaping modes: Ni, SS, Ti, and TCR. And you also get a couple added features which are CCW, Customised Curve of Wattage, which allows you adjust your vaping to every ½ second, and CCT, Customised Curve of Temperature, which allows you to set a preheat, so to speak, so you have no ramp up time in temperature control mode.
Specs & Features
Dimensions: 93 x 55 x 23mm
Voltage Range: 0 – 8.5V
Wattage Range: 5W to 160W
Temperature Range: 100℃ – 315℃ /280F – 600F
Suitable Atomizer: 0.15 – 5 ohm
Mode: SMART VW/VT(Ni200,SS,Ti)/TCR/CCW/CCT/ BYPASS
Casting: Zinc Alloy, Aluminium Alloy and Carbon Fiber
Battery Cell: 2 x Lithium 18650 (Sold Separate)
Display: OLED 0.91 inch
Thread: 510 thread
Firmware Upgradeable
Low Voltage & Short Circuit Protection
Micro USB Port
---
Best Box Mods: VaporFi VEX 150 TC Review: One of 2016's FINEST Mods
VaporFi has come to the late-2016 vape party with two STUNNING mods. The first was the one you just read about above and, the second, is the brilliant VaporFi VEX 150 TC.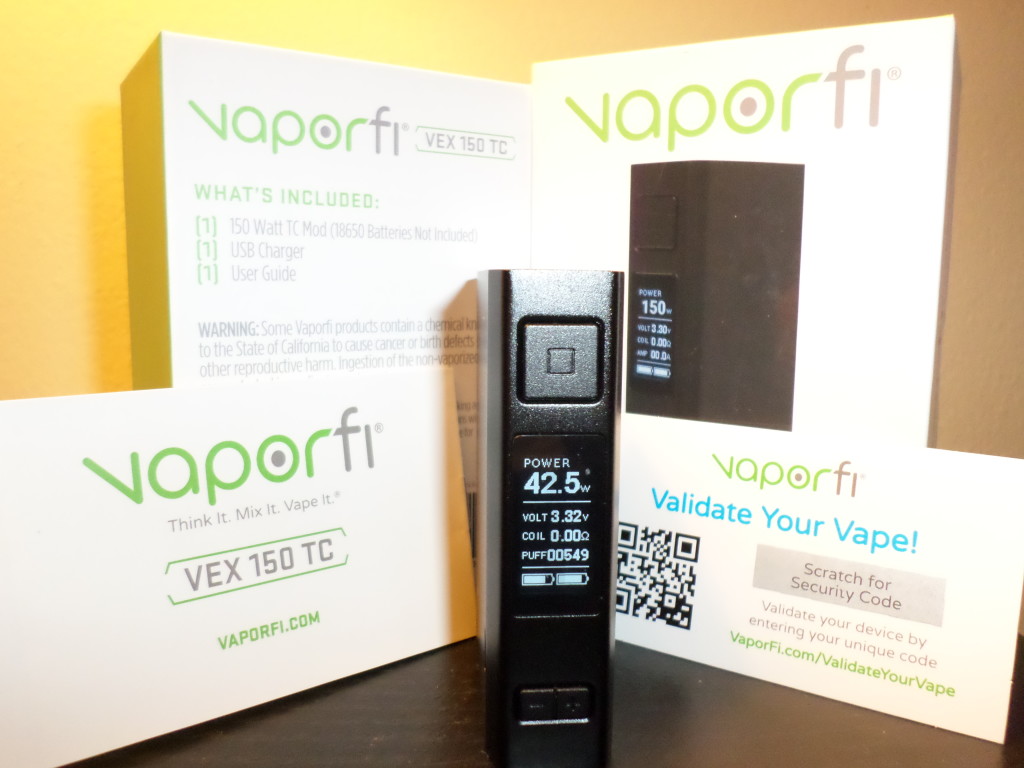 We reviewed both and were blown away by their overall design, features-set, capabilities and performance. VaporFi knows how to make good quality hardware, but these two are so far beyond its usual standards it beggars belief.
If you're after a well-designed, powerful TC mod the VaporFi VEX 150 TC is definitely worth a look. After testing this mod is now a permenant player in our daily rotation of mods.
VaporFi VEX 150 TC Specs
Brushed Zinc Alloy Construction
Requires 2 30A 18650 Batteries (Not Included)
Wattage Range: 1 – 150 Watts
Temperature Control Compatible
Resistance Range: 0.1 ohm – 3.5 ohm
Temperature Resistance Range: 0.05 ohm – 1.5 ohm
Temperature Range: 200°F-600°F / 100°C-315°C
Modes: Power/Ni200/TCR/Bypass/Memory(M1,M2,M3)
Keylock Feature
Stealth Mode
0.96″ inch OLED
Reverse Polarity Protection
Over-Discharge Protection
Over-Charging Protection
Over Current Protection
Real Time Clock (RTC)
Charged via USB
---
Best Box Mods: VaporFi VAIO 80 TC MOD
Like a lot of manufacturers in the vape space, VaporFi is clearly ALL about pushing the boundaries of what's possible with technology inside its latest and greatest mod, the VaporFi VAIO 80 TC MOD.
The VaporFi VAIO 80 TC MOD is an all-in-one unit, meaning the tank, coil and mod are all housed in the body. The innovative design of the VaporFi VAIO 80 TC MOD saves on space, parts and makes for a chunky-looking mod that looks utterly stunning in red.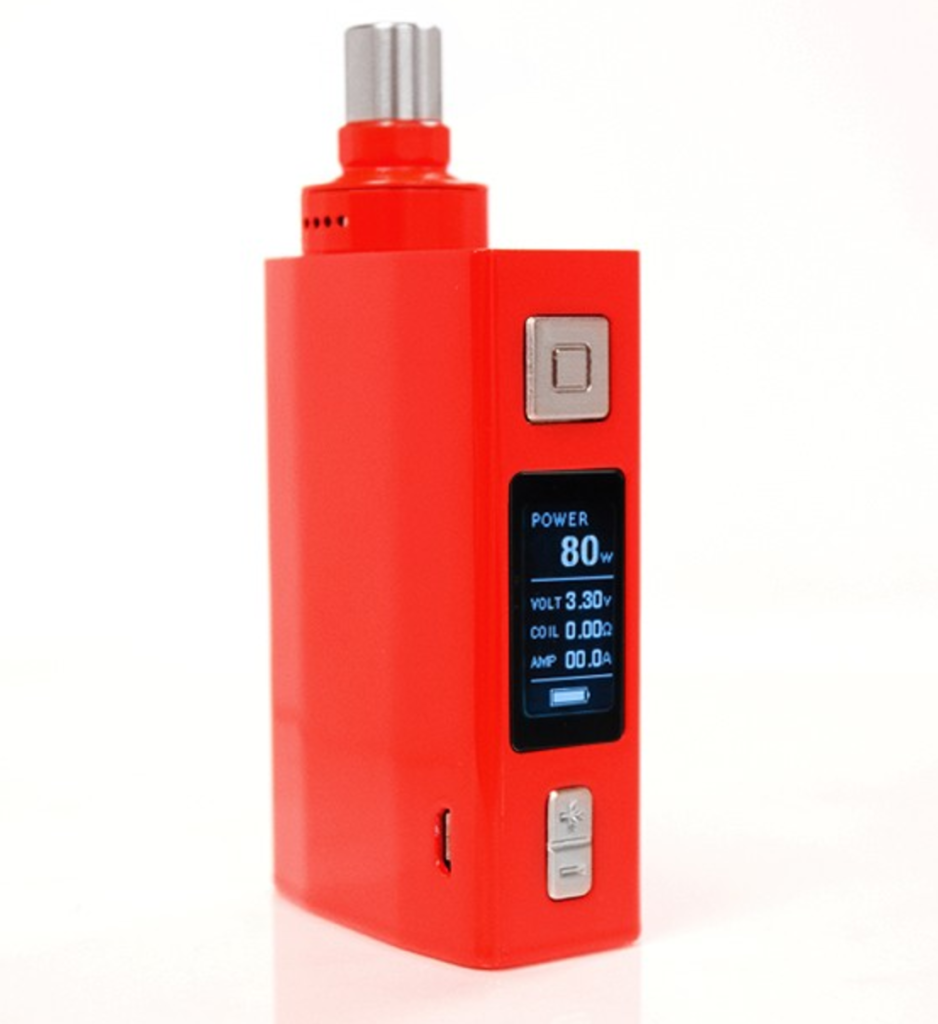 The tank, which is hidden inside, is a 3.5ml setup features "atomizer to tank direct contact" which means it draws brilliantly every time. The VaporFi VAIO 80 TC MOD comes with two atomizers; one VaporFi Notch Atomizer @ 0.25ohm (Pre-Installed), and one SS316 0.5ohm Atomizer.
SS316L, Ni200, titanium and kanthal coil types are all compatible as well. And if that wasn't enough any sub-ohm tank or RDA to be attached directly to the MOD and used instead of the built-in tank, making this one of the most unique and versatile setups on this list.
VaporFi VAIO 80 TC MOD Specs & Features
49 x 26 x 75mm
Built-in 2100mAh Battery
Built-in Tank
3.5ml Tank Capacity
LED Tank Light
Removable Drip Tip
Top Fill Tank Design
Anti-Leak Protection
Temperature Control Compatible
Variable Wattage Range: 1-80W
Resistance Range: 0.15 – 3.0ohm
Temperature Resistance Range: 0.05 – 1.0ohm
Temperature Range: 200°F-600°F / 100°C-315°C
Modes: Power/Ni200/TCR/Bypass/Memory(M1,M2,M3)
Real Time Clock (RTC)
0.96″ OLED Screen
1A USB Charging
---
Best Box Mods: Sigelei Fuchai 213W TC MOD
Sigelei had a bit of a booboo with the original Sigelei Fuchai 213. The mod couldn't hit the advertised 213W power output and its TC mode didn't really work. This didn't go down well with reviewers, resulting Sigelei having to retreat back to the drawing board and start all over again.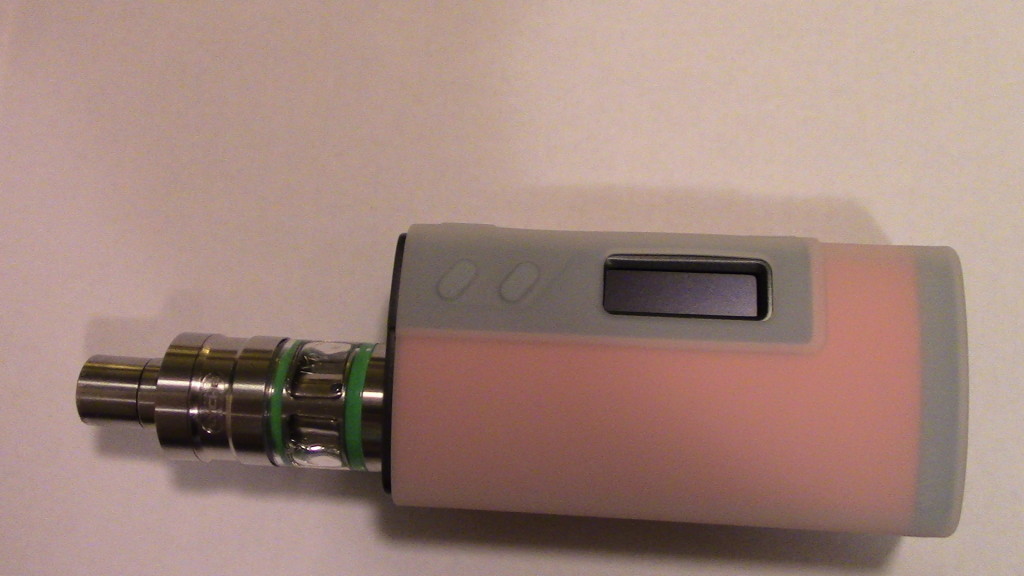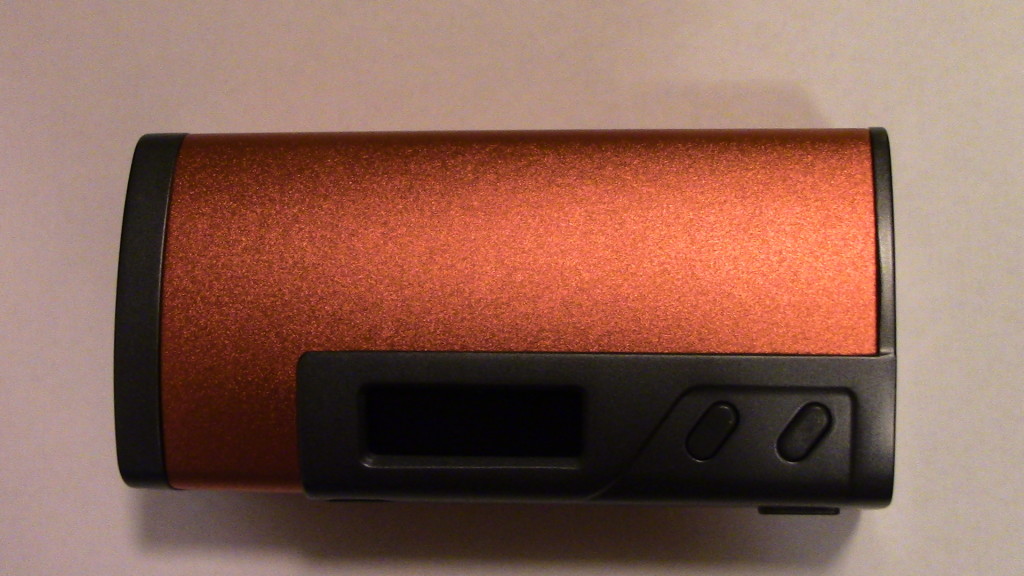 Fortunately, the new Sigelei Fuchai 213 is a brilliant device that fixes all the issues of its predecessor and adds in a bunch of awesome new stuff like a more robust design, fully functional TC mode and 213W of power.
Nick just finished reviewing the mod after spending a couple of weeks with it and, after careful deliberation, awarded it 8/10, making it a solid all round performer.
Sigelei Fuchai 213W TC MOD Specs & Features
Aluminum Alloy Construction
Dimensions: 88*44*29mm
0.91 Inch OLED Display
Wattage Range: 10W – 213W
Temperature Range: 200°F – 570°F / 100°C – 300°C
Resistance Range: 0.1Ω – 3.0Ω
Input Voltage: 6.4V – 8.4V
Output Voltage: 1.0V – 7.5V
Output Max Current: 35A
Firing Modes: VW, TC (SS, Ti, Ni)
Requires (2) 18650 Batteries (Sold Separately)
Spring Loaded 510 Pin
Battery Door Panel
Sigelei Fuchai 213W TC MOD: Best Prices
---
Best Box Mods: SMOK X Cube Ultra 220W
SMOK needs ZERO introduction. Easily one of the most well known brands in the vape space, SMOK kicked things into overdrive during 2016 when it released its INSANELY potent SMOK TFV8 tank, which also goes by the name of CLOUD BEAST. That tank is immense. If you haven't checked out already, make sure you do — here's our SMOK TFV8 Review.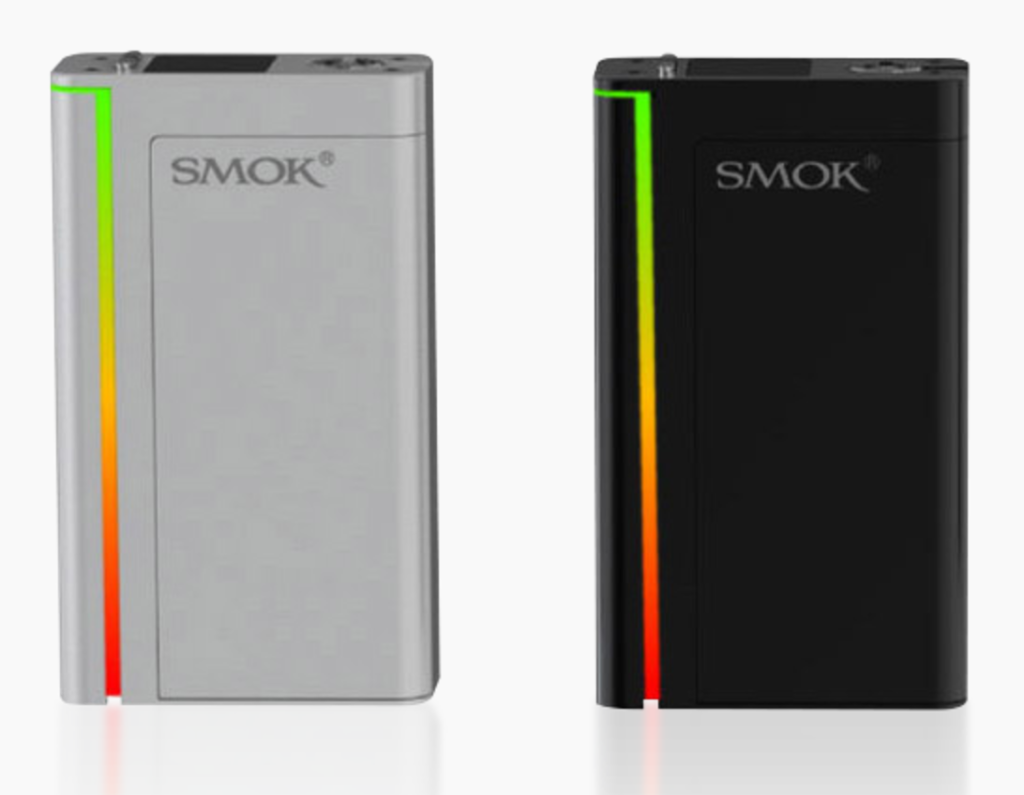 Another excellent piece of gear released by SMOK this year is the X Cube Ultra 220W mod. Not only does it look absolutely stunning and pack more power than nearly everything else on the market, it is priced extremely aggressively and can be yours for as little as $67.95.
Interesting fact? The SMOK X Cube Ultra 220W features a vibration mode, whereby it vibrates when you vape, creating a more, ummm… immersive vaping experience? Maybe. I don't know — either way, it's a pretty unique feature, either way.
Oh yeah, the SMOK X Cube Ultra 220W also feature Bluetooth and can update itself OTO (over the air) like a smartphone. Not too shabby for a mod, right!?
SMOK X Cube Ultra 220W: Specs & Features
Intelligent OLED Display Screen: battery capacity, wattage, resistance

Output Mode: Temp Mode/Watt Mode/Memory Mode

Requires two 18650 Batteries(Not Included)

Magnet-help battery cover

Short Circuit protection

Discharge protection

Construction: High-quality Zinc Alloy and Stainless Steel

Wattage Memory Modes

Bluetooth 4.0 technology

Spring loaded 510 connector

Customizable LED colour (up to 16 million colours)
SMOK X Cube Ultra 220W: Best Prices From Around The Web
---
Best Box Mods: Lost Vape Therion DNA75
EVOLV's DNA75 chipset, like its DNA200 one, is ALL about precision vaping.
With a DNA mod, you pay more, but the upshot is an unparalleled vaping experience where you can control everything about your vaping experience with software — yes, that's right: you can programme your vape using a computer!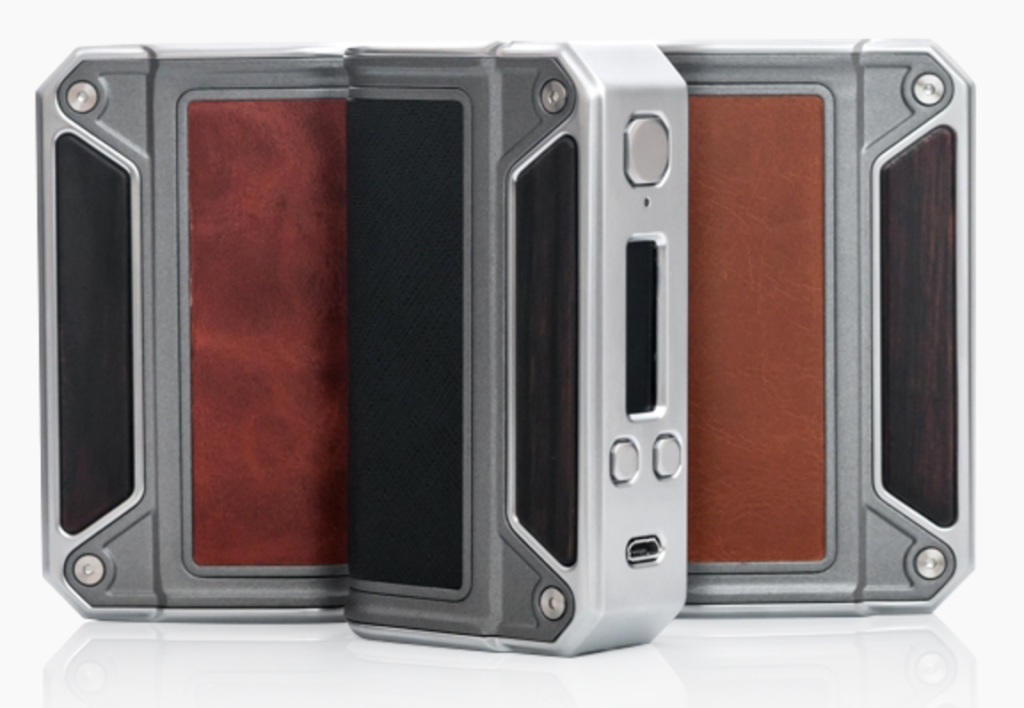 The Lost Vape Therion DNA75 MOD is also quite a looker as well with its metallic chassis and faux-leather (hello, vegans) bodywork. If style is your thing, the Lost Vape Therion DNA75 MOD is just about as stylish a mod as you're likely to find anywhere — it looks beautiful!
Another plus point about the Lost Vape Therion DNA75 TC MOD is that it runs on removable 18650 batteries — two of them to be specific. This means you can buy four and always have a couple of fully-charged cells laying around, meaning ZERO downtime.
The Lost Vape Therion DNA75 MOD will run pretty much any tank as well, meaning RTAs, RDAs, RBAs and more common sub-ohm tanks like the Herakles Plus and UWELL Crown.
Lost Vape Therion DNA75 MOD: Specs & Features
Wattage Range: 1-75 Watts

Temperature Control Compatible

Genuine Leather Wrap

Genuine Wood Panel Inserts

Evolv DNA75 Chipset

Dual18650 Battery (Not Included)

Parallel Battery Configuration

Micro USB Port

Full Customization With ESCRIBE Software
Lost Vape Therion DNA75 MOD: Best Prices From Around The Web 
---
Best Box Mods: Wismec Reuleaux RX2/3 150W/200W MOD by Jay Bo Designs
Ah Wismec, you simply CANNOT stop innovating, can you? Not content with making some of the best mods and tanks in the business, the company — under the guidance of Jay Bo — just keeps on pumping out the goods. And the Wismec Reuleaux RX2/3 150W/200W MOD is just another example of why Wismec is perhaps the most significant player in the entire space at present.
Like the Reuleaux RX200 and RX200S before it, the Wismec Reuleaux RX2/3 150W/200W MOD is all about power. However, with this mod you have a choice of ULTRA power (in three battery mode), or just standard power (in dual-battery mode), meaning you can either run three 18650 batteries or two, depending on what you're going after.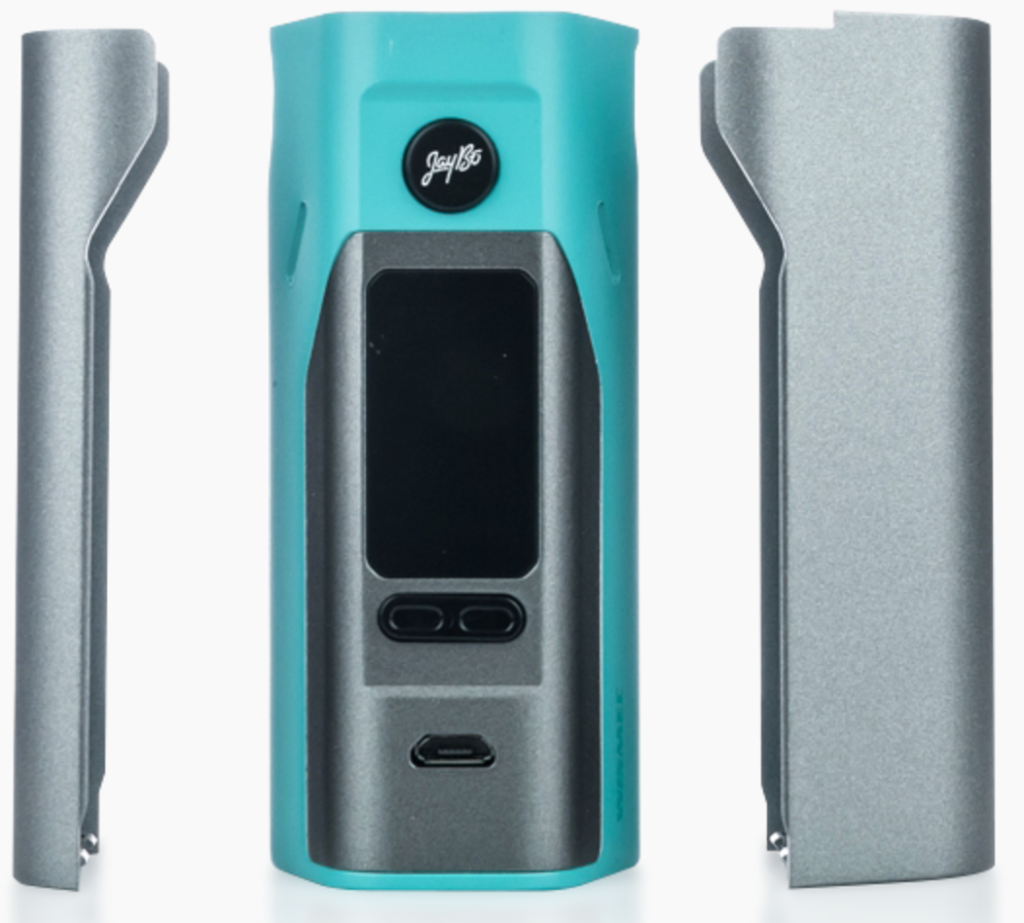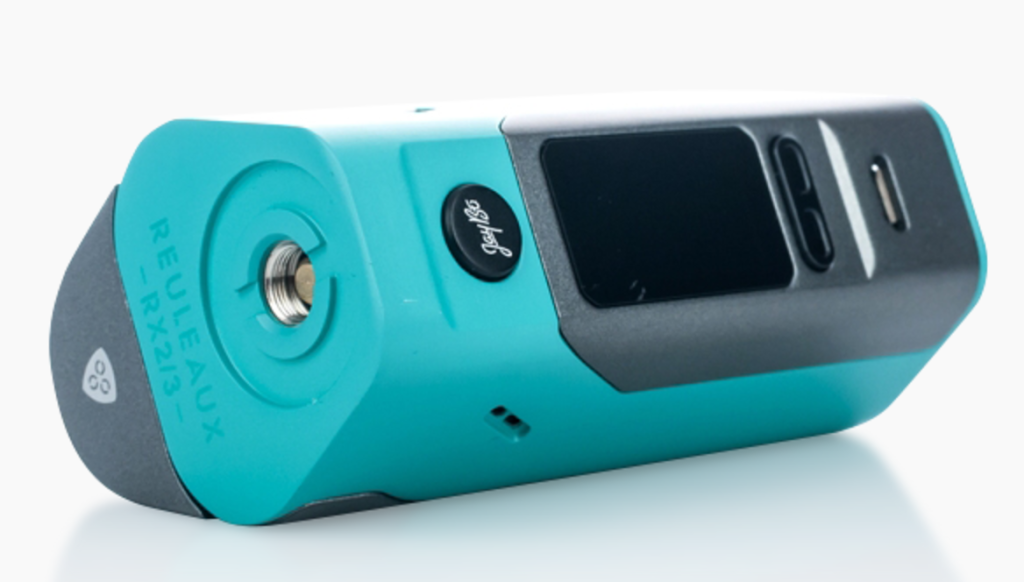 The way it works is simple: the mod ships with two battery doors; one for a three cell setup, the other for a two-cell configuration. And whichever you decide to run is entirely up to you. In this context, it's a bit like having two mods for the price of one.
Just like its predecessors, the Reuleaux RX2/3 looks absolutely stunning. It also features a large .99in OLED display, which is crystal clear and packed with information. And then comes the best part — you can pick one up for just $54.95.
Wismec Reuleaux RX2/3 Specs and Features
Requires 2 or 3 18650 Batteries(Sold Separately)
Two or Three Battery Switchable Back Cover
Two Battery Configuration
150W Maximum
6V Maximum
Three Battery Configuration
Full Sized Power and Longevity
200W
9V Maximum
Brand New RX2/3 Chipset
Auto Switch Output
Temperature Control Compatibility: Ni200, SS316, TCR
Temperature Range: 200°F – 600°F / 100°C – 315°C
Upgradeable Firmware With Logo Customization
Atomizer Resistance Lock
0.96 OLED Display
Spring Loaded, Gold Plated 510 Threaded Contacts
Wismec Reuleaux RX2/3: Best Prices From Around The Web
---
Best Box Mods: Reuleaux RX75
Wismec is just about the most exciting brand working in the vape scene today. The company can do know wrong and it doesn't matter whether you're talking about its RTAs or its Mods, Wismec is now very much a seal of awesome quality.
Long time readers will know we're BIG fans of the Reuleaux RX200 here at VapeBeat. As box-mods go, the Reuleaux RX200 is just about as good as they get — it has power, a great design and an awesomely low price to match. We love it and that is why you'll find it listed further on down in this list.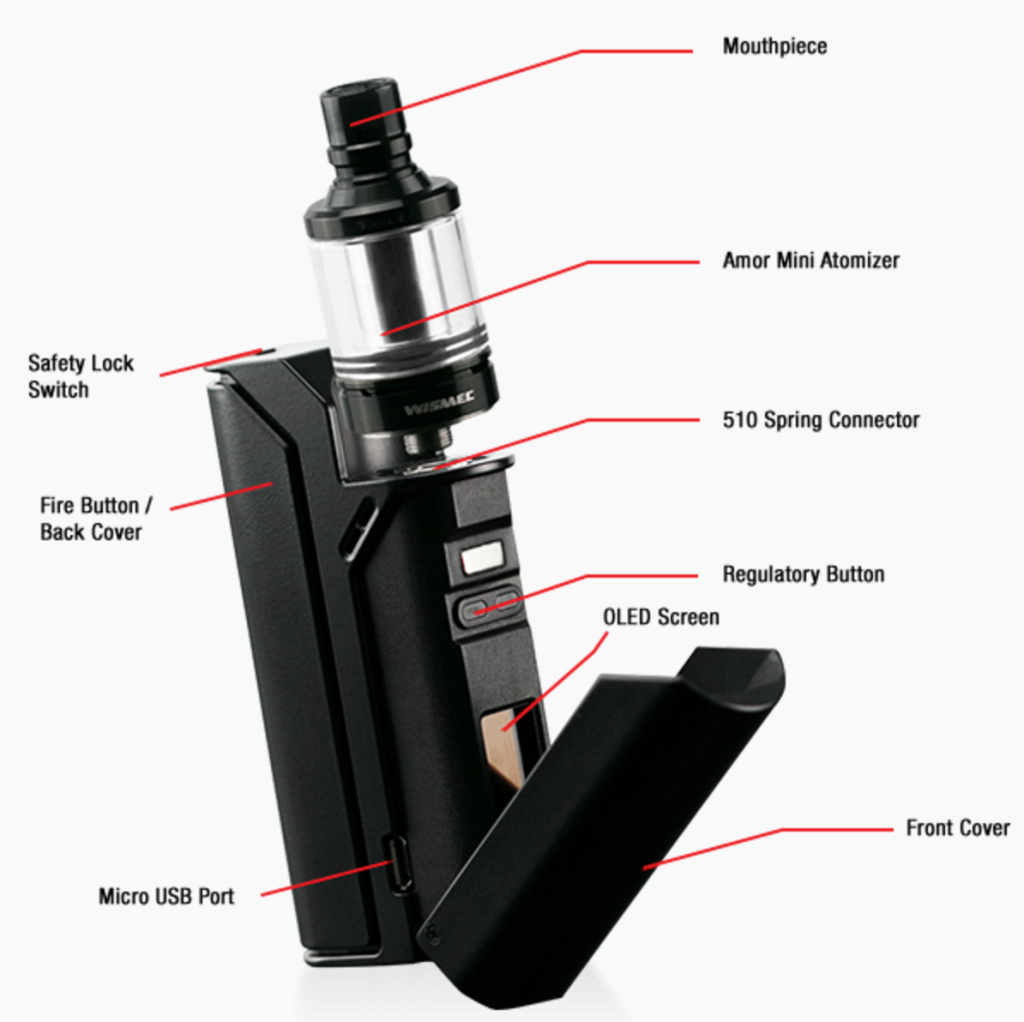 But there is another Reuleaux option now and, NO, I'm not talking about the DNA 200 version of the Reuleaux, either. No; this one is more akin to the Reuleaux RX200, in that it's super cheap and ultra powerful. I am, of course, talking about the amazing Reuleaux RX75, which retails for just $55 in most places.
Nick recently gave this mod 10/10 in our recent Reuleaux RX75 Review. High praise, indeed, from a man practically swimming in DNA 200 mods. I'd strongly advise you to read the full review in order to get a better idea about what makes this device so good. But if you can be bothered to do that, just know that the Reuleaux RX75 is EASILY one of the best value mods on the planet right now. Period.
Reuleaux RX75 Specs & Features
1 to 75W Output
0.1 to 3.5 ohm Atomizer Resistance Range
Dual Circuit Protection Systems
Bypass Mode
Output Based on Battery Charge State
Upgradeable Firmware
Temperature Control Suite
Ni200 Nickel Support
Titanium Support
Stainless Steel 316 Support
Three Setting TCR Mode
Resistance Lock
200 to 600 degrees Fahrenheit Range
0.96 Inch OLED Display Screen
Vertical Stack
Output Mode
Output Temperature
Output Power
Output Voltage
Output Current
Atomizer Resistance
180 Degree Rotation
Stealth Mode
Key Lock
Reuleaux RX75 Best Prices: 
---
Best Box Mods: iStick Pico
We recently reviewed the iStick Pico and, well, we bloody LOVED it. It might be small and unassuming, but pound for pound is it one of the best box-mods around — and, yes, you're brain is right: that does rhyme.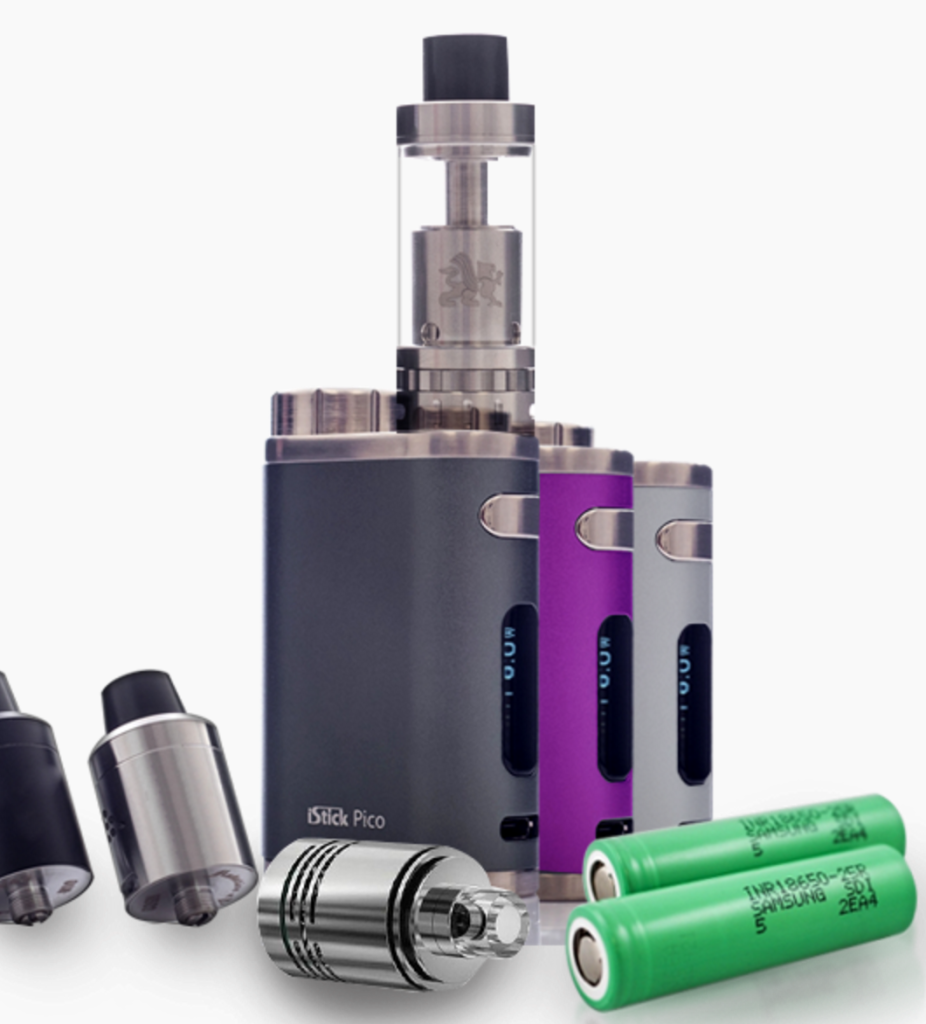 Here's an extract from Nick's iStick Pico Review:
"If you want a powerful yet small device that will surely turn heads, then look no further as your search has ended. The iStick Pico is great for everyone from beginner to advanced and has everything offered on most bigger, bulkier temperature control devices.
"This is perhaps one of the best kits around at present."
Specs & Features
Utilizes (1) 18650 Battery (Sold Separately)
Firing Modes: VW, Bypass, TC-Ni, TC-Ti, TC-SS, TCR-M1, TCR-M2, TCR-M3
Wattage Range: 1W – 75W
Temperature Range: 200F – 600F / 100C – 315C
Resistance Range (VW): 0.1 – 3.5 ohm
Resistance Range (TC): 0.05 – 1.5 ohm
On-Board Charging
Firmware Upgradeable
OLED Screen
iStick Pico Best Prices
---
Best Box Mods: SMY SDNA 200 Box Mod
Powered along by Evolv's DNA 200 chip, the SMY SDNA 200 Box Mod comes in three colours: white, black and go-FASTER red. The SDNA goes all the way to 200W, looks great, and benefits from EVOLV's onboard Escribe software, which allows for endless possibilities when it comes to designing your perfect vaping style.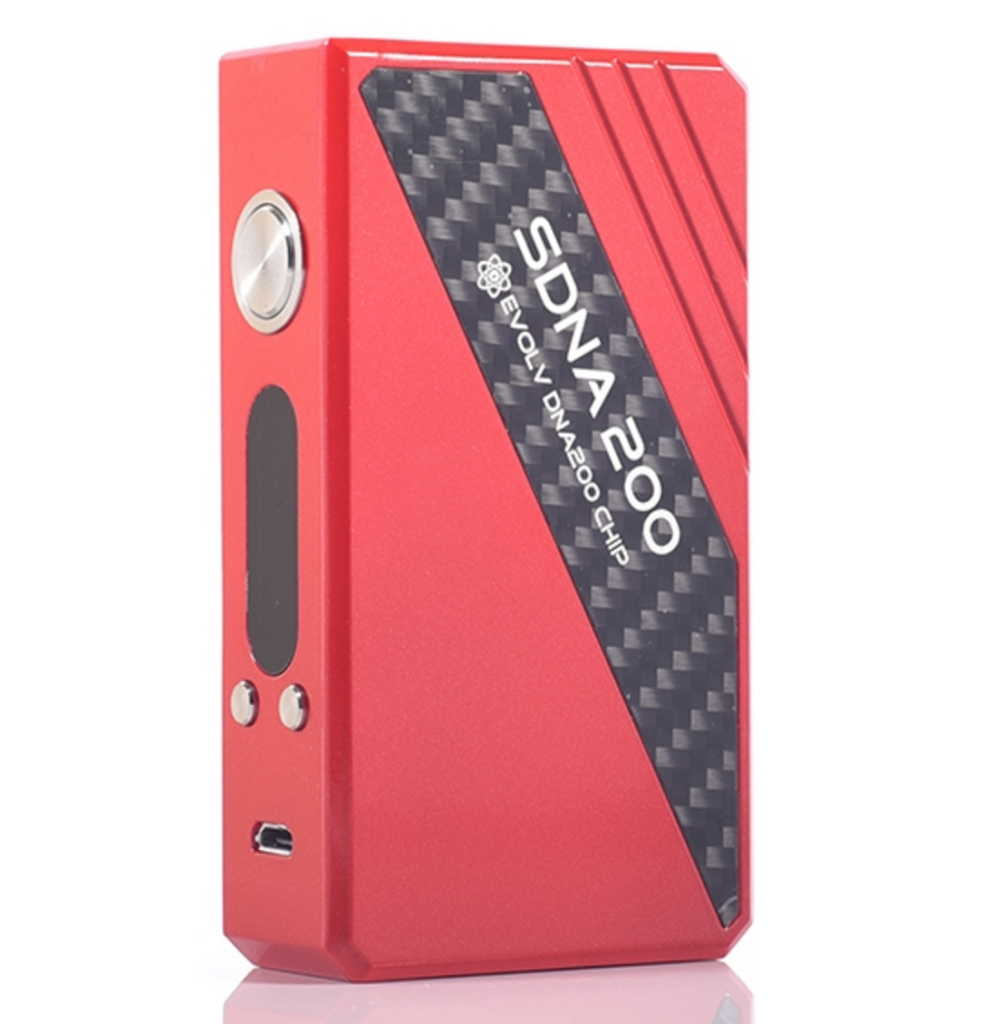 The battery is non-removable, which is a bit of a bummer, but the large 1600 mAh 3S Lithium Polymer Battery combined with the power-saving aspects of the DNA 200 chipset mean performance is still excellent.
You can run Kanthal tanks up to 100W and Ni200 Nickel-based ones, as well as other types supported by Escribe, up to 200W with temperature ranges from 200 to 600 degrees Fahrenheit. But this is all par for the course with a DNA 200-powered device. The stand out features here are: 1) the battery and, 2) how good it looks. I LOVE its carbon fibre accents. Lovely stuff.
SDNA200 Product Features:
Official Evolv DNA 200 Chip Set
1600mAh 3S Lithium Polymer Battery
Sharp and Squared Lines
Carbon Fiber Accent
Manufactured out of High Quality Alloys
Beautiful Rich Finishes
Micro USB Charging and Escribe Connection Port
Stainless Steel 510 Threading
Silver Plated Contact Pin
Three Button Adjustment
Knurled Adjustment Buttons
SMY SDNA 200 Best Prices
---
Best Box Mods: ELEMENT MODS CEDAR DNA 200 BOX MOD
This box-mod is a BEAST but, unlike a lot of cheaper set-ups, the biggest talking points here aren't just how powerful it is. No. What's most eye-catching about this device is its overall finish and design. It looks and feels incredible. Easily one of the most premium-grade box-mods we've ever had the pleasure of vaping on.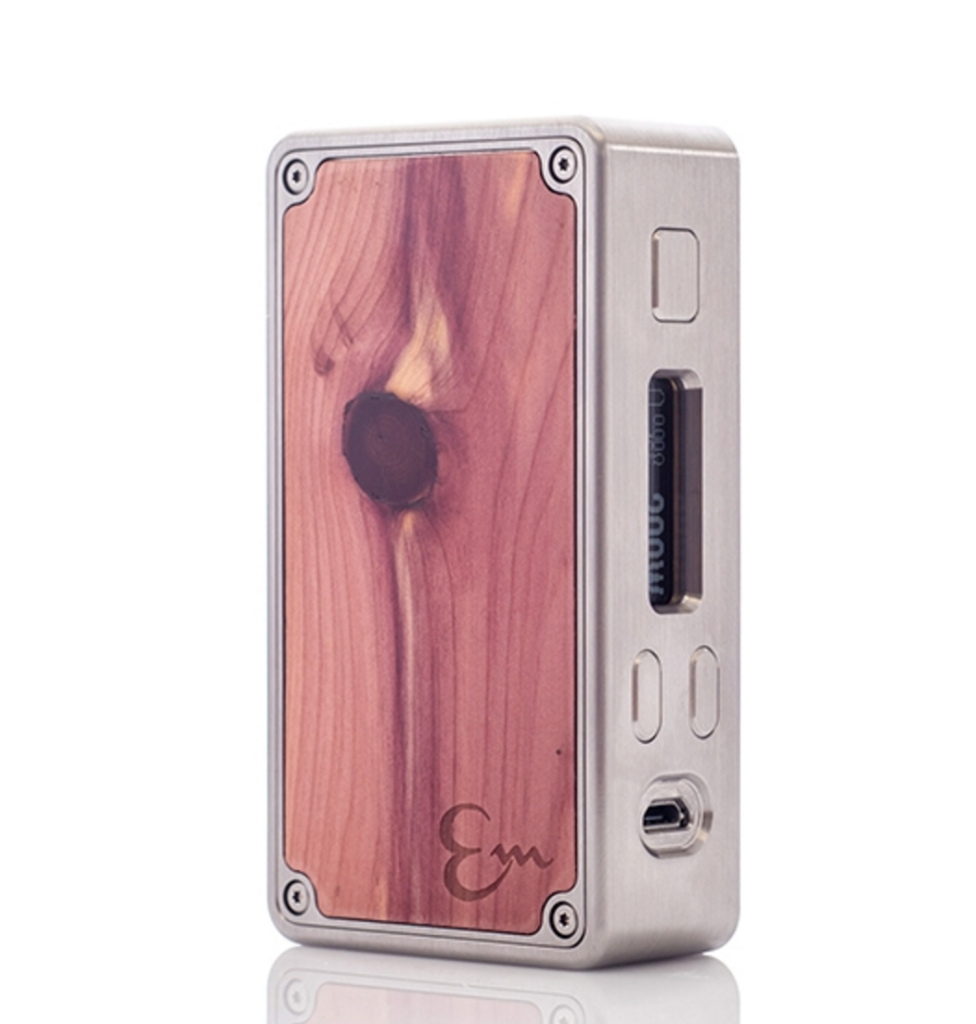 As the name suggests, everything is powered along by a DNA 200 chipset which means top of the line safety features and one of the most customisable vaping experiences going, as the chip allows for greater control of heating and power. And the result, as anyone who has used these types of devices will tell you, is brilliant.
We simply ADORE this setup. And we think you will too, providing you can stomach the $399 price tag!
Specs & Features
Official Evolv DNA 200
Custom Flashed Element Mods Screens
Mounted on hidden 360 Brass Plate
Grounds Directly to Chassis
Alleviates Extra Wire Connections
Optimal Conductivity and Connectivity
Seamless O Frame Chassis
Machined out of a Solid Block of 303 Stainless Steel
510 Integrated Into Chassis
303 Stainless Steel Firing and Adjustment Buttons
Custom Milled and Machined
Ultra Tight Tolerance
Slightly Raised Above Face
303 Stainless Steel Side Panels
Cedar Inlays
Unique and Natural Grain Patterns
Naturally Patina
Develops Character and Richness
900 mAh 3S Lithium Polymer Battery
Brass Spring Loaded Center Pin
Custom Milled Micro USB Port
Limited Quantity
---
Best Box Mods: Pioneer4You IPV5 200W TC Box MOD
Pioneer4You's IPV series is pretty well known. The company has been making waves in the vape space for quite some time now, and in 2016 it is BACK with a 200W mod that'll likely blow your socks off.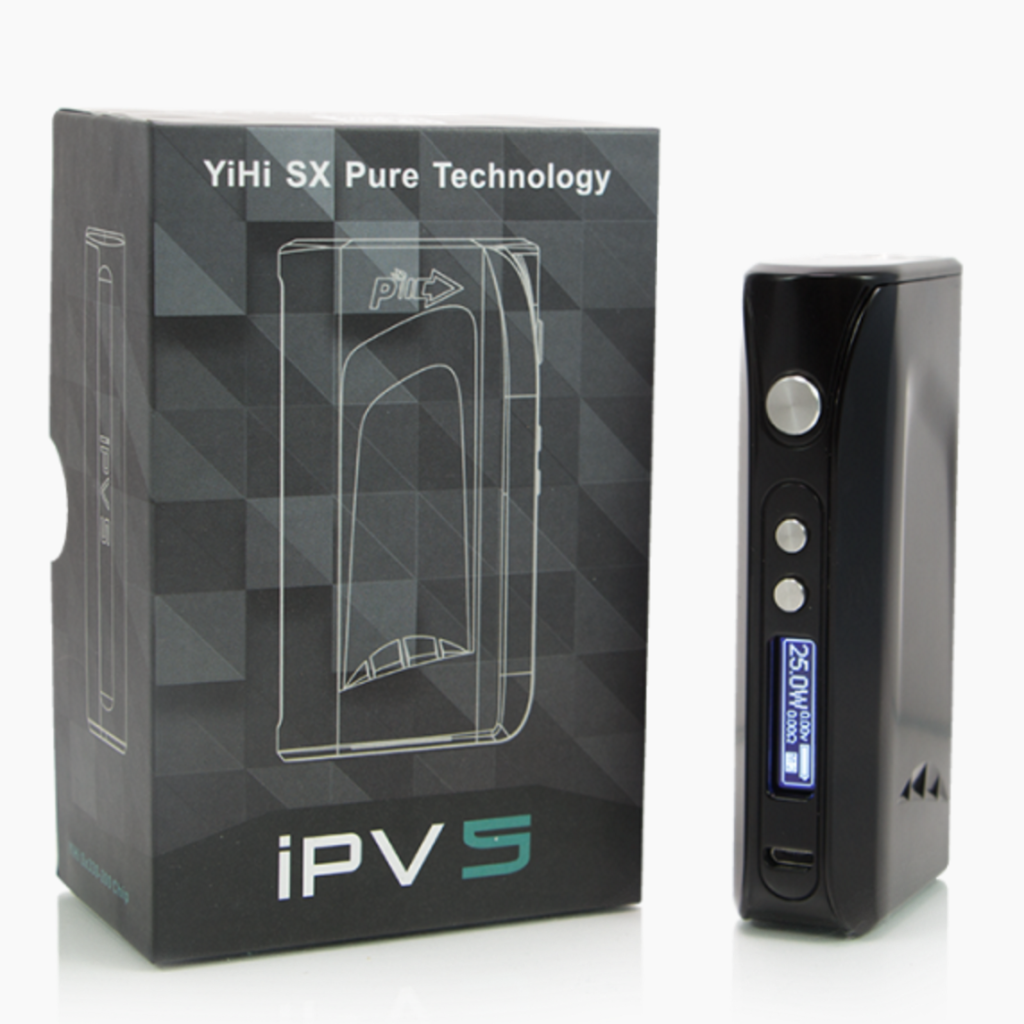 The Pioneer4You IPV5 supports atomizer resistances as low as 0.15 ohm and is powered by the YiHi SX330-200 Chipset, meaning temperature control as standard and a far smoother vape regardless of what resistance or coil-type you use.
The iPV5 supports Stainless Steel, Titanium and Nickel 200 wire too, meaning you can use a wide variety of tanks on this bad boy. The IPV5 is powered by 2 18650mAh batteries, so be sure to pick up a decent charger (like THIS ONE).
Pioneer4You IPV5 200W TC Box MOD Specs & Features:
Wattage Range: 10W – 200W
Joule Range: 10J – 100J (120J Using Ti Wire)
Standard Resistance Range: 0.15 – 3.0 ohm
TC Resistance Range: 0.05 – 1.5 ohm
Powered by YiHi SX330-200 Chipset
Supported TC Wire: SS, Ti, and Ni
Requires (2) 18650 Batteries (Sold Separately)
Firmware Upgradable
IPV5 200W TC Box MOD Best Prices
---
Best Box Mods: Wismec Reuleaux DNA 200
If you fancy something a little more premium, well, Wismec has another Reuleaux option that is WELL worth your consideration. It's called the Wismec Reuleaux DNA 200 and, as the name suggests, it benefits from EVOLV's awesome DNA 200 chip which brings unparalleled levels of performance and customisation to your vaping.
The only downside to DNA 200 mods is that they tend to be a little more pricy — on average about $100 more than their non-DNA 200 counterparts. Still, once you've experienced a DNA 200 mod you're not likely to regret your decision, nor will you ever go back to non-DNA mods. They really are that good.
Wismec Reuleaux DNA 200 Specs & Features
Size: 50.0mm*40.0mm*84.0mm
Thread type: 510 thread
Requires 3 18650 Batteries (Sold Separately)
Output mode: TC/VW mode
Output wattage: 1-200w
Temperature range: 100-300°C/200-600°F(TC mode)
Color: Silver
0.91 inch OLED screen
Powered by DNA200 Technology
Optimized Heat Dissipation Design
Unique Structure & Innovative Appearance
Stainless Steel Thread & Spring Connector
Three Replaceable Cells & Magnetic Back Cover
Passthrough Charging
Multiple Ventilation Holes
Size: 50 x 40 x 84.0 (mm)
Wismec Reuleaux DNA 200 Best Prices
---
Best Box Mods: JoyeTech Cuboid Mini
This is one the best mods we've tested in 2016. The Cuboid Mini not only looks and performs great, but it is also very competitively priced making it a great option for those on a budget looking for a high-quality, high-power mod for less than $100.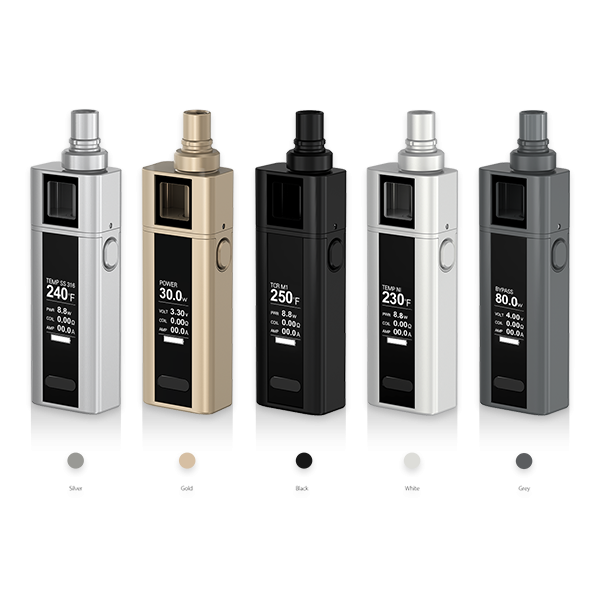 The Cuboid Mini is packed with features and benefits from a raft of built in features that not only make vaping on it very satisfying, but also completely safe. It also does everything from TC to Ni-mode vaping, which means you can run pretty much any type of tank on it.
Cuboid Mini Specs & Features
Stealth function
Key lock function
Flip display mode
VW/VT-Ni/VT-Ti/VT-SS316/TCR mode
Malfunction indication protection
Atomizer short protection
Weak battery alert
Imbalanced batteries
Charge error
Check battery
Check USB adapter
Low power alert
Atomizer low alert
Temperature protection
Temperature alert
Reverse battery protection
USB port for upgrading and charging *it is recommended to use external charger*
JoyeTech Cuboid Mini Best Prices
---
Best Box Mods: Volcano LAVABOX DNA 200
A LOT of people have been waiting the entirety of 2015 for two box-mods: Vapor Shark's DNA200 and the Volcano LAVABOX DNA200. Both are now available and both are bloody excellent setups. The LAVABOX, however, is slightly cheaper than Vapor Shark's DNA200 device and it also has a raft of innovative features its peer is missing. The device also looks superb, as you can see below: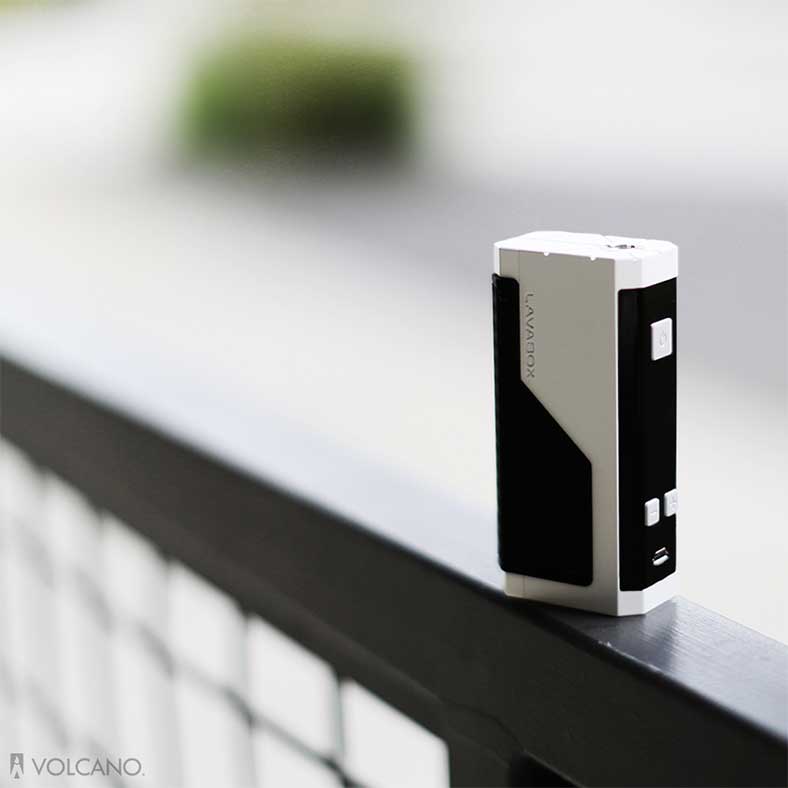 "The body of the LAVABOX is machined out of 6061 billet aluminum and the mod also is wrapped in a signature rubber grip on the back of the device for added user comfort and device durability," said Volcano in its official press release. "The DNA 200 chip allows 200watts output power, upgradeable firmware, cell-by-cell monitoring and an integrated 1A balance charger. The device is powered by an internal 900 mAh lithium polymer 3 cell battery."
LAVABOX DNA 200 Best Prices
---
Best Box Mods: Vapor Shark DNA200
The Vapor Shark DNA 200 needs ZERO introductions: it is by FAR and AWAY the MOST anticipated box-mod release of the year. The device itself is constructed from 6031 aluminium, a super lightweight material, which makes it feel extremely svelte in the hand or pocket. After this a black anodization process is layered on top and this is followed by black paint and, finally, a light rubberized coating to complete the chassis. The result is a solid block of awesomeness that's durable, robust and supremely portable. Oh… and it can crank up to 200W, too!
Vapor Shark DNA 200 Specs & Features
10WH 3S Lipo Battery
Powered by Evolv DNA 200
200 Watts of Power
Temperature Sensing / Limiting
Micro USB Port
Zip (High Speed Charging)
Self Adjusting 510 Connection
84mm x 44mm x 23.9 mm
Updateable Firmware
Full Balanced Charging
Individual Cell Monitoring
Vapor Shark DNA 200 Best Prices
---
Best E Juice Guide 2017
| E JUICE BRAND | MICRO-REVIEW | RATING | PRICE | BEST PLACE TO BUY |
| --- | --- | --- | --- | --- |
| ONE HIT WONDER | OMFG! | 10/10 | $49.95 (180ML) | DIRECTVAPOR |
| ANML E JUICE | TASTY AS HELL | 9/5/10 | $29.99 (60ML) | VAPORDNA |
| DINNER LADY E-LIQUID | GORGEOUS | 10/10 | £14.99 (10ML) | UK ECIG STORE |
| VAPORFI – MULTIPLE LINES | HIGH-QUALITY-SHIZZ | 9/10 | VARIES BY RANGE | VAPORFI |
| COSMIC FOG | LEGENDARY STUFF | 8.5/10 | $23 (60ML); $44.95 (100ML) | DIRECTVAPOR |
| NAKED E-JUICE | SO VERY MOREISH | 9/10 | $21.95 (60ML) | DIRECTVAPOR |
| BEARD VAPE COMPANY | EPIC. JUST EPIC | 9.5/10 | $23.95 (60ML) | DIRECTVAPOR |
| JUICE ROLL UPZ | FLAVOUR-EXPLOSION | 9/10 | $24.95 (60ML) | DIRECTVAPOR |
| ELEMENT | EXTENSIVE LINEUP | 8.5/10 | $29.95 (60ML); $12.05 (20ML) | DIRECTVAPOR |
| FLAWLESS | LOVELY STUFF ALL ROUND | 9/10 | $24.99 (60ML) | VAPORDNA |
| VAPETASIA | LIKE LICKING A STAR | 9/10 | $23.95 (60ML) | DIRECTVAPOR |
Also: we just published our guide to The Most Durable Mods & Tanks, so if you're looking for a mod or tank that can take a lick and keep on ticking you definitely want to check that one out!