I've been dabbling pretty heavily with vaporizers of late. Mainly portable units. As with most things though: I started looking at bigger, better options.
The best portable vaporizers right now are listed inside our Best Ultra-Portable Weed Vaporizers. 
But if you want something BIGGER, read on…
And when it comes to powerful, desktop vaporizers there is only one name that constantly comes up again and again – Volcano Vaporizer.
The Volcano Vaporizer is a desktop-style (meaning non-portable) dry herb vaporizer.
It's big and it's made for use in the home, not while you're out hiking or camping.
For this reason, it is the exact opposite of the bulk of vaporizers I own and have tested.
Both the PAX 3 and the DaVinci IQ are handheld devices designed for use on the move.
And for this, they're both excellent options, as you can see in our reviews of them:
🔥PAX 3 Review: The #1 Weed Vape?
🔥DaVinci IQ Review: Is It Better Than The PAX 3?
But what if you're looking for something… bigger? Something… truly monstrous?
Simple: you go with the Volcano Vaporizer.
The King. The Beast! Meet The Volcano Vaporizer
If you haven't heard of the Volcano before, allow me to explain.
Like the DaVinci IQ and PAX 3, it is a vaporizer. It does not burn your dry herbs (weed). Instead, it uses hot air to vaporize them.
This vaporized air is then sent into a ballon and you huff the vapor from it. Simple, right?
Well, that's how it works at its most basic level. However, there is a myriad of settings you can use to customize how the dry herbs are vaporized.
The ballon also comes with a valve, so you can fill it up, take a huff, and then close the valve saving the contents for later.
Volcano Vaporizer Price – Yep, It's Pricey
How much does all this awesomeness cost you? Quite a lot – you're looking at $599.99 for the device via DirectVapor (but you do get free shipping on that).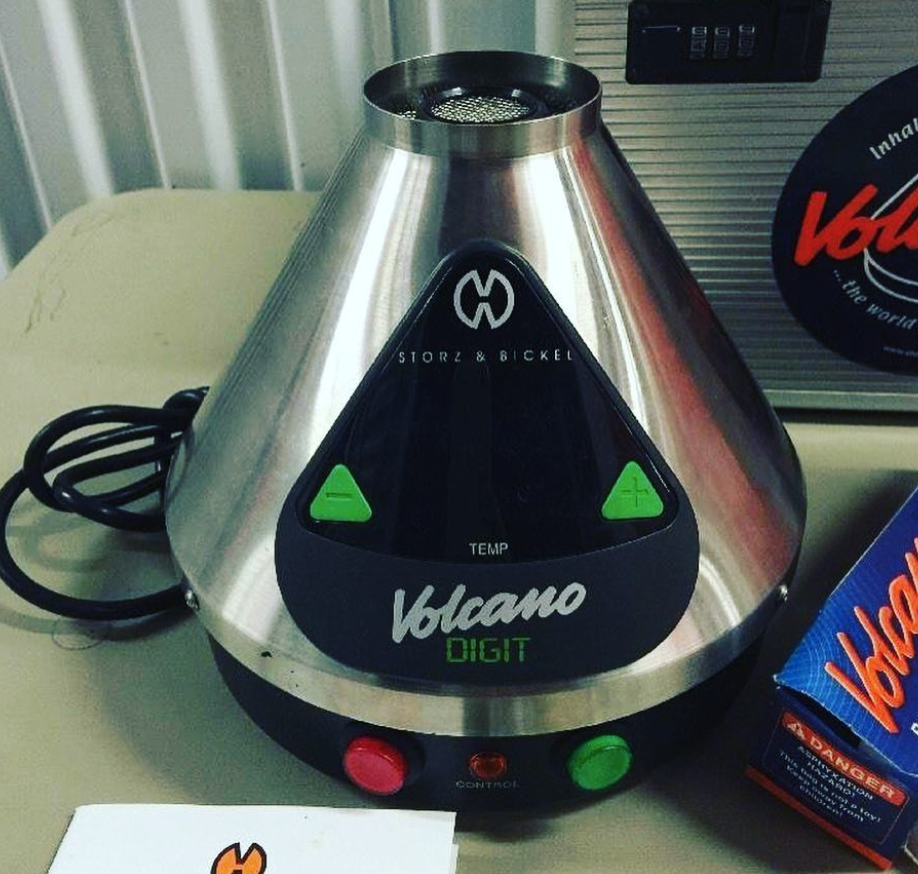 This device clearly is not for everyone. The price is prohibitive. But if you are someone that really likes vaping weed, then the Volcano Vaporizer is more of an investment than anything else.
Volcano Vaporizer USPs
🔥Market-Leading Vapor Production
🔥Easy Operation
🔥Exceptional Build Quality
🔥Stunning Taste
🔥Extremely Low Maintenance
You'll get better quality vapor from it, it produces plumes of the stuff, and it will likely be the last vaporizer of its kind you'll ever have to buy.
I have one on order right now; it should be with me later this week.
And that means I'll be having a Volcano Party this weekend.
All being well, I'll have some of my own comments to make about it then, so keep an eye on VapeBeat's social feeds for that!
Volcano Vaporizer Reviews | What's The Overall Verdict?
Very good. Like, really good.
I've been reading tons about this device and nearly every review I've read has been glowingly positive.
$599 is A LOT of money to drop on anything, so I wanted to be 100% sure this would be a worthy investment.
The main reason I want one is performance and battery life; I want more vapor, vapor that tastes better, and I don't want to have to worry about battery life when I'm at home.
The Volcano basically solves all of these problems, albeit for a rather hefty premium.
But then when you look at it in all its metallic awesomeness, you kind of understand why the price is so high – it looks like something Buck Rogers would have in his house.
I've included a few of the best reviews I've found for the Volcano below. They're all from sites I know and trust.
The Volcano is currently my highest rated desktop vaporizer and in my opinion, it still holds the title for the best desktop vaporizer. It's still going strong over the course of five years and produces the best vapor quality of any vaporizer I've tried – Vaporizer World.
I have been using mine regularly since early-2009 and it still performs and looks like new. You rarely have to clean any parts of this vape, it's the cleanest one I own, all you do is lightly brush out the herb chamber after each session – VapeCritic.
In my opinion, the Volcano is an excellent option for the medical marijuana patient who consumes a lot of cannabis and for the dedicated cannabis enthusiast ready to commit to a healthy smoking alternative – Stoner Mom.
Bottomline?
The Volcano Vaporizer is definitely not for everyone. First, you need to have $600 laying around. Second, you need to REALLY love your vaporizers.
If that's the case, then the Volcano Vaporizer, according to pretty much everyone, is the best desktop vaporizer around.
And it doesn't matter whether you're talking about flavor, ease of use, or vapor production – the Volcano is apparently a master of all things!
This is why I went with it over a cheaper alternative.
I wanted the best possible desktop vaporizer, something that I could use for the rest of my life, rather than buying a cheaper option that'd break after a year or two.
For this reason, and a bunch more, I was willing to take a punt on this mega desktop vaporizer.
The Volcano is made by a German company, though you can pick one up with free shipping via DirectVapor in the US for $599.95.