If you're looking for the perfect tobacco vape juice, we share a common interest – I spent years tracking down the best tobacco vape juice!
---
I started vaping back in 2012. Back then, things were very different. We didn't have half the gear we have now and pod vapes, the most popular style of vaping device, didn't even exist. But we had vape juice. Lots of vape juice to choose from. Still, it took me years to find what I was looking for…
Because most people – like 90% of vapers – don't like tobacco vape juice, preferring sweeter, dessert-style flavors, fans of tobacco flavors like you and I were kind of left out in the cold. Back then, finding good quality tobacco flavors was tricky; most tasted like ass or ash, or a combination of the two!
It took me a while, but I eventually discovered a few brands that catered to my needs. Sadly, most of these brands are no longer with us; like many businesses, they simply stopped functioning and/or disbanded. Still, I learned a lot during this time. I discovered different styles of tobacco vape juice from RY4s to dessert-flavor infused tobacco blends (my current favorite style). And the importance of ALWAYS buying pre-steeped vape juice.
Tobacco vape juice lovers are definitely a minority in the vape community, most brands focus on sweet flavors, and that's fine, but for me, as a vaper, it wasn't good enough. So when we built the VapeBeat Store, we made sure that we focused on tobacco vape juices as much as our other flavors…
A Store With A Tobacco Vape Juice Focus…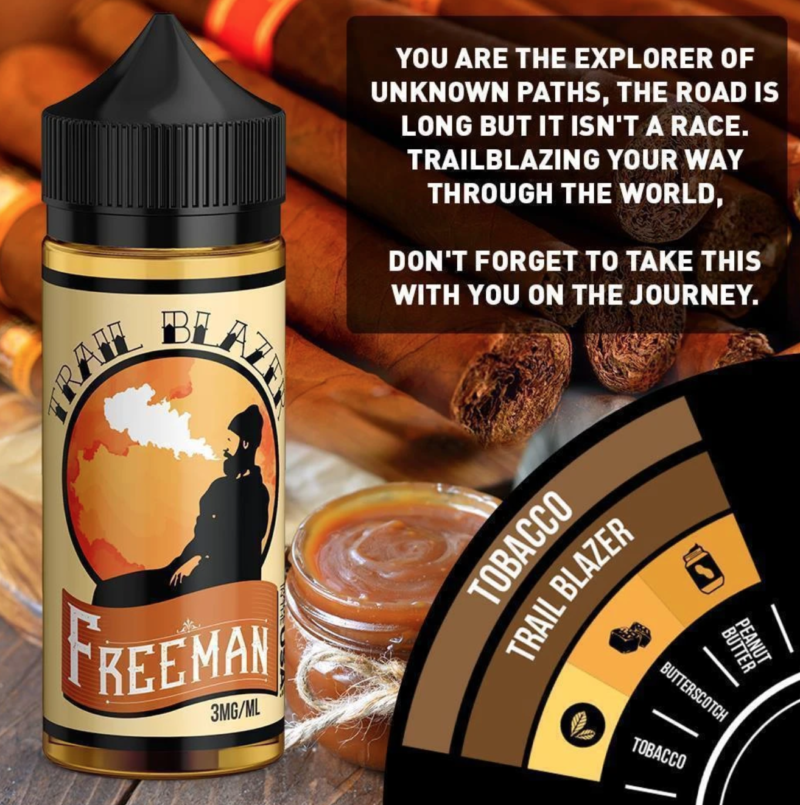 When the time came to launch our vape juice store, I knew I wanted some truly great tobacco vape juices front and center. It took a while to find and distill the right blends, blends for all types of tobacco vape juice lovers, but in the end, I think we kind of nailed it.
Why? Simple: our tobacco vape juice is often the highest-rated juice in our store – people love it. I get emails most days from vapers like you telling me how much they love TrailBlazer, Bueno Vista, and our Nic Salts RY4, and, of course, Top Brass – a gorgeous peanut butterscotch tobacco blend.
To date, our juice – including our tobacco lines – have received over 1000+ FIVE STAR reviews from vapers just like you. And the reason? A tight focus on quality, flavor, and only using the best possible ingredients. Oh, and all of our juice is 100% diacetyl free as well. And that's important for a variety of reasons.
High VG & Nic Salts Tobacco Vape Juice
Nowadays, vapers use all kinds of devices – from RDAs and vape mods to all in one pod kits like the UWELL Caliburn. For this reason, you need different types of vape juice because high VG vape juice won't work properly in pod mods and Nic Salts vape juice is not something you want to try in an RDA or mesh coil tank…
For this reason, we have tobacco vape juice for high-power vape tanks, blends like TrailBlazer, and Nic Salts tobacco vape juice for MTL tanks and pod vapes.

Right now, my #1 favorite tobacco Nic Salts blend is Top Brass, but I am also a massive fan of Bueno Vista and RY4 – they all properly hit the spot with smooth tobacco notes combined with sweet, delicate flavors.
So, in case you're new to vaping: you need Nic Salts for MTL vape tanks and pod mods, and standard, high VG vape juice for RDAs, mesh coil tanks, and RTAs. Basically, if your tank does big clouds, you need high VG vape juice. Pod vapes (and MTL tanks) produce less vaper and draw like a cigarette, so your best off with Nic Salts as they deliver more flavor and more of a throat hit, which is key for MTL vaping.
A Word On Nicotine Strengths…
Once you've found the tobacco vape juice you want, you need to pick a nicotine strength. If you're an ex-smoker looking to kick a habit, you'll want to keep your strength nice and high. I tend to recommend pod vapes and MTL tanks for new ex-smokers, as they deliver the most similar experience to smoking.
If you're just a normal vaper that uses mesh coil tanks and rebuildable tanks, like an RDA or an RTA, you're going to be best off with a high VG vape juice in either 3MG or 6MG nicotine strength. We limit our High VG vape juice to 6MG because if the nicotine content is any higher, it starts to degrade the flavor – and no one wants that!
Me personally? I vape 3MG in my mesh coil tanks and RDAs, and 35MG when I'm vaping Nic Salts. The reason? My pod vapes and MTL tanks deliver far less vapor, and I tend to use them less, so I prefer to use stronger Nic Salts to get the most bang for my buck. This is why our nic salts are ONLY available in 35MG strengths; it's the sweet spot for maximum pod mod/MTL tank performance.
We also do CBD, a closed system vape pen similar to the JUUL, and a wide range of high VG vape juice flavors. If you've not used our store before, drop by today and see what people are saying about us!
Drake Equation
Co-founder and Editor of VapeBeat. I make the words.