What the hell are dab pens, or wax pens and weed pens as they're also known? Are you missing out? Should you be using a dab pen? Read on and find out…
---
What are Dabs?
Before we get into dab pens and what they are, we should probably first define what is meant by the term dab.
Dab – or wax, as it sometimes called – is a solid cannabis concentrate that is sold in dispensaries in most 420 states. As with strains of weed, there are myriad options when it comes to dabs – from super-strong stuff to more mellow stuff.
You can get CBD-heavy dabs, but most dabs contain high-strength THC – THC is the stuff that gets you high (and, occasionally, too high). Therefore, when dealing with dabs, it is always prudent to operate with caution.
The wax that makes up dabs comes in a variety of formats, defined predominantly by its texture and consistency. These are the most common types:
Shatter – this kind of dab is hard to the touch.
Crumble – this kind of dab is softer than shatter and is easy to crumble
Budder – this kind of dab is very sticky and usually gloopy when handled
Given the above definitions, you'll want to stick to shatter and crumbles when vaping dabs. Budder types of dabs will still vape fine, though they can (and do) create way more mess than shatter and crumble.
What is a Dab Pen?
If you want to vape dabs (or wax concentrates), you'll need a dedicated dab pen – think vape pen, only here the vape juice is replaced with a dab. As is the case with vaporizers and vape pens, you have a TON of options when it comes to dab pens.
A dab pen is a pen-style vaporizer the features a wax atomizer for vaporizing dabs and wax concentrates. As with standard vape pens, you have different kinds of heating methods – from ceramic coils to heating coils.
If you want big flavor, you're best off going with a dab pen that uses ceramic coils; it's gentler on the dab and creates a more flavorful vapor. If you just want a fast, dense hit and aren't too bothered about flavor, a cheaper heating coil-style dab pen would be fine.
Dab pens come in all shapes and sizes, though the most common ones (eG0-style dab pens) come with 510-threaded batteries and are small and light enough to carry around on your person wherever you go. Most dab pens are no bigger than a standard vape pen-style device, so they're totally portable.
How To Vape Wax With a Dab Pen
I could try and explain in words how to vape wax (or dabs) with a vape pen, but that'd just be needlessly confusing.
For this reason, check out the video on how to vape wax with a dab pen for a full breakdown of everything you need to know about vaping dabs.
Vape Pen For Wax Pros – Why They're Good
Loads of Options: you can pick up a huge range of wax pens and dab pens online. Nearly all modern vape pens for wax are all-in-one devices, so they require zero fiddling around with; you add the dab, screw it together, and take a hit. Simple, right?
Flavor: back in the day, in order to hit wax or a dab, you had to use things like a blowtorch. Ah, the 90s – what a time to be alive! As fun as that sounds, it is no longer required. Wax pens and dab pens make using dabs, wax, and concentrates as easy as vaping e-liquid; all you have to do is load some up, power on the device, and take a hit.
Discreet: dab pens are designed to be discreet, so you can use them wherever you like. Most dab pens look like vape pens, so most people – unless they're a fellow dabber – will just assume you're vaping vape juice, not the good stuff. For this reason, a dab pen is essential for anyone that wants to dab on the go.
Dab Pen Cons – Things To Keep In Mind
The only real downside to dab pens and wax pens, in general, is battery life. You're always going to be constrained to battery life. You can get around this by carrying a charging dock in your backpack, as I do when I go to festivals. With one of these charging blocks, you can top up the dab pen throughout the day. Other than that, a dab pen is basically just a really cool piece of tech.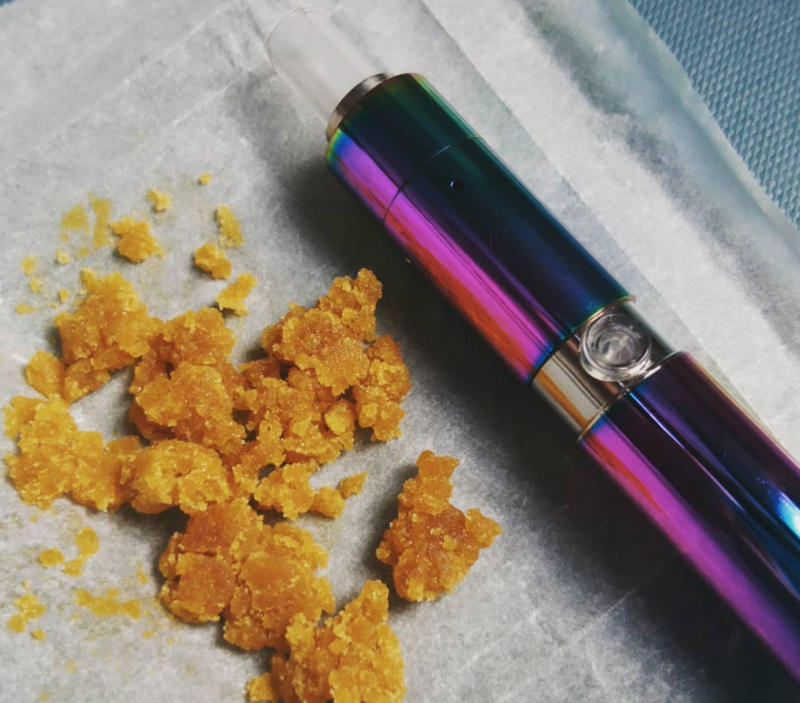 You will need to do a basic level of maintenance, however, which involves regularly cleaning the chamber in order to keep everything functioning correctly. Most dab pen kits come with all the accessories you will need to perform basic cleaning and maintenance. As long as you're cleaning the dab pen once a week, or so, you shouldn't have any issues with the longevity of the device over the course of 12-24 months.
Wrapping Up…
If you live in a 420 State in the US, you'll be able to pick up a myriad of different types of dabs, wax, and concentrates. In order to properly vape dabs or wax, you will need a good dab pen (this is the one I currently use).
In terms of ease of use, dab pens are fairly simple to use and maintain. If you follow the instructions in the video we posted earlier on in this post, you shouldn't run into any problems.
And because dab pens are portable and can be taken everywhere, they're not just cheaper than a dab rig but also way more convenient and useful. For this reason, I would recommend that anyone with a healthy love of pot should definitely consider looking at getting themselves a dab pen.
You can see a list of all the best options on the market here.
Just go easy on the dabs if it's your first time. This stuff does not mess around!
Drake Equation
Co-founder and Editor of VapeBeat. I make the words.