The Reuleaux RX75 is SO GOOD it cured my DNA 200 mod addiction!
If you read my our review of the Reuleaux RX75 then you'll know just how much we loved this mod. Wismec is one of the biggest and best brands in the vaping space right now, and the Reuleaux RX75 is testament to just how much this company has developed in the past 12 months.
I have A LOT of mods. Like, way too many. The list includes everything from the eVic VTC mini to a Sigelei Spark 90W right along to a selection of DNA 200 and YiHi SX-powered mods. All in, I have 10 mods in circulation at any one time.
But only a few mods in this line-up are used day-in-day-out. And in order to get into this top tier they all have to have one thing in common — they need to be utterly amazing.
One recent addition to this top tier was the AWESOME iStick Pico with the Melo III mini sub-ohm tank. That was a great setup and I still used it daily. Next is the LAVABOX DNA 200. But the most recent is the Reuleaux RX75, which is just about my favourite device as of right now.
Let me explain why this is the case.
My Day To Day Vaping
First off I want to say that, yes, I use more than one device daily. My SMY SDNA 200 and Lavabox DNA 200 get used every day. I also have my Cuboid and Sigelei Spark 90W in use as well.
My DNA 200 mods are just amazing and as for the Cuboid, well, the Cuboid has become my toss around device for when I'm outside the house or my other mods are charging.
The Sigelei Spark 90W is my run to the store device. Now, do these all get used daily? No — just the DNAs and Sigelei Spark. In the morning I can be seen with my Lavabox. Then by noon I have my SMY SDNA in hand. But then sometimes before dinner I have to run out real quick so the Sigelei Spark is my go to. This was the layout of my usage for the past month or so. But now, thanks to the Reuleaux RX75, things have changed.
After getting the Reuleaux RX75 and holding it in my hands I knew the hype was justified. It's small, durable, perfect, and damn sexy! I mean this thing has no flaws at all. Great curves and a smooth body design. Hold one is your hand and you'll know EXACTLY what I'm talking about.
It's lightweight, fits perfectly in my pocket and has all the power I need from a mod. I use it in conjunction with the Amor mini sub-ohm tank, which is also worth mention here — make sure you check it out — as it is a small setup that delivers similar performance to the UWELL Crown. Combined, this is perhaps one of the best full-kit setups you can buy right now.
Quite a bit of thought and research went into this device. Think about it: we all want something that has decent battery life, tons of features at our fingertips, a bright OLED display, an easy to navigate menu system, removable battery and a tank that delivers great flavour and clouds and, importantly, doesn't leak.
The Reuleaux RX75 delivers all this and more. Plus, it also does it in utterly awesome style. I honestly cannot fault this device in anyway.
Reuleaux RX75 Front and Center
Yes, front and center is exactly what the RX75 is. For the past couple of days NO other device has been used. No DNA device, no Sigelei, no Cuboid, no Asmodus, no Joyetech, not even my Reuleaux RX200!! Why? The RX75 is so comfortable and the Amor mini sub-ohm tank is so good that I have not wanted my other setups.
Don't get me wrong I love my other setups but the Reuleaux RX75 is the bees knees right now. This thing gets me through the day with such ease that I don't find myself wanting for anything else. My only real gripe with this set-up is the 2mL capacity of the Amor mini; it's just not enough for how much I vape. Beyond this both the mod and tank are essentially perfect.
The Reuleaux RX75 is right next to my keyboard and will be in my rotation for some time as I don't foresee a setup outdoing it for a good long while!
The Reuleaux RX75  is awesome. Just AWESOME!
---
You Can Buy The AWESOME Reuleaux RX75 Right Now With Free Shipping For Just $54.95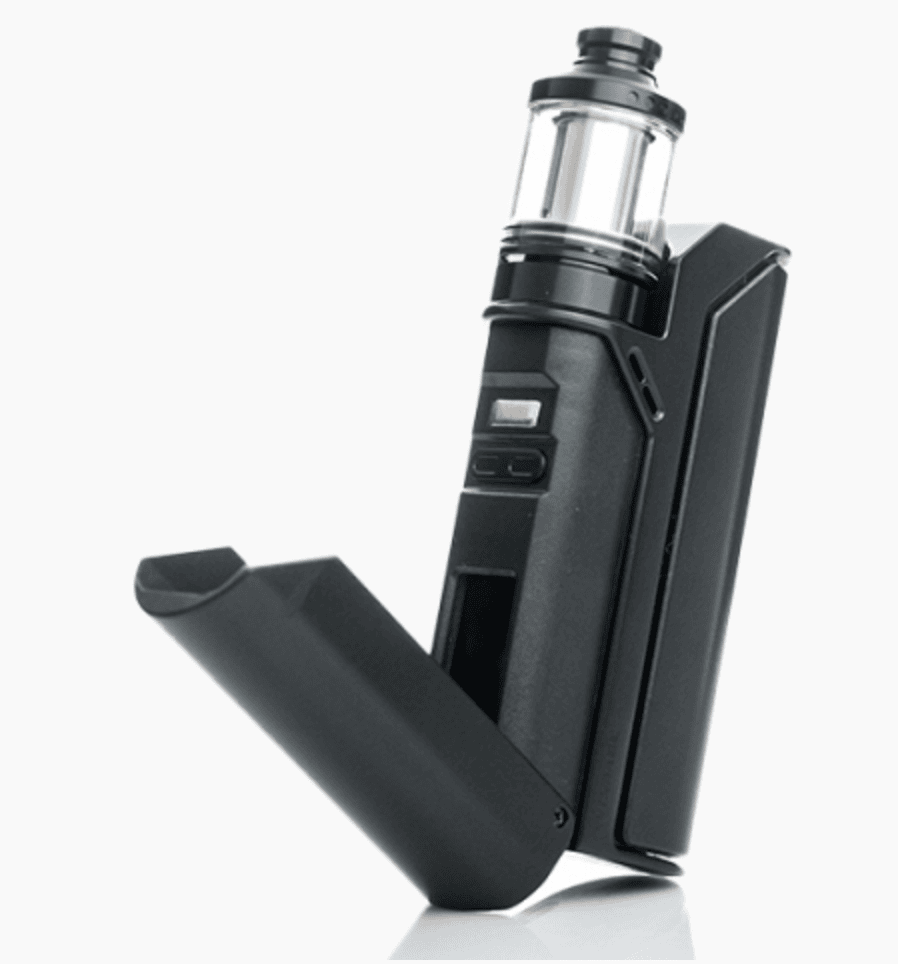 ---
---
READ THIS NEXT: