Want cut-price vape gear? Well, it's Black Friday 2017 and there are LOADS of deals flying around
Black Friday is almost upon us – and that can only mean one thing: mega-savings on tons of vape gear from all the biggest and best vape retailers.
If you're in the market for a new tank, a mod, or a new selection of E Juice, Black Friday is the time to do it. Why? Simple: you will save a fortune on your goods, and everybody likes saving money, right?
There are sales events all year round, and we have our own curated deals section, which you should definitely check out, but Black Friday is different. During Black Friday, the sales and reductions are bonkers – like 40-50% savings-bonkers.
Last year's Black Friday was pretty epic; all of VapeBeat's favorite and most trusted retailers had HUGE sales, offering up potentially thousands of dollars in savings.
All the best deals and offers will be listed below as soon as they become available, so stay tuned for updates – and check back regularly!
Whether you're after a new mod, a tank or some E-Liquid, we got you covered. Savings aplenty are up for grabs, starting from today, and will be available until Monday – and then its Cyber Monday, which means even more deals!
Best Black Friday 2017 Vape Deals
I'm using this page as a placeholder for ALL the best Black Friday vape deals. As soon as I find them or a retailer sends me some, I will post them here.
So, bookmark this page, and make sure you keep checking once Black Friday kicks off, as the deals and savings will be coming in thick and fast – and most will be limited-time offers, meaning you'll need to act fast.
PLEASE NOTE: These Deals WILL ONLY Be Available On Black Friday Through To Cyber Monday!
Best Black Friday 2017 Vape Deals – DIRECTVAPOR
DirectVapor is one of my favourite places to buy mods and tanks. Mostly because it's cheaper than most places, but also because they offer free shipping on everything – regardless of basket size.
And DirectVapor's Black Friday sales looks set to be very impressive this year too, with 10% off site-wide (again, with FREE DELIVERY) as well as 20% off ALL E-juice orders. Epic.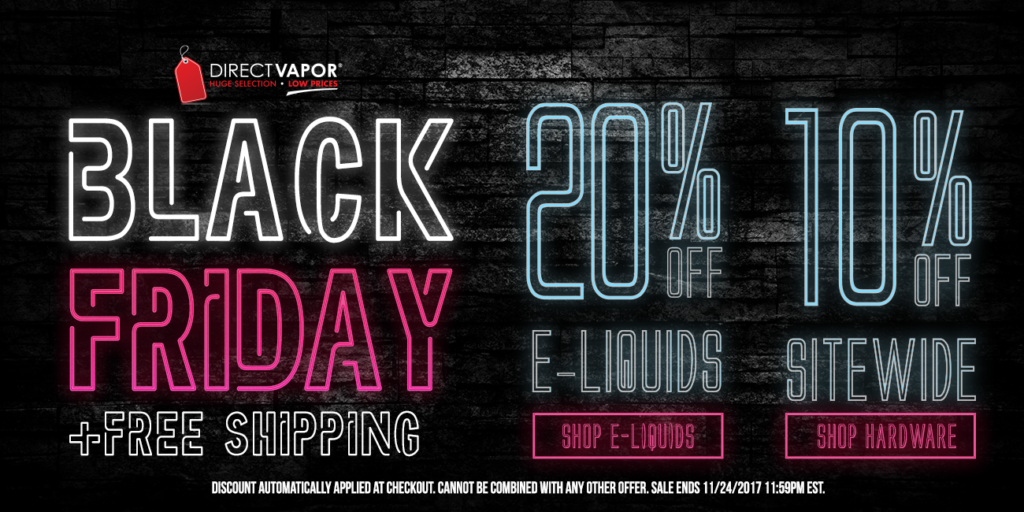 What About Cyber Monday? Simple: there's another sale – and it's a beast as well. On Cyber Monday, DirectVapor is offering 25% off ALL E-Juice and 15% off everything else – mods, tanks, accessories. Everything gets free shipping too.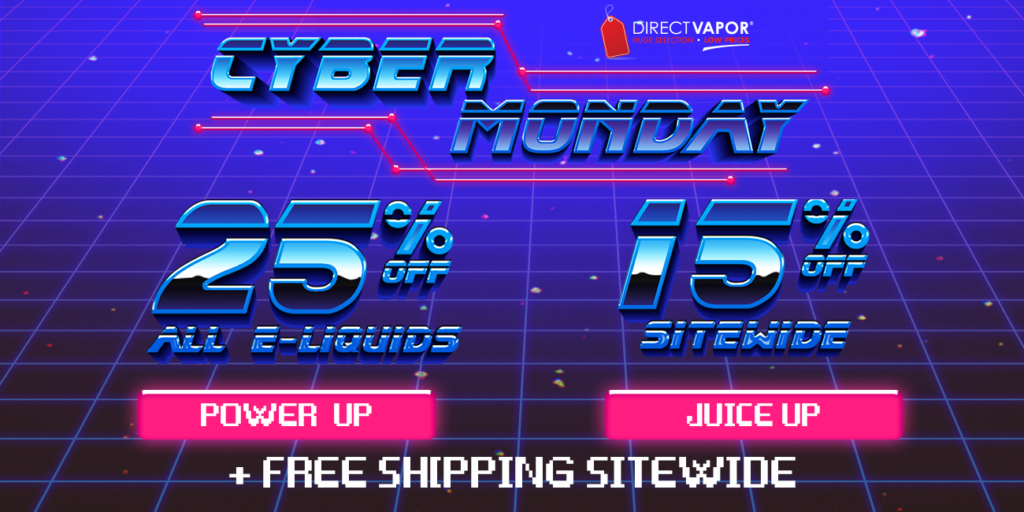 Best Black Friday 2017 Vape Deals – VaporDNA
Another of my favourites is VaporDNA and, true to form, is too is offering up some pretty impressive savings for Black Friday and Cyber Monday, which you can access by clicking the banner below.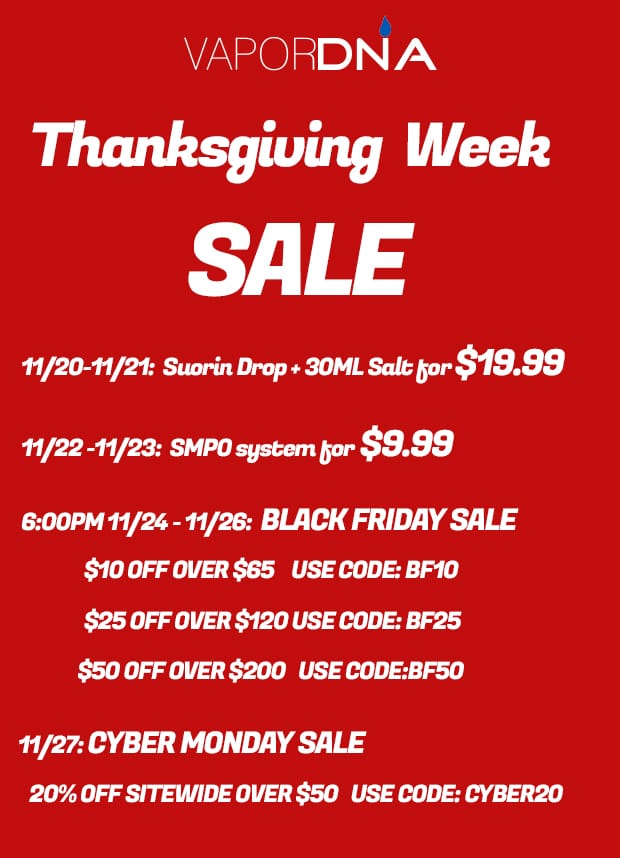 Best Black Friday 2017 Vape Deals – VaporFi
VaporFi makes a range of its own products, including starter kits, mods, and a great lineup of E Juice.
If you're looking to make some big savings on anything from VaporFi, make sure you check out its Black Friday and Cyber Monday deals via the banners below: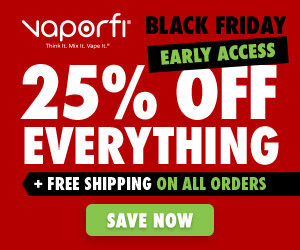 You Will Definitely Want To Check Out Amazon During Black Friday Too!
And for everything else – including tech, phones, vape supplies, consoles, 4K TVS and more, you have Amazon!

…Developing