A lot of the media think eliquid and e juice ingredients are a complete mystery or, worse, the same as anti-freeze. And this is just silly…
A lot of people, largely thanks to the mainstream media, now have a very active opinion on vaping, ecigs and e juice in general. They hate vaping. Despise its popularity. And, worse still, want it BANNED – again, for no real, logical reason.
Like most things in life, if you take the mainstream media at face value you're going to end up disappointed. Sure, it's great for news about celebs and football results but unless you're reading one of the few decent outlets in the UK chances are you're going to be force-fed absolute bile when it comes to the topic of ecigs and vaping in general.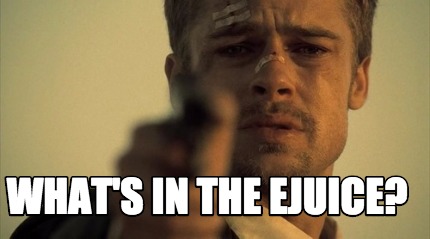 Just Google it and see. They use words like, "might", "could" and, "potentially" and usually cite some doctor, no doubt one that's plugging a book about how to lose a stone in six seconds, who claims there is NO DATA on ecig usage and effects, which makes it "potentially" – there's that word again – very dangerous, maybe even more dangerous than smoking!
As noted in our Vaping Myths Debunked article, plenty of vaping studies have been conducted during the past 10 years. You just have to look for them, which is apparently something a lot of people struggle with these days. Having said that, it is very easy to feign ignorance if you're unaware of what exactly you're talking about.
So, for those that say there is NO research on vaping. Check out these articles below:
So what about eJuice? What Is It ACTUALLY Made Of?
Gizmodo did a great piece awhile back on vaping and ejuice in particular. The author of the article is a veteran of the vaping community and somebody who actually makes ejuice himself –– and not just for himself, as a commercial business.
The post itself is well worth a read. I've isolated a few paragraphs about ejuice, how it's made and the ingredients that go into it for the sake of brevity, which you can read below:
E-liquid begins with the main base, vegetable glycerin. We (and most other manufacturers) use certified organic VG—the glycerin doesn't carry flavor very well, but does produce a lot of vapor. The next ingredient is propylene glycol—this is usually cited by alarmists as being a "main ingredient in antifreeze." This is incorrect, as they're willfully confusing it with diethylene glycol, which has actually been found in mass market e-cig products. I absolutely do not add any of that to my liquid because I do not make antifreeze.

Propylene glycol—or PG—is a main ingredient in albuterol, or asthma inhalers, and is perfectly safe to inhale when vaporized. PG is thinner than VG, and carries flavor very well—the next ingredient, flavorings, are usually suspended in PG. Flavorings are food-grade, can be natural or artificial, and are limited only by the imagination of the juice maker.

A note about these ingredients—the "we don't know what's in these things" arguments dissolve in the face of numerous studies like these, showing that not only do we understand completely what's in these things, but we also have a solid understanding of their (negligible) toxicity when vaporized.

The final ingredient is pharmaceutical-grade nicotine, and all juice manufacturers make their product available in varying nicotine strengths. They range from ridiculous (up to 36 milligrams per milliliter—basically a Lucky Strike with the filter ripped off) all the way down to nothing at all. That's right, zero. So what's the point of selling a "tobacco product" with no nicotine, you ask?