There are few mods in the mid-range price bracket as attractive as the ones made by SnowWolf – and you should definitely give them a look
---
Best SnowWolf Mods
| IMAGE | NAME | BEST DEAL | RATING |
| --- | --- | --- | --- |
| | (Best For Performance & Power) | | 100% |
| | (Best For Squonking) | | 98% |
| | (Best Cheap Kit) | | 97% |
| | (Best For Portability) | | 90% |
---
SnowWolf Mods – For Price, They're Hard To Beat
All SnowWolf mods, the latest batch, anyway, ALL retail for under $60, save for a couple of models – the SnowWolf VFENG Squonk Kit and the Laisimo SnowWolf 200W Plus mod.
And the reason for these being slightly more expensive is that the former comes with an RDA and the other was made in conjunction with another brand.
Sigelei Snow Wolf XFeng 230W
With its robust, eye-catching design, the Snow Wolf XFeng 230, which was made in collaboration with Sigelei, is a great, all-round performer with masses of power and excellent battery life.
Available in the three color schemes, the XFENG 230 is one of the more premium options in the range. But for me it is 100% worth the extra dollars. Why? Because it looks and performs brilliant and is ideal for use with all styles of tanks – from RDAs to MTL tanks.
The EPIC-Looking SnowWolf R 200W
If you're a fan of simple-looking mods. You know, the type where there's very few visual aspects to the device, then the Snow Wolf R is definitely worth a look. Decked out in resin, this vape mod is super-simple to work and it performs like an absolute monster in all modes.
I love the chassis design, it's just so simple and utilitarian, like a vape mod from the USSR or something. Either way, it does everything you'll ever need and it looks freakin' awesome in the process of doing it.
Definitely not for everybody, but for certain tastes the SnowWolf R 200 will be just what the doctor ordered!
SnowWolf VFENG 230W
The only other mod-maker I can think of that is delivering the kind of value for money SnowWolf mods offer is… yep, you guessed it: VooPoo.
I do, however, think SnowWolf mods are generally better looking and more engaging from a visual perspective, though.
My personal favorite being the SnowWolf VFENG 230W mod – it looks amazing, as you can see below.
You get stellar performance, a great look and feel, and masses of power. I adore the design of this mod, it just looks so well executed. Especially in orange!
SnowWolf VFENG 230W Specs
Size:46x34x87mm
Main material: Zinc alloy+SS
Display:1.30〞TFT color screen
Wattage range:10W-230W
Temperature range:100℃-300℃/200℉-570℉
Voltage input:6.4V-8.4V
Voltage output:1.0V-7.5V
Max output current:40A
Battery support: 2*18650
Modes:POWER/SS(304/316/317)/Til/Ni200/TCR
Resistance range:0.05Ω-3.0Ω
Coil supporting:Kanthal/Titanium/Ni200/SS(304/316/317)/TCR
Charging support (USB):DC 5V/2.5A
SnowWolf VFENG 230W – How's It Perform?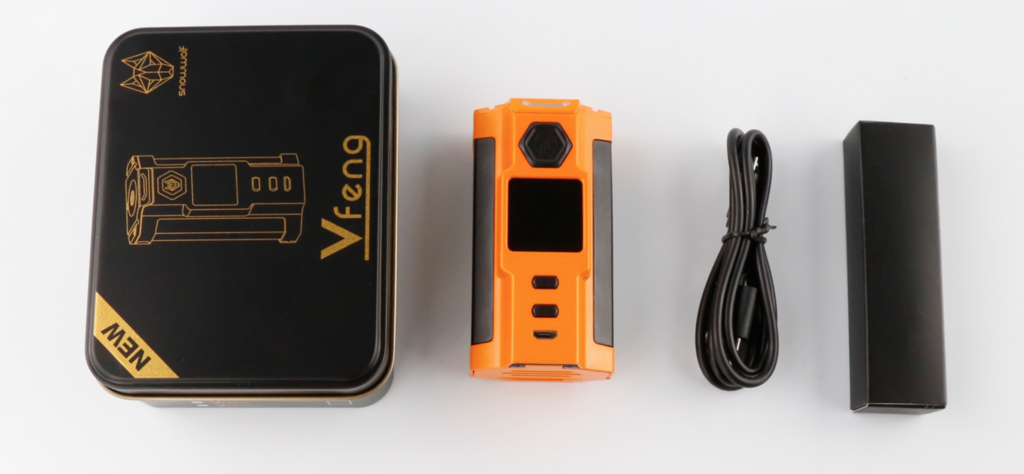 Like a friggin' monster. I'm talking near-instant ramp-up times, heavy hitting performance across the board, and decent TC vaping, if that's your thang (I never bother with it).
The touchscreen OLED display is bright and beautiful, providing simple and easy to use settings.
It also features LED lights that flash, though I turned mine off in the settings, as I don't like wasting battery life on such superfluous nonsense.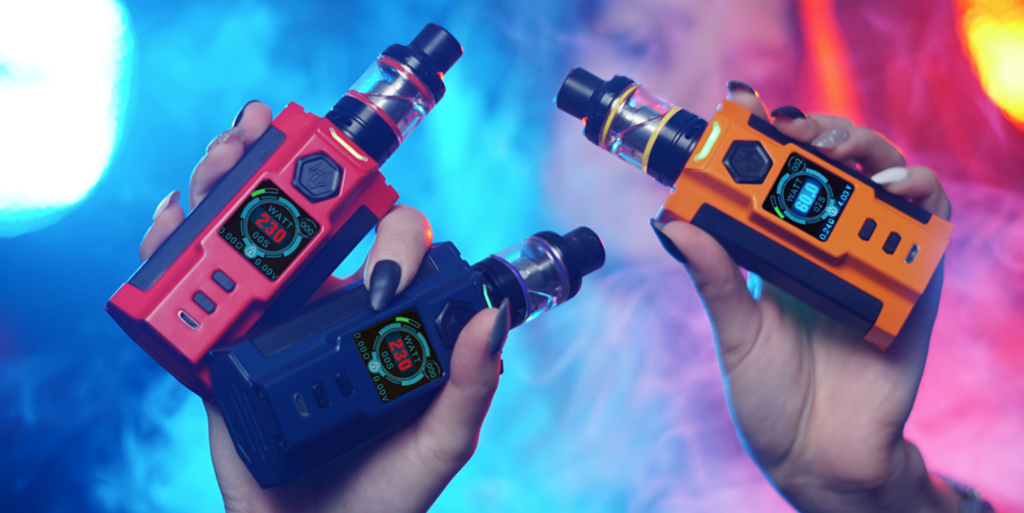 Pound for pound, the SnowWolf VFENG 230W is a very well put together mod that looks as if it costs a lot more than its very low price tag.
I get asked about mine wherever I go; people really dig the odd design and extroverted styling.
Granted, the SnowWolf VFENG 230W won't suit everyone's tastes but if you're after a mod that is loud and proud, the SnowWolf VFENG 230W is definitely one to be looking at.
The fact that it performs very well too is just the cherry on the cake.
Why I Like SnowWolf Mods So Very Much… 
In the sub-$80 mod market, you have a lot of choice.
SMOK, Vaporesso, VooPoo, Aspire, and Wismec all target this segment of the market.
But for my money, you'd be hard-pressed to find a better-looking mod than those made by SnowWolf.
Also, if you didn't know, SnowWolf is actually made by Sigelei – that's right, one of the oldest and most established players in the game.
What's going on here? Nothing sinister, don't worry.
It's basically the same as what Nissan is doing with its Infiniti brand.
Design and form factor, for me, at least, is still very important.
I like good-looking, well-styled mods.
You have them out on show often enough, so they might as well look good.
And during the past six months, I have been consistently impressed with SnowWolf's output.
SnowWolf vs SMOK – No Contest!
Given the choice, I'd 100% go with a SnowWolf mod over something from SMOK.
The reason?
I don't trust the reliability of SMOK's mods anymore – I've been burnt too many times.
I also detest SMOK's sub-ohm tanks; the coils are just too expensive and unpredictable.
Plus, I have a ton of RDAs, RTAs, and RDTAs, so I don't really need another tank in my life.
But these mods are WAY better than SMOK's Mods – it's not even close.
And this means, whenever I get a new mod, I'm not looking at kit deals. And this kind of narrows the field a bit.
It is also how I happened across SnowWolf; I wanted a good-looking mod with plenty of power.
SnowWolf Mods – Do I Recommend Them?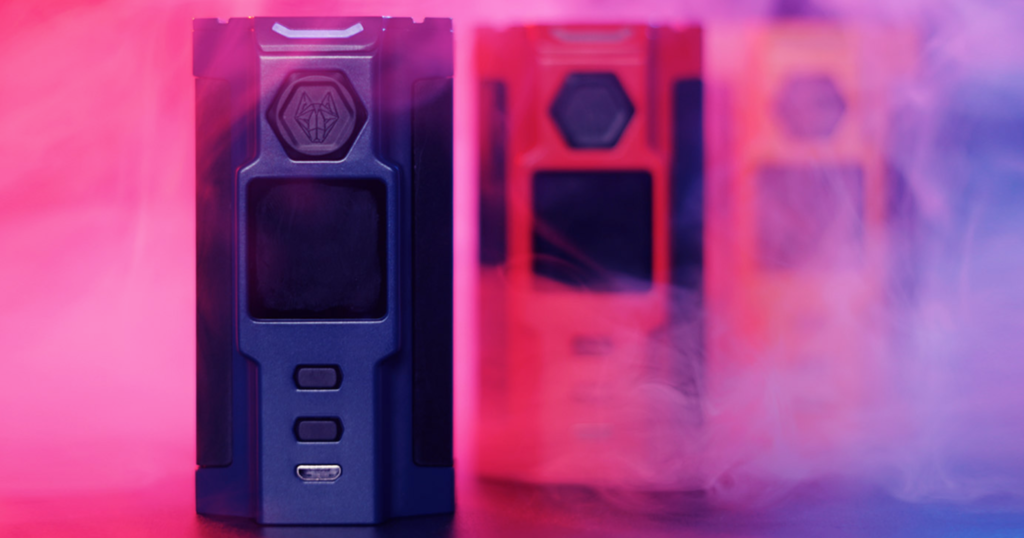 I do – these mods are stylish, powerful, and very well priced. In the sub-$60 space, I'd go as far as saying they're in the top 1% of all mods for looks and performance.
And the fact these come from Sigelei means you know you're getting excellent engineering prowess and quality craftsmanship from the drawing board to the factory floor.
I ignored SnowWolf for too long, but I'm glad I finally took a punt of Sigelei's future-looking brand because the mods contained within this sub-brand of Sigelei are some of the most interesting and potent setups around right now!
Element Vape Has The Full SnowWolf Range – and 90% of them retail for UNDER $60.
Do yourself a favor and check them out!
They even made it onto our Top Vape Mods Guide
---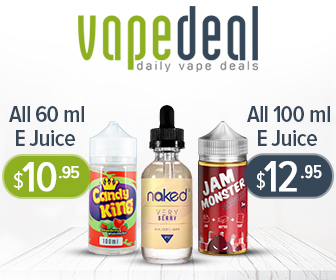 Drake Equation
Co-founder and Editor of VapeBeat. I make the words.