If you smoke weed, you should be vaping that shizz – just like Snoop Dog and Wiz Khalifa
Plenty of people smoke weed these days. Loads, in fact. People, all across history, have used Marijuana in one form or another for things like getting high, contacting spirits or just kicking back after a long day at the office.
But did you know you can vape weed?
Regardless of your opinions on weed, if you don't smoke it or condone it, that's fine, we can all agree that those that do should be encouraged to do it in the safest way possible.
Right?
Vaping weed is the safest way to "smoke" pot available to pot enthusiasts in 2017. There are a plethora of mods and devices for doing it with too.
I've tried a good few in my time, but the vaporizers listed below are the best vaporizers for vaping weed or dry herbs you can get on certain budgets. With products like this, it is worth spending a bit more, as the cheaper products just don't cut the mustard.
I own both the PAX 3 and DAVINCI IQ and they are both stunning devices. You can read more about these below, as well as another, cheaper option.
PAX 3 Dry Herb Vaporizer – AKA One of The Best Ways To Vape Weed PERIOD.
Best Price: $274.99 – Vapor4Life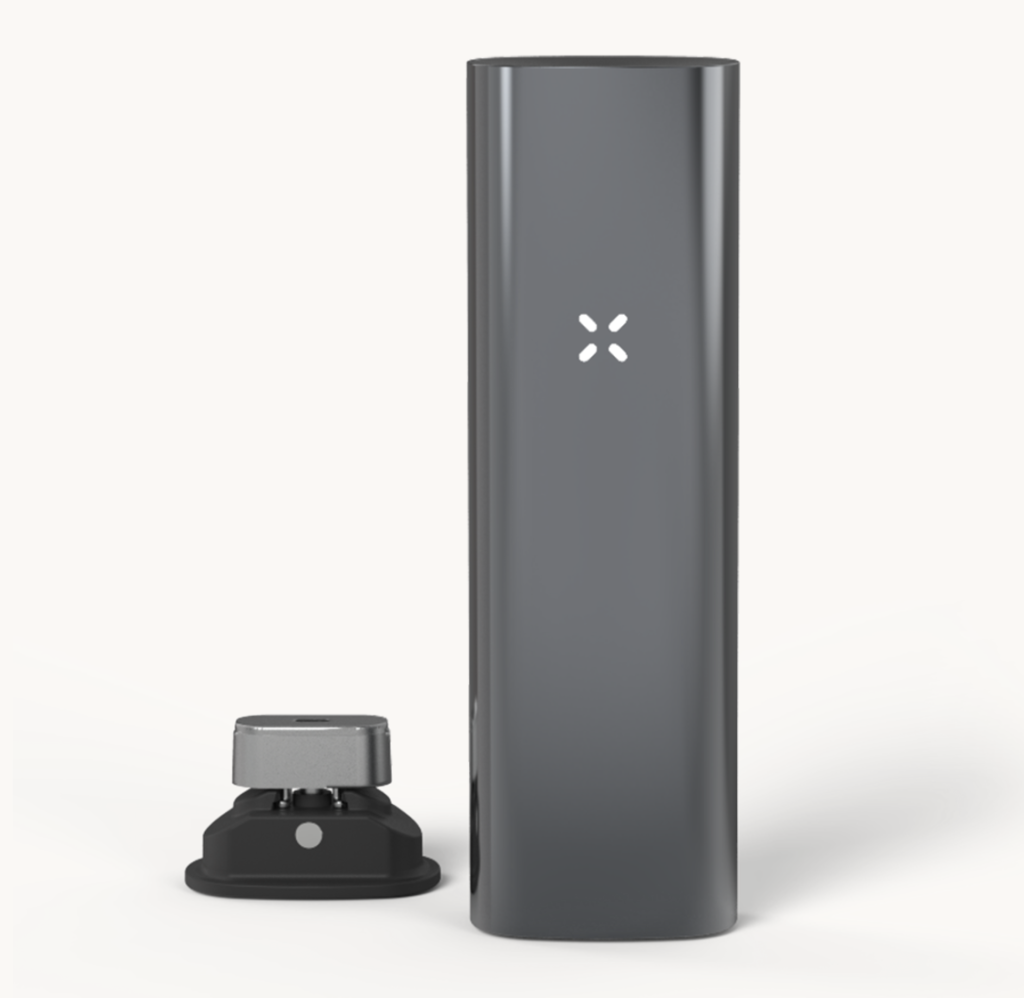 If you're looking for the absolute MAC DADDY of dry herb vaporizers though… there really is only one name in the game as of right now, and that is the PAX 3, which is highly regarded as the best performing dry herb vaporizer on the planet.
VapeBeat's Rob recently got acquainted with the PAX 3 – you can read his PAX 3 Review here for a full breakdown – and was super impressed.
The performance of this vaporizer is what really sets it apart from the crowd. The composition of the mod, which the oven located at the bottom, ensures there are no overheating issues and that you get a nice, pleasant vape.
The design is subtle, compact, and ideal for the those that like to take their mod with them when traveling or hiking or whatever, really.
You will have to pay a rather large premium for all of this awesomeness, however – prices set at $274.99. 
Once you fire up the PAX 3, though, you WILL KNOW where all that extra dosh went – this thing is insanely powerful.
Building on from the momentum established by the PAX 2, the PAX 3, while similar looking, has been re-designed from the ground up to include more power, better heat-up time, wider support via a phone app, and, best of all, twice the power of its predecessor.
PAX 3 Specs & Features
PAX 3 Vaporizer
Charging Dock
3500 mAh Replacement Battery
Concentrate Insert
PAX Screens
USB Cable
Cleaning Kit
Flat Mouthpiece
Raised Mouthpiece
Manufacturer's 10 Year Warranty
Why You'd Buy This Mod
Stunning Design
Wireless Capabilities
Brilliant Vape Production
You Can Change Settings & Modes From The Phone App
Lip-Sensing Tech; No Fire Key Required
PAX 3 Review: Verdict
It's no surprise why the PAX 3 is likened to the iPhone, it's simple to use and performs admirably. One problem I did find, the price! All this prestige and greatness comes at a cost (though it's worth every penny). However, this is a sound investment if you're serious. PAX labs provide you with a 10-year warranty and you can certainly get your money's worth out of it. The other issue, as mentioned, is the dabs oven. It's a great idea for dual use but in my opinion to two tend to separate for reason, it's messy and dry herbing after using some dabs is annoying as you will have to give it a decent clean out.
Best Place To Buy – Vapor4LIFE ($274.99)
---
DAVINCI IQ – Another, AMAZING Premium Option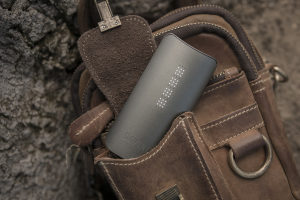 Again, when it comes to vaporizers you basically get what you pay for. This is why the PAX 3 and DAVINCI IQ are the most well-loved and respected vaporizers on the planet right now.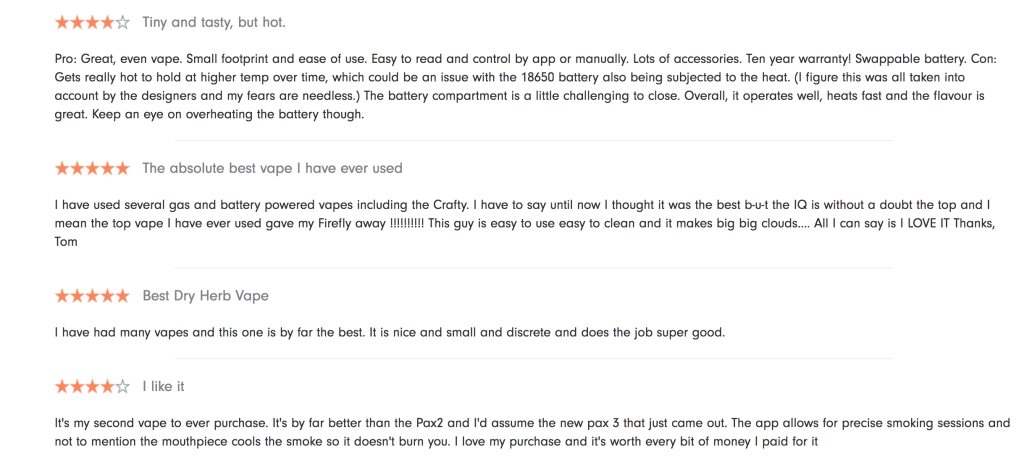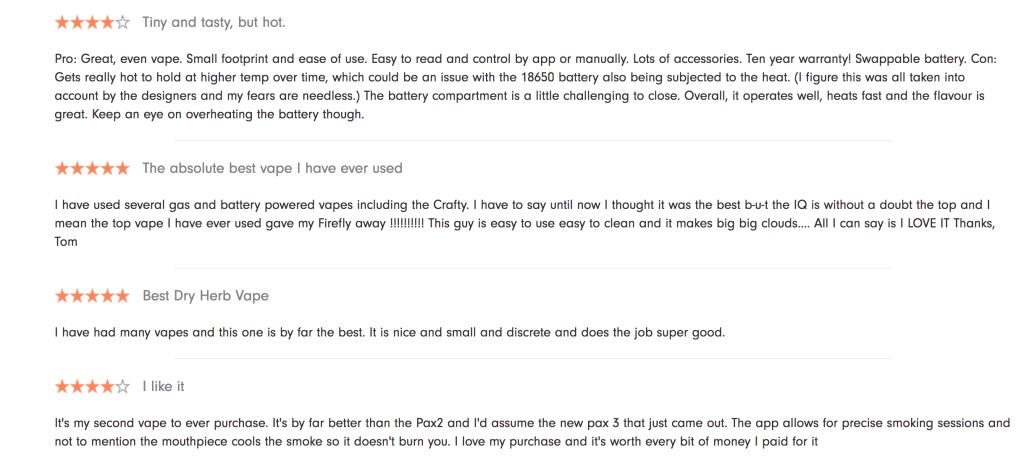 The DAVINCI IQ, like the PAX 3, is an exceptional device, packed with technology, that will make vaping the good stuff a truly amazing experience.
You can check out my, frankly gushing, review if the Davinci IQ for a more detailed breakdown of what makes this wonderful device tick, though if you're in the market for the BEST OF THE BEST, this is the one you need to be looking at.
Everything about the Davinci IQ is sublime, from the design to its features, to the way it looks – the Davinci IQ is like something Apple designed with its premium design language, the simplicity of use, and excellent performance.
The DAVINCI IQ features a 100% ceramic zirconia air path, which allows for unparalleled flavor and clarity, whatever you're vaping – be it weed or dried herbs.
You can craft your own power profiles as well, meaning once you find your sweet spot, you can lock it in. This aspect of the DAVINCI IQ's capabilities is powered by the company's bespoke Smart Path Technology, which ensures every drag is bang on the money.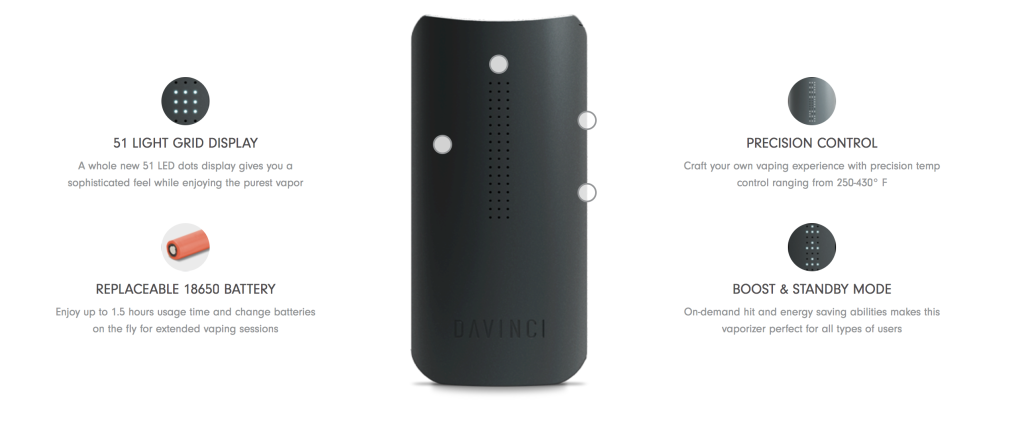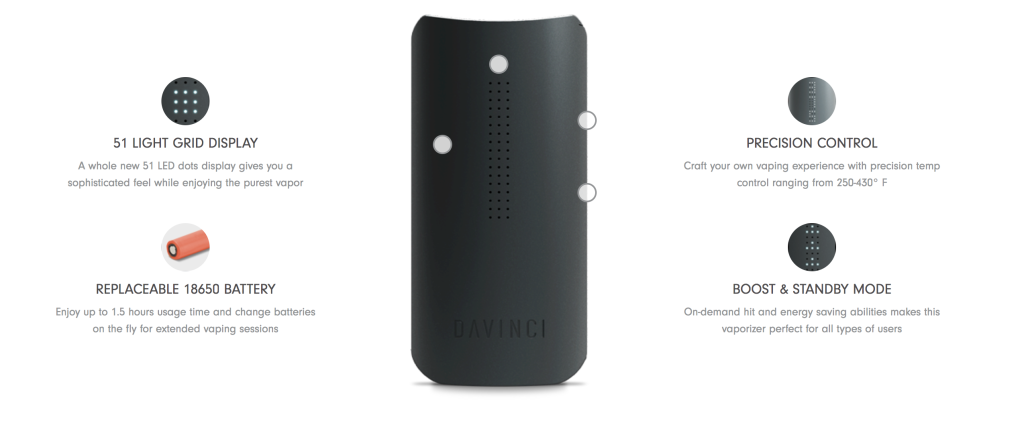 And if that wasn't enough, the DAVINCI IQ will also connect via Bluetooth to either an iPhone or any Android phone. All you have to do is download the DAVINCI app and you can start tracking things like temp profiles, draw times and battery life.
This vaporizer comes highly recommended, especially if you're after the absolute best performance, design, and power on offer right now.
Why You'd Buy This Mod
Brilliant Performance
TONS of Features
Wireless Support
Offers Ridiculous Level of Control Over Vapor Production
DaVinci IQ Overall Verdict
If you can stomach the price, the DaVinci IQ is easily one of the best looking and best performing dry herb vape mods on the planet. The only other mod that comes close is the PAX 3.
Best Price – VaporDNA – $274.99
---
The G-Pen Elite Vaporiser 
Key Features: largest fully ceramic chamber on the market, with a revolutionary 360 ceramic heating element that provides fast and even convection vaporization of ground material from all sides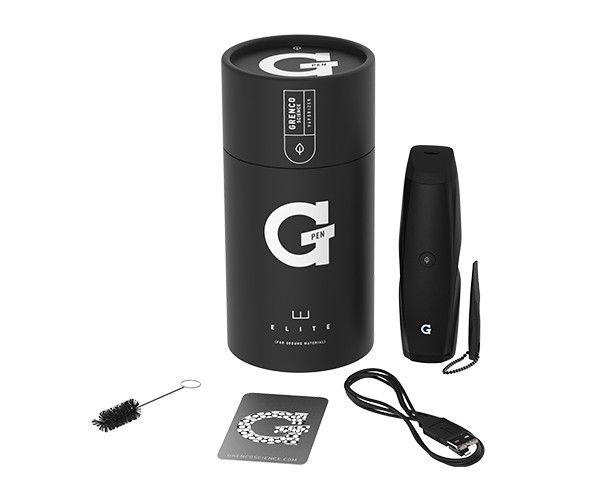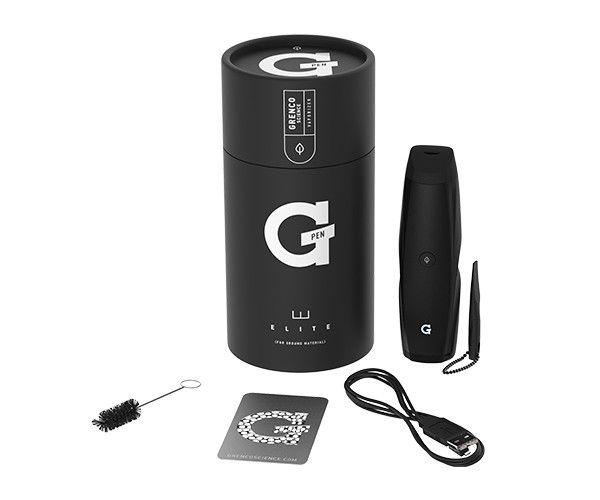 The G-Pen Elite by Grenco is the cheapest model on this list and, as you'd expect, it isn't quite as good as the PAX 3 or the DaVinci IQ.
For the beginner user, however, the G-Pen Elite is a great option because the cost is a lot lower and the performance, while not market-leading, is still very good.
I wrote a pretty detailed review of the G-Pen Elite, where I highlight my experiences with it over the course of a few months. I do really like this mod, and if it wasn't for the PAX 3 or the DaVinci IQ, I'd love it – but once you've experienced those devices there is simply no going back.
The G-Pen Elite is a beautifully designed device though; no expense has been spared in this department. It also has a MASSIVE ceramic oven that heats up very quickly and this, in turn, produces pretty decent vapor – though you do have to grind your materials very fine for optimum performance.
The reason I included the G-Pen Elite on this list is basically threefold: A) it is relatively cheap compared to my two favorite setups, b) it looks awesome, and C) it is a very solid, reliable performer and is an ideal choice for beginners or those on a right budget.
AWESOME Design
Massive Oven Chamber
Excellent Build Materials
Great Battery Life
Heats-Up Very Quickly
Good Value For Money
In A Nutshell...
I do really like the Grenco G PEN Elite. It looks brilliant, better than most in the space, and it performs very competently, providing you haven't tried a device like the PAX 3. For those on a budget, or someone looking at trying out a vaporiser for the first time, the Grenco G PEN Elite comes highly recommended.
Best Price – Grenco Science – $149.99
If you're interested in a more in-depth look at how the PAX 3 and the Davinci IQ compare, in a side-by-side comparison, check out my Davinci IQ vs PAX 3 – Who's The Daddy article, as it drills-down pretty deep into what makes these awesome dry herb vape mods tick.
Amazon's Best Selling & Most Popular Weed Grinders
Sale
Bestseller No. 1
Golden Bell 4 Piece Spice Herb Grinder, 2-Inch - Black
Crafted with heavy duty zinc alloy designed with 4 pieces and 3 chambers.
Mesh Screen filters very fine pollen and Pollen scraper is included.
The magnetized lid helps considerably to reduce spilling.
Thin Poly O-Ring for smooth grinding and less friction.
If for any reason the Golden Bell Grinder is not what you were looking for, you are protected by our MONEY-BACK guarantee, no questions asked.
Bestseller No. 2
Sale
Bestseller No. 3
Homasy 4 Piece 2" Spice Herb Grinder, Tobacco Spice Herb Weed Grinder with Pollen Scraper, Zinc Alloy Material Made, Razor-sharp Teeth - Black
Zinc Alloy Material Made. (Crafted with heavy duty zinc alloy designed with 4 pieces and 3 chambers, which will not easily be abraded. It won't have bad effects on your health)
High-quality Mesh Screen filters very well and Pollen scraper is included. (It will not easily get rusty. The little scraper helps you get your pollen out & get the herb out which caught in between the teeth)
Ultra Strong Lid Magent. The magnetized lid helps considerably to reduce spilling. (Unlike other herb grinders the lid falls off easily while operating. This herb grinder with strong magnets holds the lid firmly in place. It is easy to twist and won't make annoying metallic sound)
Razor-sharp Metal Teeth: Ensure you a smooth twist & an efficient grinding action. Thin Poly O-Ring for smooth grinding and less friction. (Those high quality metal teeth are durable and they provide you with small and fluffy herbs)
100% MONEY-BACK GUARANTEE: This herb grinder is definitely a smart choice for you. If you are not satisfied, you could return it for a full refund within 45 days. And we provide 12-MONTH WORRY-FREE WARRANTY
Sale
Bestseller No. 4
KOBRA Grinders - Pokemon Pokeball Grinder For Herbs and Spices - 3 Piece 40MM
SPECIAL, UNIQUE POKEBALL DESIGN FOR PERFECT GRINDING: This amazing pokemon herb grinder spice and tobacco crusher has sharp teeth that promise to perfectly shred any herb or spice.
IDEAL FOR SPICES, HERBS, TOBACCO: Use this top notch pokemon grinder to crush and shred any type of herb, spice and tobacco leaves. It is ideal for grinding herbs into small pieces, making them more potent. What is more, this 3 piece rotary grinder can be used to grind whole spices, herbs, tobacco leaves.
EASY TO USE AND KEEP CLEAN: The KOBRA large herb grinder can help you save time as it is extremely easy to use. You just need to twist the top a couple of times!
100% RISK FREE PURCHASE: E-Tech Distributors is the only authorized reseller of Kobra Pokemon Pokeball grinders. Do not buy from other sellers as they cannot provide warranty. As the premier distributor for KOBRA Products we offer you a 100% money back guarantee in case this pokemon herb grinder does not live up to your expectations.