YES! You Can Get An Awesome Box-Mod For Under $100
I have spent A LOT of money and A LOT of crap stuff over the years. It pains me to think about the mods I bought back in the day. All in, I've probably spent the best part of $2000 on mods over the years. But back in the old days of vaping — like, five years ago — things were very different. Innovation was slow.
This is no longer the case, though. During the past two years there has been a HUGE spike in innovation within the vaping space. Tons of new players have entered, older brands have upped their games, and the net result is A LOT of awesome gear. This innovation has also driven prices down as well; nowadays you can get a very decent setup for hardly anything at all. Although there are still INSANE options for the financially liberated like THIS £800 Mod By Vicious Ant.
This is why I did this article. This is why you DON'T need to spend hundreds of dollars on a box-mod. You can spend less than $100 and get an excellent, powerful and robust box-mod that will easily hold its own with the likes of VaporShark's DNA 200.
And these are NOT low-grade set-ups, either. They pack in tons of features, support for every type of atomiser setup and vaping modes, as well as all the safety features you'd expect in today's modern vaping world.
If you're on a budget, or, simply do not want to spend a fortune on a mod, these are what you're best going for. Take me, for instance, I've been using the Reuleaux RX200 for about 10 months now and it cost me $59. And while there are plenty of better mods on the market, this one has held its own for almost a year now, proving that cheap doesn't always been crap quality.
You don't have to spend a fortune when looking for a capable, powerful box-mod. The advent of the RX200, a great little chipset, alongside a ton of recent innovation in the vaping space, has produced some absolute gems. And best of all they can ALL be had for less than $100.
If you're looking for a powerful box-mod that can handle pretty much anything you can think of throwing at it, look no further: all the box-mods on this list have been tested by VapeBeat and they all seriously deliver the goods, whether you're after design, performance, features or customisation options.
You can pay $200 for a DNA200-powered device. You can do this and be very happy — they are great devices. But if you want to save some cash — and by some, I mean A LOT — then you NEED to check out these awesome box-mods. So, without further ado, here are our favourite box-mods for under $100.
Designed by Jaybo in collaboration with Wismec, the Reuleaux RX200 spares no expense. Doing everything from wattage to temperature control and even TCR you will have all your needs met by this beautifully designed box-mod.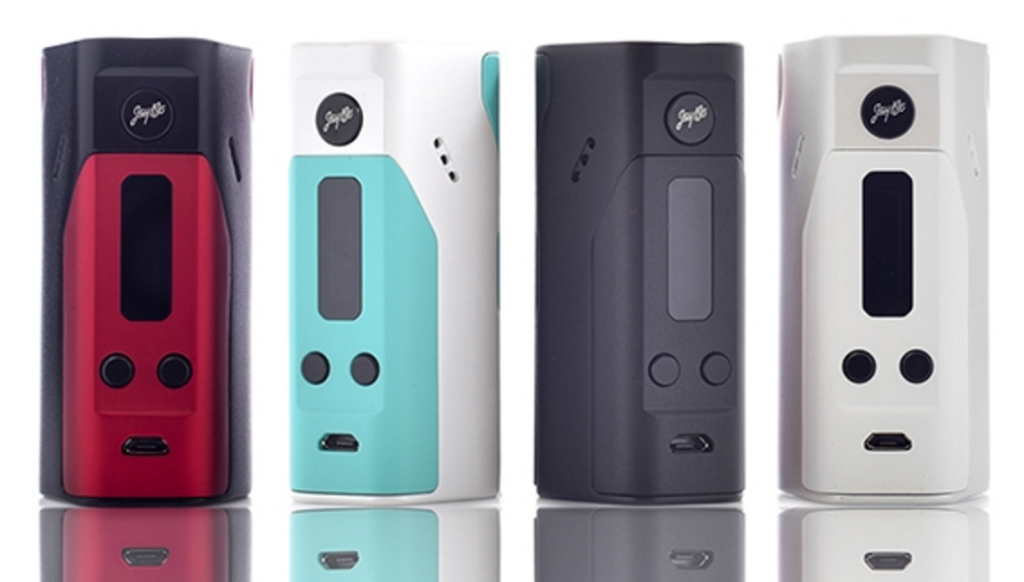 A 200W device being powered by three 18650 cells will soon be forgotten when you hold this device comfortably in your hand. It's hefty, sure. But so too is the performance and battery life. The Wismec Reuleaux RX200 is a must have in any line up.
Wismec Reuleaux RX200 Specs and Features:
Dimensions 50mm x 40mm x 84mm
Temperature Control- Nickel, Titanium, Stainless Steel and TCR
Wattage Mode- 1W-200W/250W with Upgrade
Magnetic Battery Back Cover
0.69inch OLED Display
Resistance Range- TC .05-1.0ohm VW .1-3.5ohm
Temperature Adjustment Range- 100-315C/200-600F
Upgradeable Firmware
510 Spring Loaded Contact Pin
Stealth Feature
Eleaf introduced a great little box mod when they released the 100W TC. Being able to use one or two 18650 cells is not a common feature with dual 18650 mods but Eleaf pulled this feat off.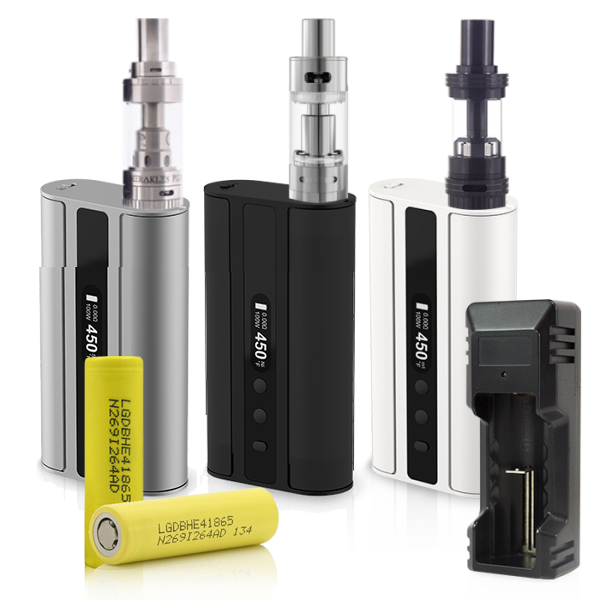 Upgradeability gave this device an edge when compared to similar models of it's class. Slightly resembling the iStick 50W in appearance the performance is more than the price tag warrants.
Easy to read OLED display, hidden fire button and a few other features is what makes this device great. I would recommend this one personally for those who need no more than 100W and want the TC option.
ELeaf iStick TC100W Specs and Features:
Dimensions 3-3/4" x 2" x 7/8"
Stainless Steel 510 Threads
Wattage Output- 1-100W/120W with update
Temperature Control Range- 100-315C/200-600F
Resistance Range- TC: .05-1.5ohm VW: .1-3.5ohm
Magnetized Battery Covers
Single or Dual 18650 Cells
Hidden Fire Button
Stealth Functionality
OLED Display
Temperature Alert
Atomizer Protection
Short Circuit Protection
Firmware Upgradeable
Temperature Control- Nickel, Titanium, Stainless Steel and TCR
Bypass Mode
Joyetech has made a good name for themselves and rightly so. Given the fact their eVic VT and eVic VTC mini were very popular I didn't think they could outdo these two devices and then along came the Cuboid.
The Cuboid is an extremely powerful mod that has been packed into a very portable package. Running dual 18650 cells and sporting a very lovely 0.96" display this device has one heck of a look.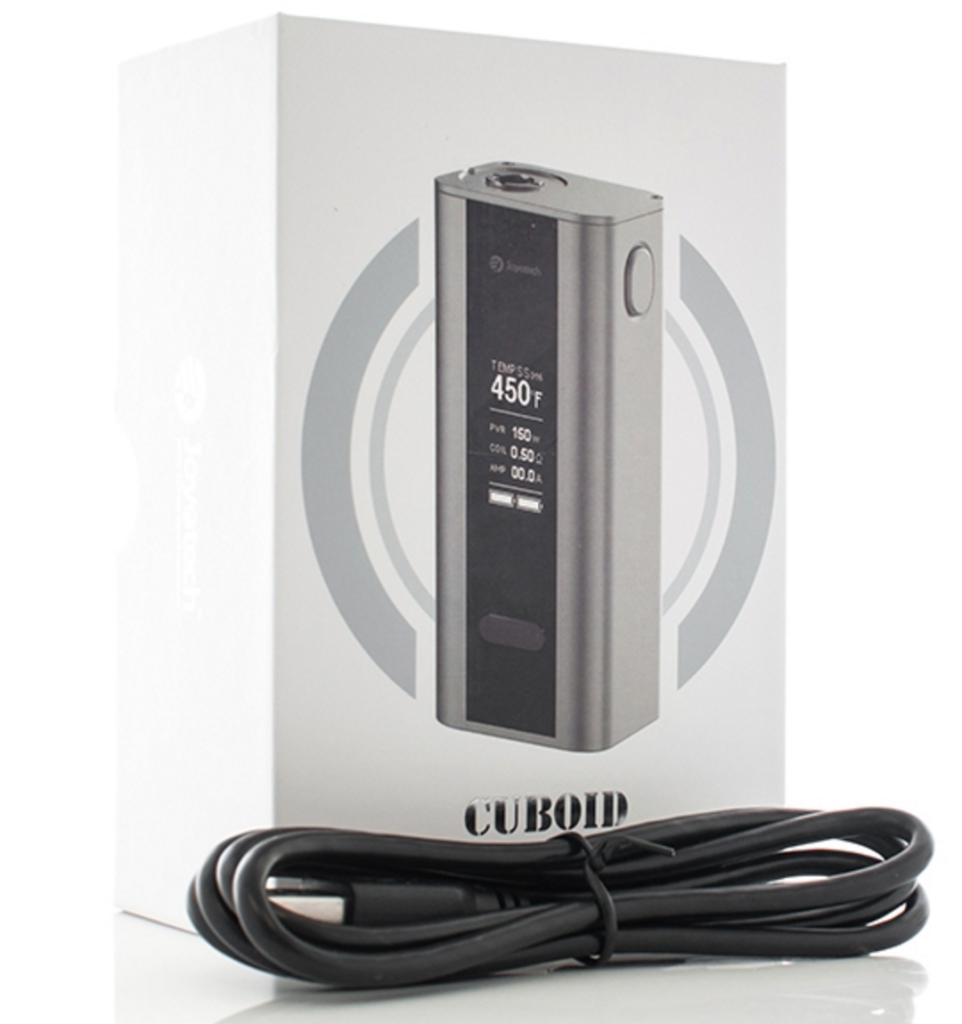 An innovative battery door that allows for swapping out your cells with great ease. The Cuboid fits very well in hand and the feeling of the device assures you that you have a solid built mod.
If you were to get one mod that you felt would last you for a long time then, yes, the Cuboid is a great place to start.
Joyetech Cuboid 150W Specs and Features:
Dimensions 3-5/8" x 1-5/8" x 1-1/8"
Stainless Steel 510 Threads
Temperature Control- Nickel, Titanium, Stainless Steel 316 and TCR
Output Wattage- 1-150W/200W with update
Temperature Control Range- 100-315C/200-600F
Resistance Range- TC: .05-1.5ohm VW: .1-3.5ohm
Dual 18650 Cell
Upgradeable Firmware
New Slip-open Battery Cover for Simple Battery Changes
Reverse Polarity Battery Protection
.96" OLED Display
Custom Logos with update
With more and more smaller powerhouse devices coming out we all knew it was only a matter of time before Joyetech would be back in the mini game. Bringing out the Cuboid mini Joyetech has outdone themselves again.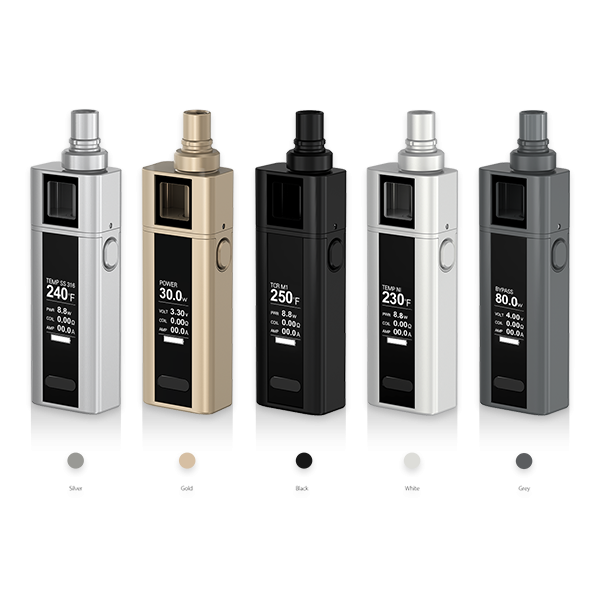 There is really not much of a difference between the Cuboid mini and it's big brother the Cuboid, other than size, power and battery.
The Cuboid mini is light in comparison but functions and looks the same. I highly recommend if you want a great on the go device.
Joyetech Cuboid Mini Specs and Features:
Dimensions 3" x 1-3/8" x 7/8"
Spring Loaded Contact Pin
Stainless Steel 510 Threads
Battery Capacity: Built-in 2400mAh
Operating Wattage- 1-80WTemperature Control- Nickel, Titanium, Stainless Steel 316 and TCR
Temperature Range- 100-315C/200-600F
Resistance Range- TC: .05-1.5ohm VW/Bypass: .1-3.5ohm
Bypass Mode
Large 0.96" OLED Display
Upgradeable Firmware