These are the absolute best vape tanks we've tested, so if you're in the market for a new vaping setup… well, look no further
Best Vape Tanks 2017: Intro — What Makes A Vape Tank Great? 
Tanks. Box-Mods. Decent quality, great-tasting ejuice. All of these things are becoming increasingly popular with consumers as vaping moves from niche hobby to mainstream pastime in the UK.
Never before has there been more choice when it comes to product, both here in the UK and elsewhere in the world.
If you're serious about vaping, chances are you're using a tank and some kind of box-mod. If so, this article is for you — all the tanks here are absolute STUNNERS!
During the past 18 months Vape Beat has used a bunch of tanks from a variety of different manufacturers. Most were very good setups with excellent through-flow and durability.
But some, there's always a few, were utter rubbish and should be avoided like the plague.
You do not want to waste your money on crap, so in order to avoid the same mistakes we made be sure to check out the following heads.
A good sub-ohm tank will last you as long as you need it, meaning you could technically use the same one for years, providing you take good care of it, without too much fuss.
I have a few two year old tanks in my collection and both are still firing on all cylinders. Maintenance is IMPORTANT, though, so make sure you take good care of your tanks and they well take care of you.
This list doesn't cover ALL the tanks out there right now, as some sites like to do; rather, it lists the sub-ohm tanks we have tested, graded and rated. The tanks you will read about below have all be extensively scrutinised by our dedicated team of reviewers and are all solid, durable, high-performance setups.
We have also tried to cater to all budgets, though the price of a good sub-ohm tank, generally speaking, is usually about the same – anywhere between $20 to $30.
Where available we have listed the best prices we could find for each tank on the web. In some cases – VaporFi, for instance – it wasn't possible, as to buy VaporFi you have to go through VaporFi. Ditto for Vapor Shark products and Volcano.
Right: let's do this.
The Best Vape Tanks of 2017 Thus Far…
| BRAND | MINI-REVIEW | RATING | BEST PRICE ONLINE | PRICE |
| --- | --- | --- | --- | --- |
| SMOK TFV8 CLOUD BEAST | THE KING. THE MAC DADDY. THE BEST TANK OF 2016/17. BAR NONE | 10/10 | VAPORDNA | $34.99 |
| SMOK TFV8 BABY BEAST | LIKE THE BEAST, JUST SMALLER - BUT EQUALLY POTENT | 10/10 | DIRECTVAPOR | $24.99 |
| UWELL CROWN | A MODERN DAY ICON. STILL AMAZING. EVERYBODY SHOULD HAVE ONE OF THESE | 10/10 | DIRECTVAPOR | $28.95 |
| HERAKLES PLUS | HUGE FLAVOUR. HUGE CLOUDS. HUGE PERFORMANCE. GREAT STUFF ALL ROUND | 9/10 | DIRECTVAPOR | $29.95 |
| VAPORFI VIBE | HUGE CAPACITY. GREAT FLAVOUR. MASSIVE PERFORMANCE | 9/10 | VAPORFI | $44.95 |
| ASPIRE CLEITO | BEAUTIFULLY DESIGNED TANK. IDEAL FOR FLAVOR & CLOUD CHASERS | 8.5/10 | DIRECTVAPOR | $19.95 |
| VAPORESSO TARGET PRO | EUC COIL SYSTEM IS A REVELATION. SIMPLY BREATH-TAKING STUFF | 10/10 | VAPORDNA | $24.99 |
| HALO REACTOR TANK | IMMENSE POWER, HUGE CLOUDS AND MASSES OF CHARACTER | 9.5/10 | HALO E-CIGS | $25.00 |
| ASPIRE NAUTILUS X | THE ULTIMATE MOUTH-TO-LUNG TANK. NOTHING ELSE COMES CLOSE | 8.5/10 | VAPORDNA | $29.99 |
Read on for a detailed break-down of ALL these tanks and more below…
UWELL Crown III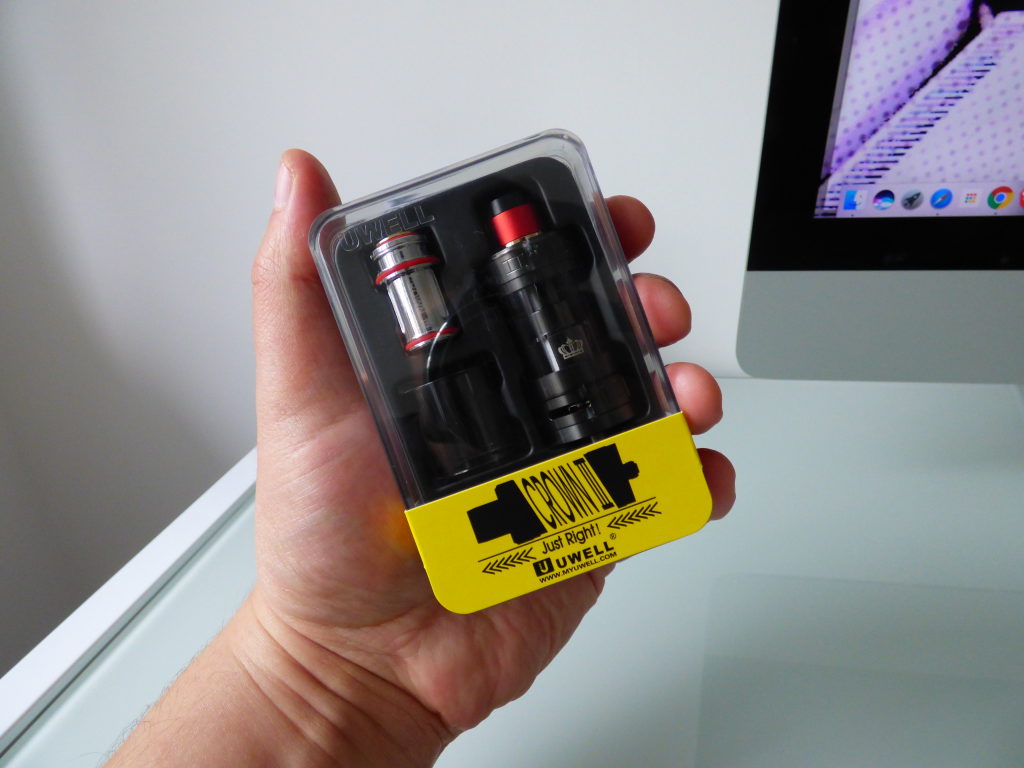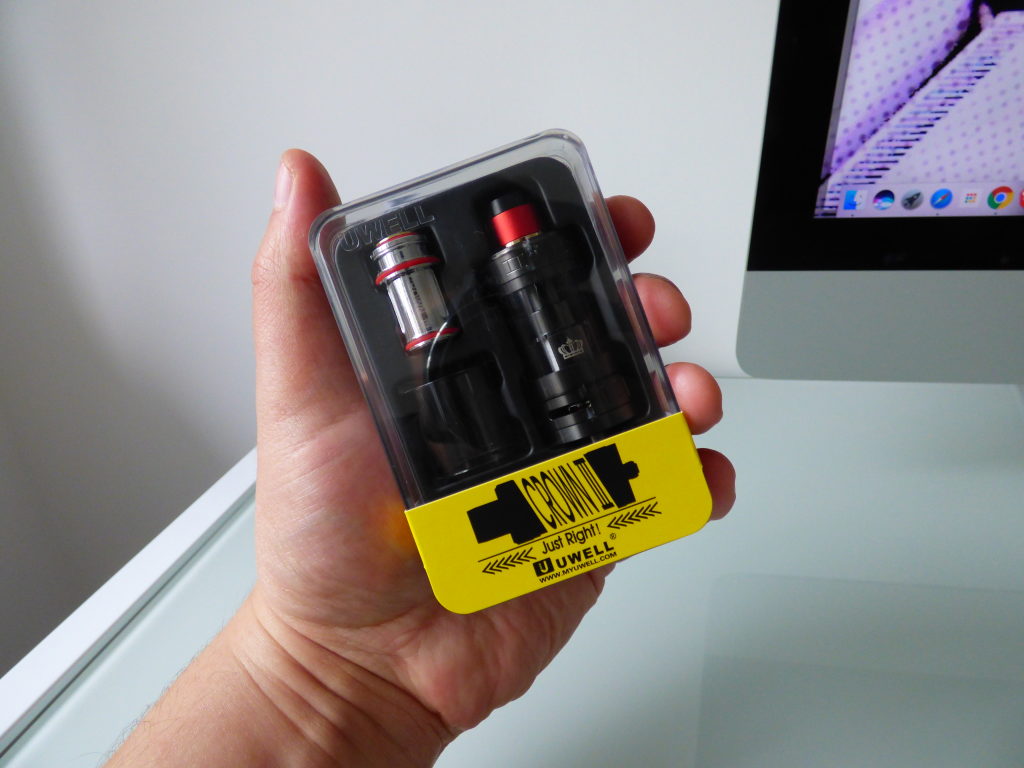 Third time's definitely a charm when it comes to UWELL's Crown tanks. Last year's UWELL Crown 2 did not make the company a lot of friends, but this year's entry, the all-new UWELL Crown III, definitely makes up for past mistakes.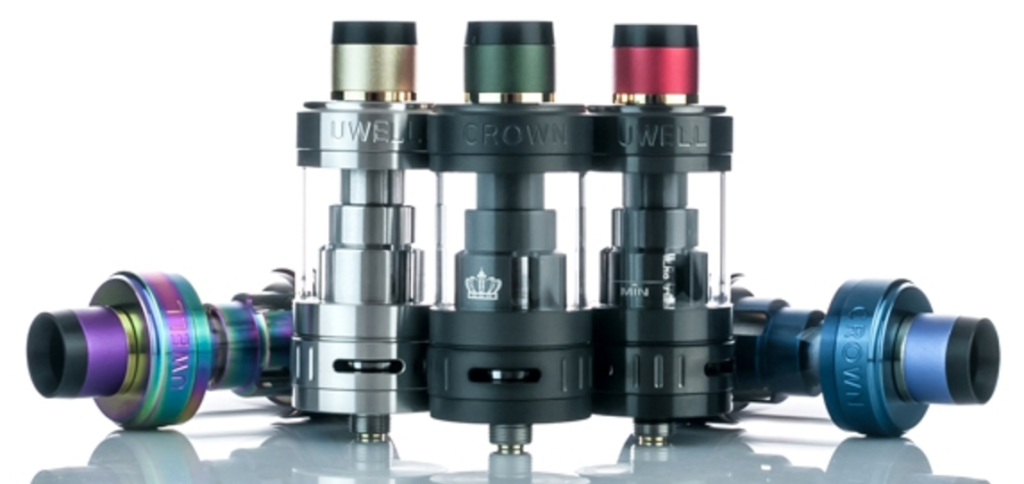 Not only has UWELL completely redesigned the entire tank, including how it comes apart, but it has also rejigged (and massively improved) its proprietary coil system. They're now bigger and last longer, which is great, but the biggest USP of these new coils is their flavour – it's immense.
I was a huge fan of the original UWELL Crown. I didn't care much for the Rafale or the UWELL Crown 2. But I am very impressed with the UWELL Crown III, which is more than a return to form for the Chinese vape brand.
UWELL Crown III Specs & Features
24.5mm Diameter Base
5.0ml Max Capacity
Crown 3 Plug and Pull Replacement Mechanism
Vertical Coil Design
Plug and Pull Design
Precision Triple Adjustable Bottom Airflow
Stainless Steel Construction
Quartz Glass
Stainless Steel 510 Threading
24K Gold Plated Contact
---
17Innokin SCION Tank: For The Discerning Cloud-Chaser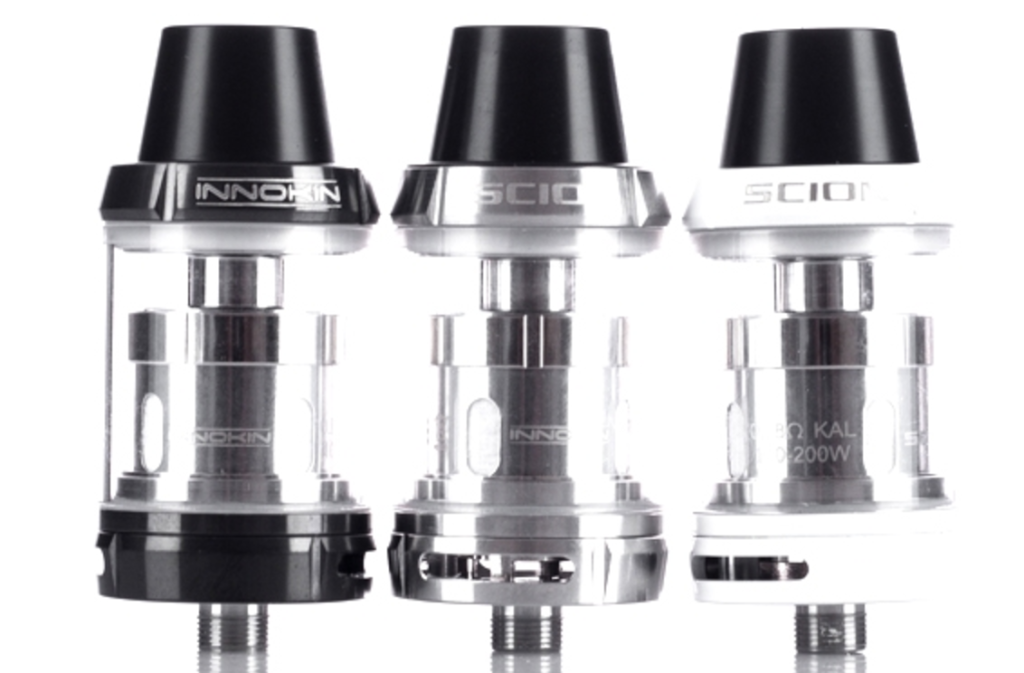 SMOK's TFV8 and, more recently, the SMOK TFV12 kind of changed the game inside the sub-ohm tank space.
Not only were these tanks bigger and more powerful than nearly everything else on market, but they also boasted some of the best flavour and cloud production around, as well as doubling as an RDA.
Innokin now has a rebuttal to SMOK's market-dominating lineup of tanks, however, and it's called the Innokin SCION Tank. The SCOIN is designed for favour-chasers and those that like to vape at high wattages; like the SMOK TFV12, this thing is a beast and it packs a right punch in the right hands.
Innokin SCION Specs & Features
Sleek, compact design
24mm diameter
3.5ml liquid capacity
Easy top-fill
Each SCION is packaged with X2ea 0.28Ω Kanthal BVC coils, tested and rated at 100W-200W
0.5Ω Kanthal BVC coils are also available, rated at 70W-110W
Replacement coils available in 3-packs
Available in black, silver, and white
Innokin has kept the price of the SCION tank nice and low – you can pick one up for just $14.99, which is insanely cheap.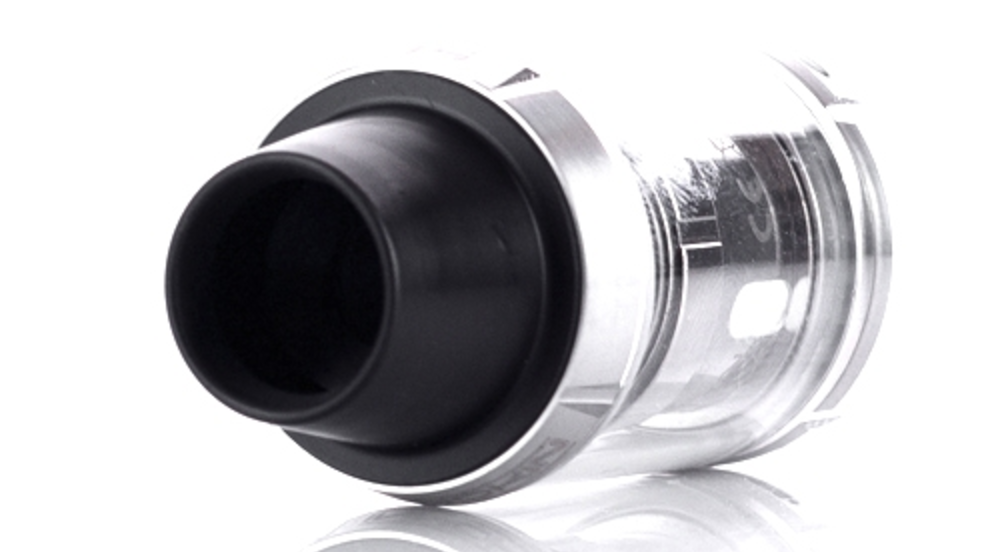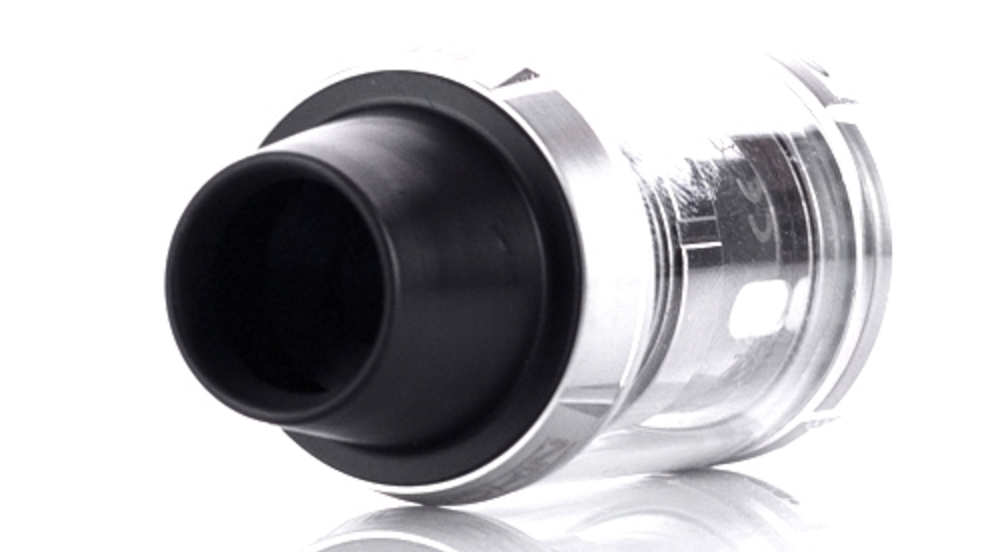 Innokin's clearly aiming for maximum market penetration. It's also smaller and more compact than the enormous SMOK TFV12.
If you're looking for something different from the masses that still packs in a TON of performance, you should definitely be looking at the Innokin SCION
---
SMOK TFV12 Cloud MONSTER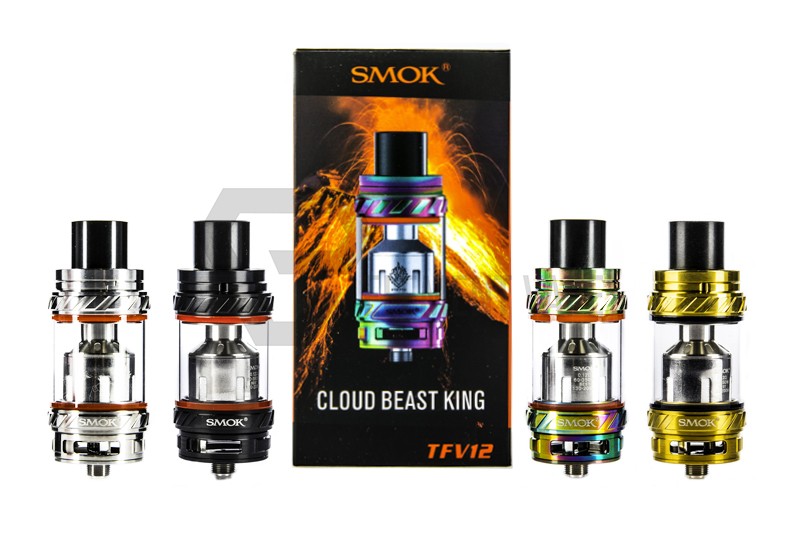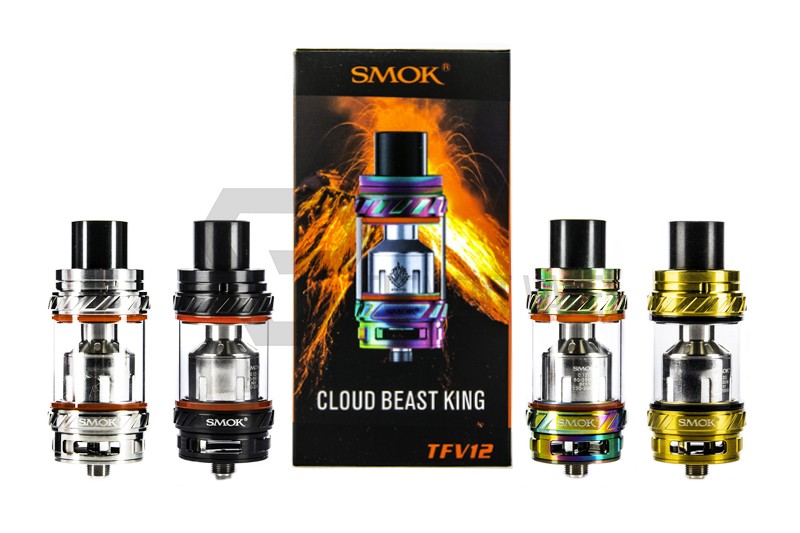 No one ever said the SMOK TFV8 wasn't big or powerful enough. No one ever said, "gee… I wish this tank was even bigger." But SMOK doesn't care – it does what the hell it wants.
And this is why I love SMOK. It does what it wants, when it wants and it always drives innovation in the space. The SMOK TFV8 was a classic tank, easily one of the finest released in 2016. But the SMOK TFV12, well, this thing just takes things even farther.
What makes the SMOK TFV12 so special is its 12 coil structure, which delivers unprecedented performance, clouds and flavour.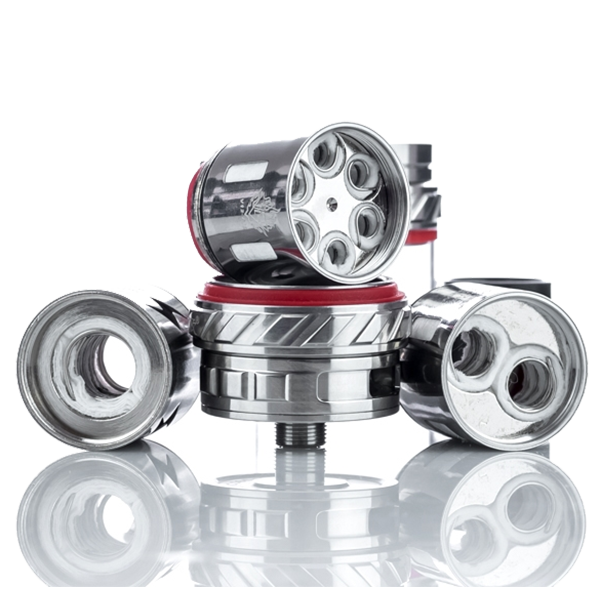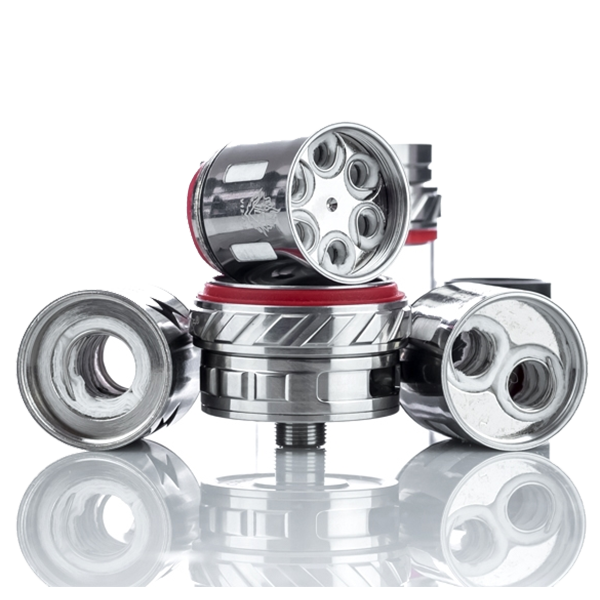 Whether you're running pre-made V12-T12, Duodenary Coils, that feature a 12 cylinder design in vertical orientation and can fire up to 350W, or SMOK's excellent V12-RBA you're in for a very good time.
The air slots aboard the SMOK TFV12 are 30% bigger than the one's present on the TFV8 and the base in now 25mm. The build materials have been updated and are now more resistant to heat. And if that wasn't enough it is also available in some insane colour options.
Basically, this tank is a monster. If you want the best, biggest and more potent thing on the market right now, the SMOK TFV12 should be right at the top of your shopping list.

---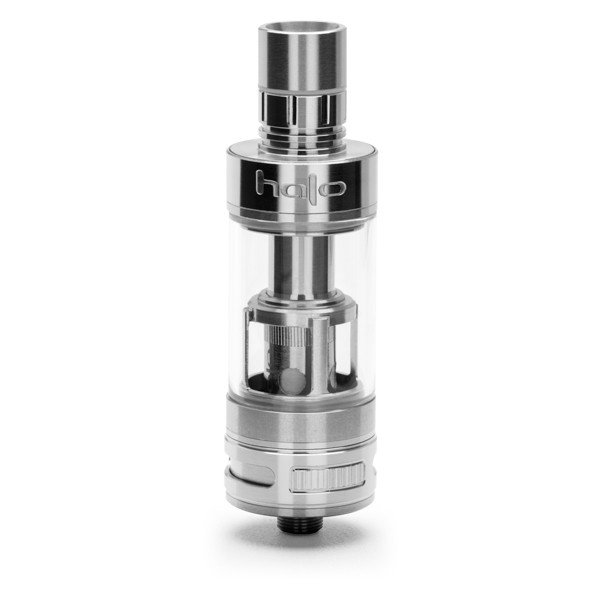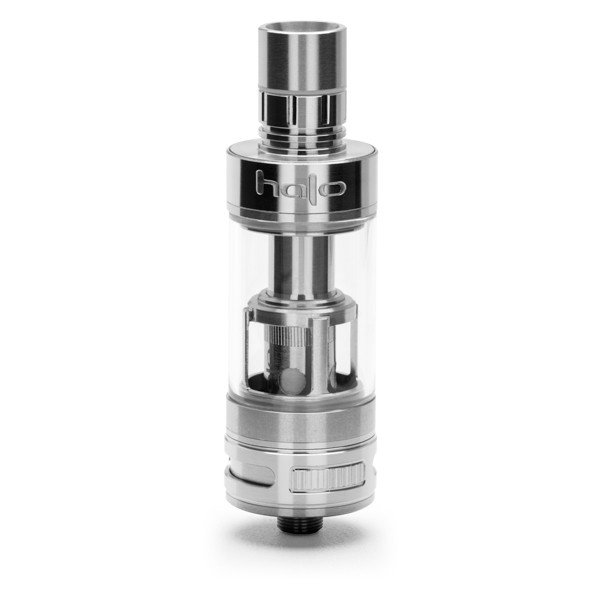 If you're after a solid tank with great flavor and reliable coils you need to be looking at the HALO Reactor Tank. Not only is this is a very good-looking tank, but it is also priced very aggressively ($25) and HALO's coils are also very good.
For flavor and value for money it's difficult not to love this tank. HALO has been called the Apple of the vaping the space a number of times. Mostly because of the high-quality products it produces. The other reason is because it only makes and sells its own gear.
HALO do E Juice, mods, tanks and accessories. They also offer a comprehensive returns policy and have great customer service. Also, everything is made in the USA as well.
Sense is a name you ALWAYS associate with quality and the company's latest and greatest sub-ohm tank, the Herakles Pro, is no exception to this rule. Nick just finished reviewing the Herakles Pro and gave it almost full marks – an unprecedented 9.5/10.
If you're after a new sub-ohm tank and you want the best then this is an option you should be taking a VERY close look at. The design is flawless as is the flavour and cloud production. Nothing has been left to chance here and the net result is one of the best tanks we've tested in the past 12 months.
Herakles Pro Specs & Features
Vape Juice Capacity: 4.5ml
Dual Fill Ports
Juice Flow Control Ring
1.8 ohm MTL Coil Resistance Range: 20-50W
0.4 ohm DTL Coil Resistance Range: 30-80W
Bottom Adjustable Airflow Ring
Compatible with Herkales Pro Coils
Compatible with Herkales Plus Coils
---
VaporFi has been around for AGES and a lot of its products have been great. There have been the occasional clanger, but VaporFi's 2016 campaign has been immense; they've released a lot of good stuff — including some truly epic E-Juice flavours.
The VaporFi VIBE is a sub-ohm tank and like the masters of the realm — the UWELL Crown and Herakles Plus — it really is a jack of all trades. Want MASSIVE flavour? No problem. What about HUGE clouds? Done. The VaporFi VIBE does it all and it does it in exceptional style as well.
Out of all the sub-ohm tanks we've tested this year, the VaporFi VIBE is definitely the most surprising. Prior to reviewing, we had no expectations. After, we were left reeling as this thing is easily on a par with setups like the UWELL Crown and the Herakles Plus.
Do yourself a favour and check this tank out!
VaporFi VIBE Specs & Features
3.5ml Vape Juice Capacity
Top Fill Tank Design
Top Airflow
5 Airlow Holes
Temperature Control Compatible
Cup Design
Mouth To Lung and Direct to Lung Coils
Pick The VaporFi VIBE Up RIGHT NOW Direct From VaporFi For Just $44.99
---
Eleaf LYCHE Tank
The Eleaf LYCHE Tank is just about one of the best sub-ohm tanks we've tested in 2016. It came out of nowhere and simply blew our socks off! This is a beautifully crafted, high-performance tank that is simple to use and easy to maintain.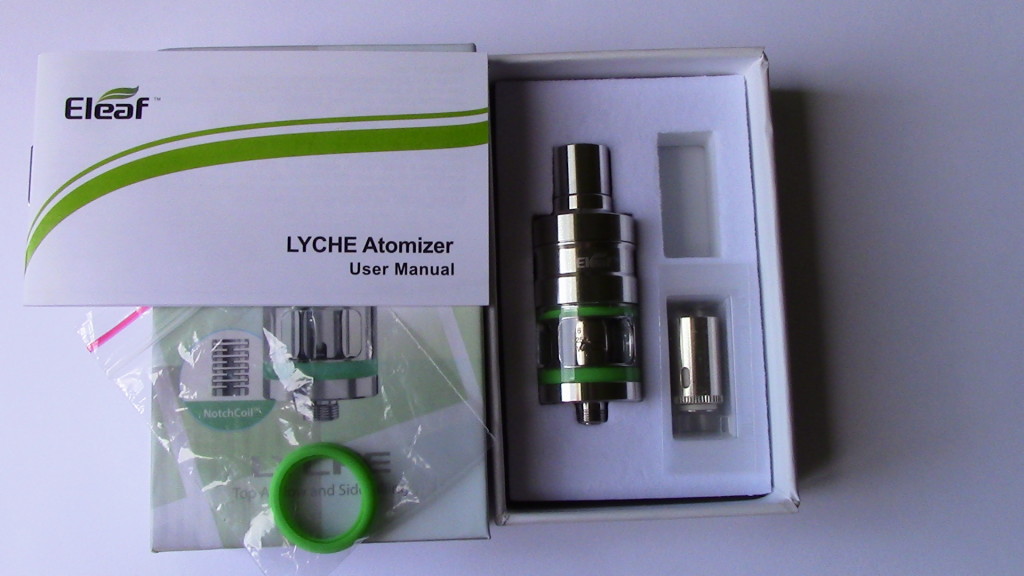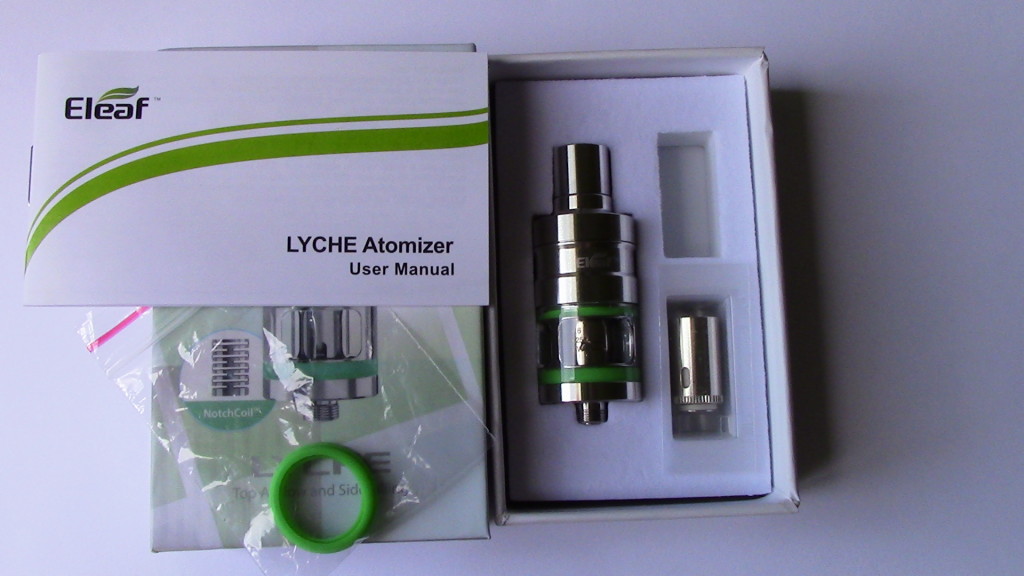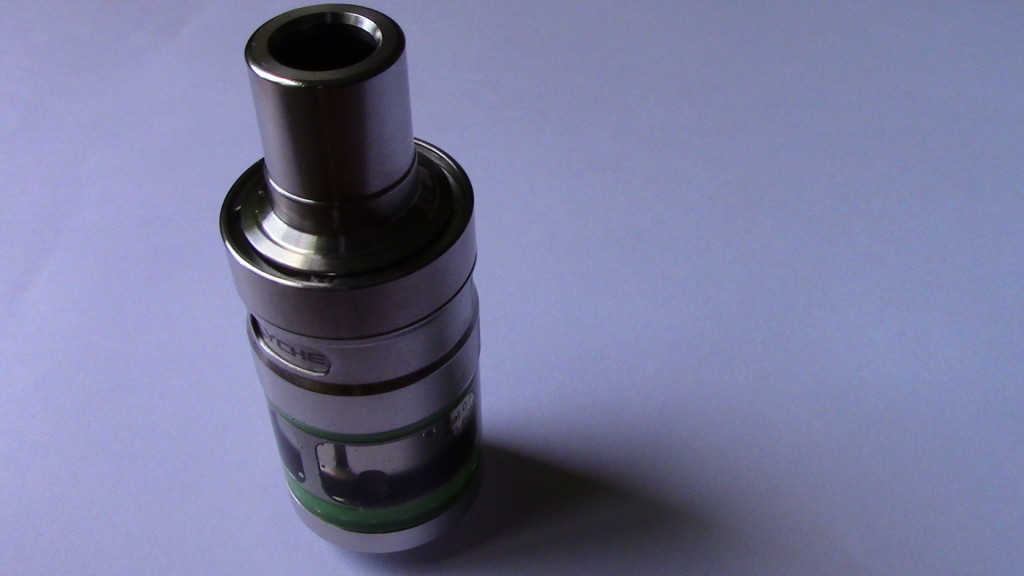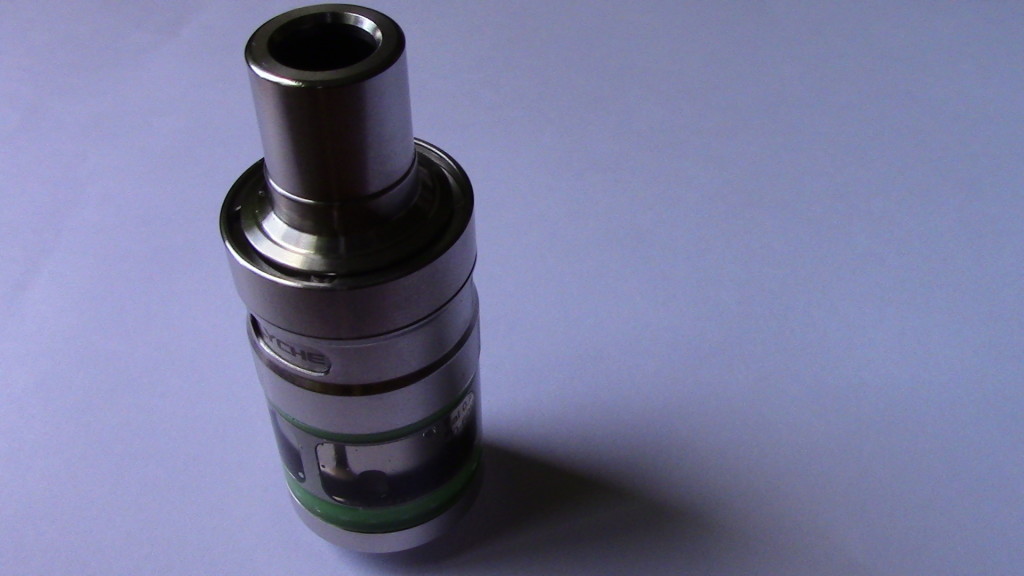 The top-mounted Airflow system ensure excellent, cool vaping across the board and the side-filling design of the Eleaf LYCHE is innovative and useful. Chuck in the awesome NotchCoil this thing ships with and you're looking at one of the best value sub-ohm tanks of 2016. Bar none!
Eleaf LYCHE Tank Specs & Features
Dimensions: 59*22mm
Stainless Steel Construction
4mL Tank Capacity
Top Hidden Airflow
Convenient Top Side Fill
Bottom Cup-Like Design
Delrin Insulated Drip Tip
RBA Available
Eleaf LYCHE Tank: Best Prices
---
Aspire Cleito
The Aspire Cleito, like the Horizon KRIXUS, attempts to do something a little, err… different. Only here, the results are superb, whereas the KRIXUS' attempt at solving the need for constant coil changing was problematic at best.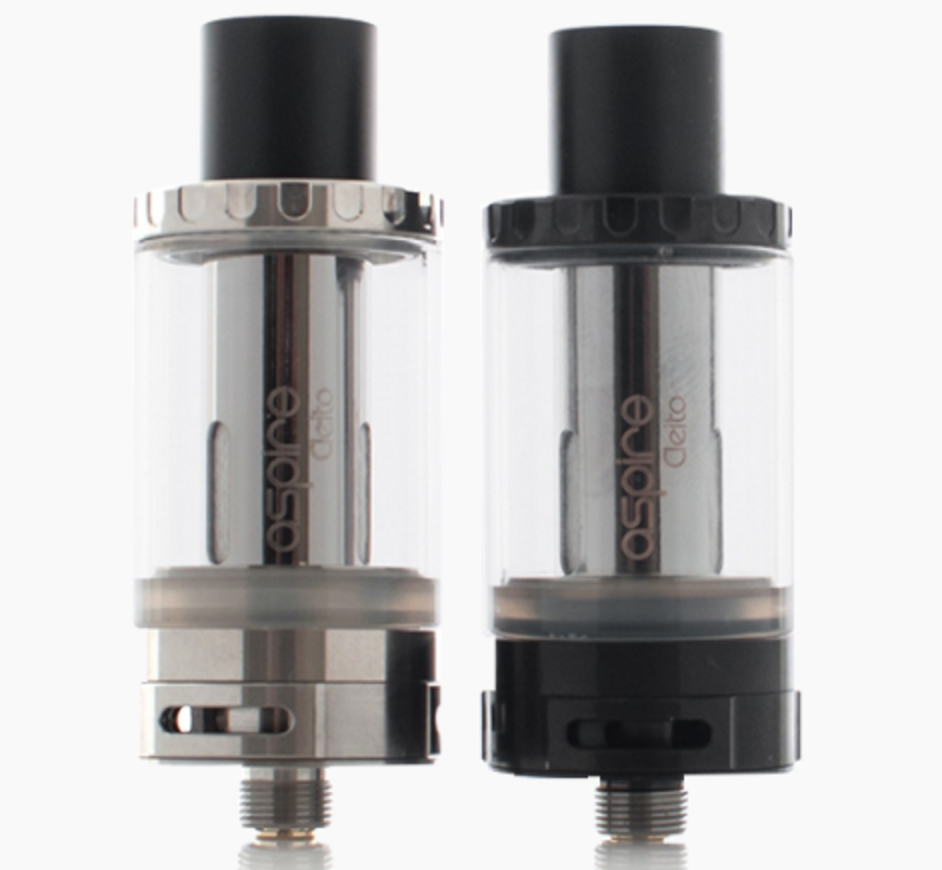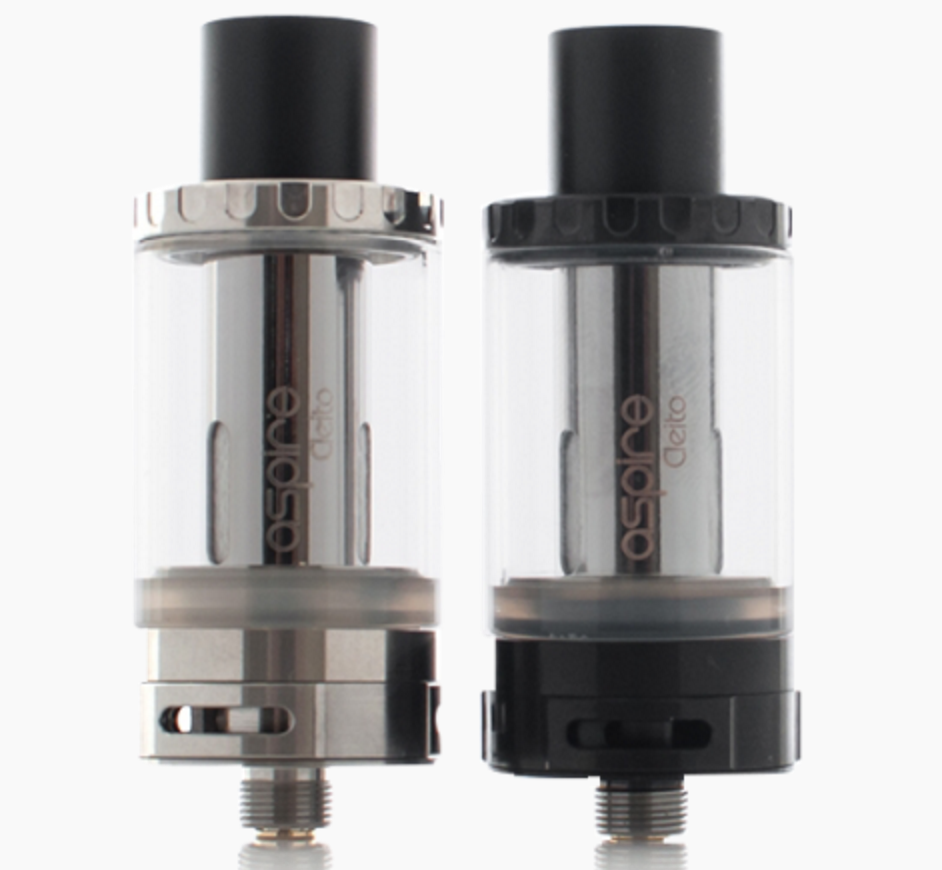 The Aspire Cleito features a new type of coil technology, which is longer and takes up less room. The idea here is that there's less resistance on the airflow and this creates bigger clouds and more intense flavour.
Already a favourite with reviewers around the globe and everybody at the VapeBeat towers, Aspire's Cleito is one hell of a proposition. Whether you're a cloud chaser or a flavour junkie, it matters not — the Cleito caters to all needs, tastes, wants and desires!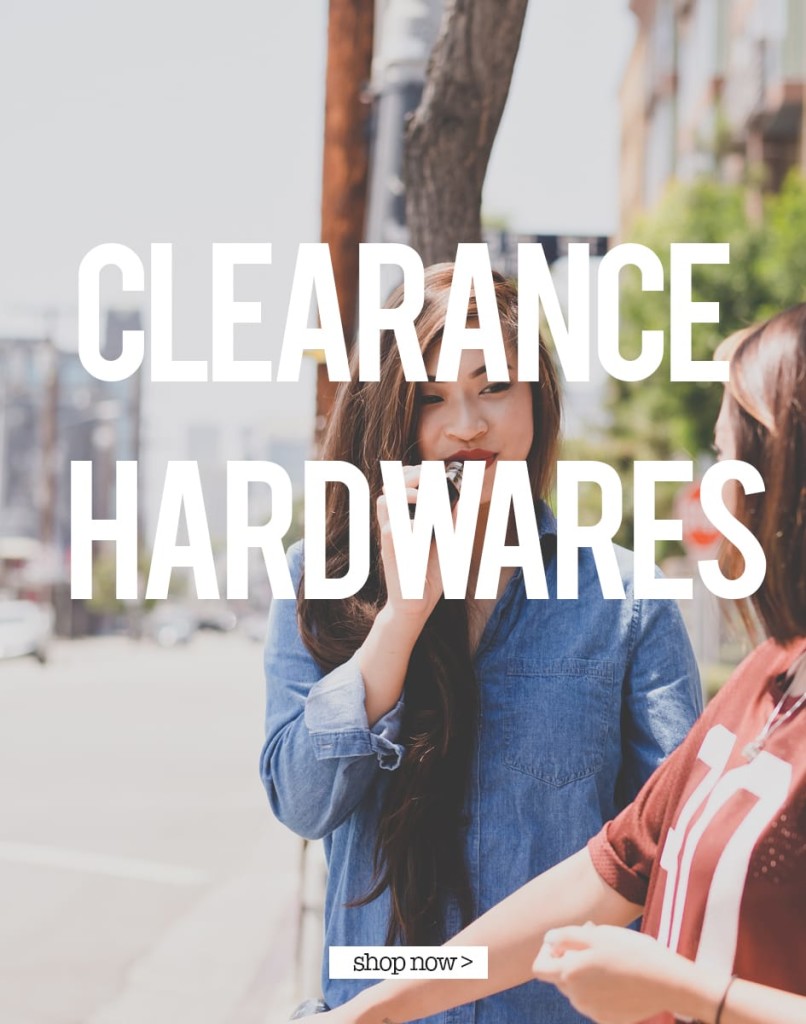 Aspire Cleito Features
3.5ml Capacity
New Coil System
Top Fillling
Stainless Steel (304)
Wide Bore Delrin Drip Tip
Available in Black or Stainless Steel
Celito Cuffs dissipate heat and look good
0.2 ohm (55 – 70W)
0.4 ohm (40 -60W)
Aspire Cleito: Best Prices From Around The Web
---
SMOK TFV8 TANK
Building on the success of the AWESOME TFV4, the SMOK TFV8 tank is an absolute MONSTER and is easily one of the best vape tanks on the market in 2016.
Featuring enlarged juice holes, a redesigned airflow system and SMOK's patented 'turbo engines' coil system, the SMOK TFV8 tank leaves very little to be desired.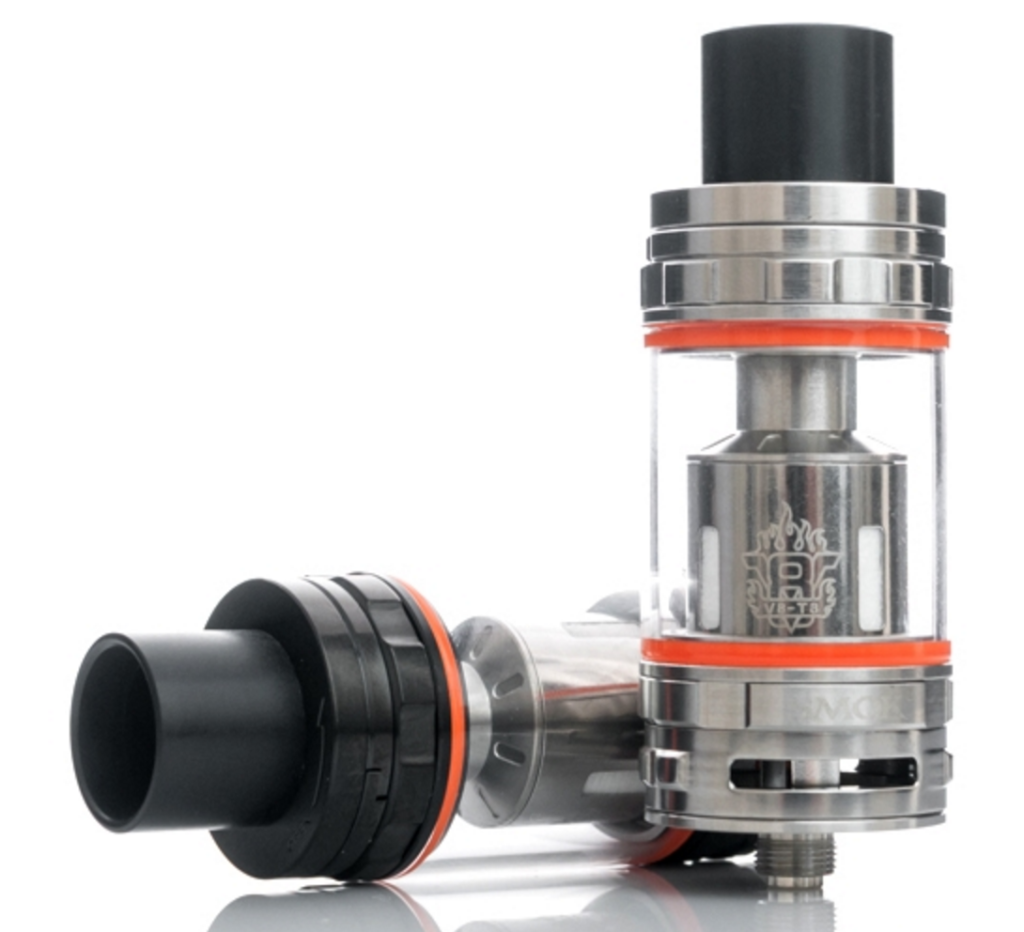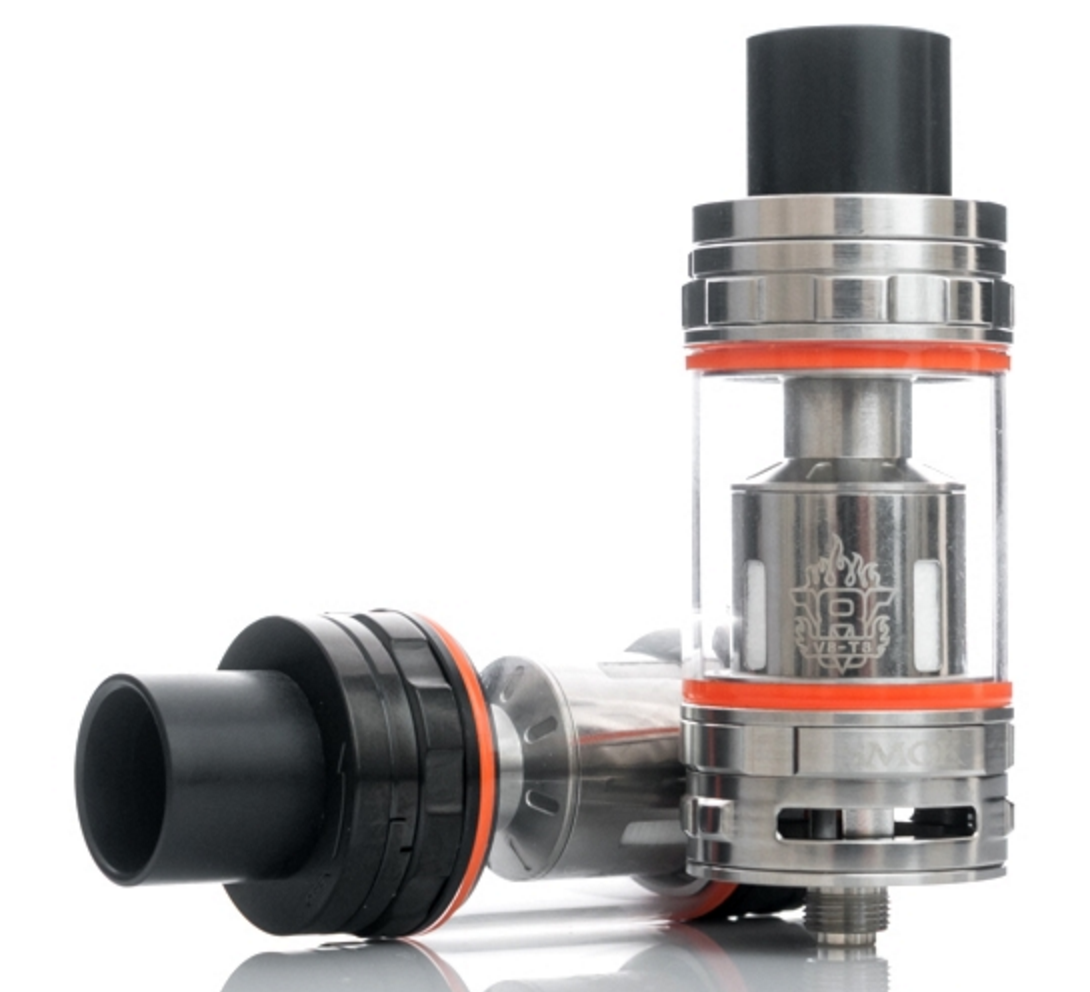 With the SMOK TFV8, you can either run it as a sub-ohm tank with pre-built coils — the pack comes with 1 x V8-T8 Octuple Coil Head (0.15Ω) or 1 x V8-Q4 Quadruple Coil Head (0.15Ω) — or as an RBA with the included V8 Exclusive Turbo RBA Head (0.28Ω).
This tank is simply superb. Nothing else really comes close in 2016, so if you're looking for the absolute BEST, make sure you check out the SMOK TFV8.
SMOK TFV8 Tank Features
Maximum Juice Capacity: 6ML (with T8-Q4) and 5.5ML (with T8-V8)
Delrin Drip Tip
Top Filling – Swivel Cap with larger juice hole
Stainless Steel
510 Connection Thread
Height:50mm
Diameter:24.5mm
Glass Diameter:25.5mm
Weight:74g
SMOK TFV8 Tank: Best Prices From Around The Web
---
The Aspire TRITON was a big release. The aggressive looking tank is already included on this list — you can read about it further down.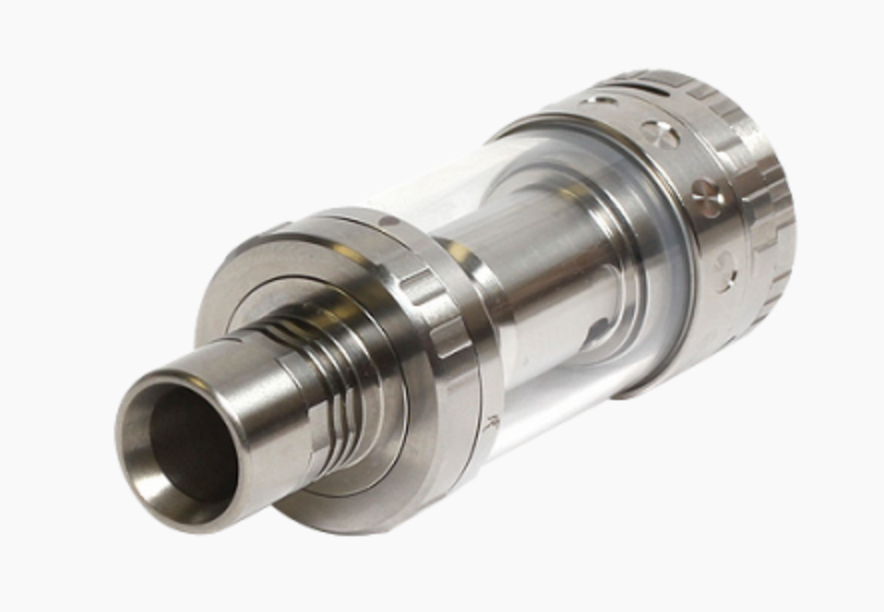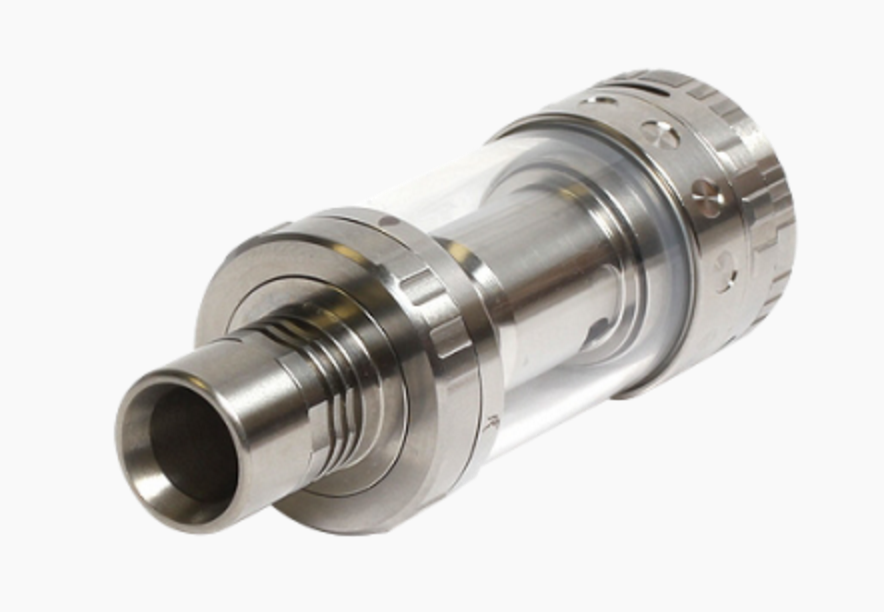 But now there is a successor model and it goes by the name of TRITON 2. This tank is slightly larger and less aggressive looking, but it is still something of a beast.
In our Aspire TRITON 2 Review, we said the following: "If you're looking for a great all-day tank that'll provide awesome experiences for the rest of 2016, the you'll definitely want to check out the TRITON 2. Whatever setup you're using, Aspire has a coil solution for you. I love this about this tank; it caters to all tastes, needs and requirements. The Aspire TRITON 2 is EASILY one of the top three vape tanks in the business right now. DO NOT MISS THIS ONE!"
Aspire TRITON 2 Best Prices From Around The Web
---
Horizon's Arctic Turbo is one of the most advanced tanks money can buy. Picking up where its predecessor left off, the Arctic Turbo Sub-Ohm Tank features made from 304 stainless steel, features a large 4mL e-liquid capacity, a Pyrex glass tank, a new sextuple (that's SIX, by the way) coil design, top and bottom adjustable airflow control, a top turbine cooling system, a stainless steel wide bore drip tip, a silver-plated 510 contact pin, and a unique anti-leak design.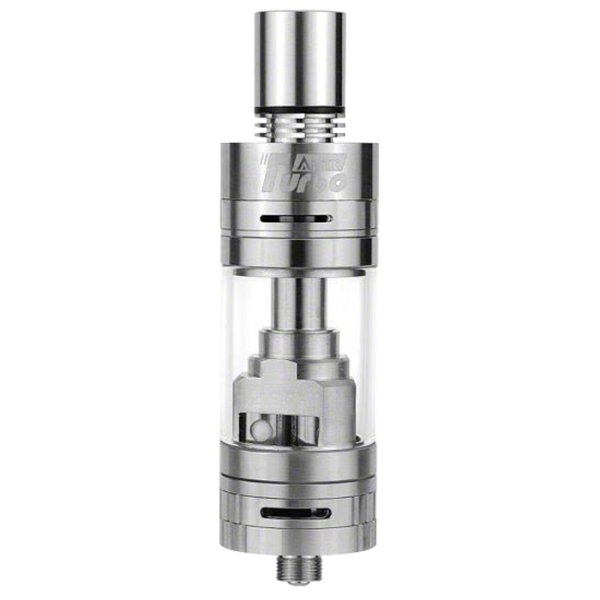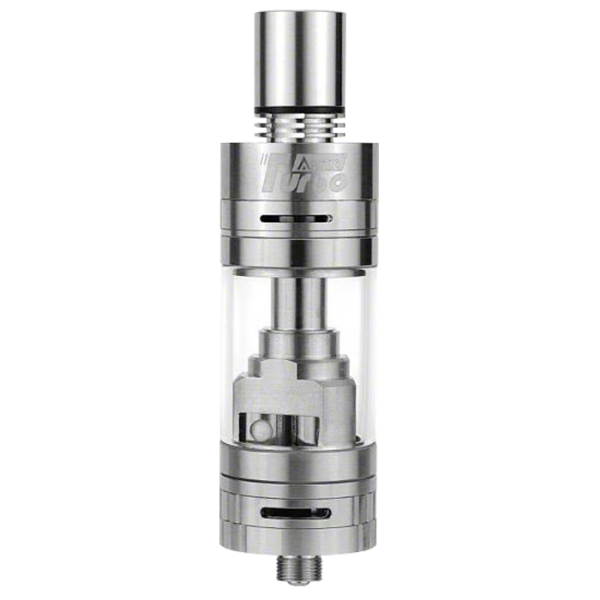 But that's not ALL — the cooling turbine, located at the top of the tank, completely removes heat-bleed and creates one of the smoothest, most satisfying vape experiences we've ever had the pleasure of hitting. The sexcyuplet coil head features three independent chambers with dual vertical coils in each that can handle up to 120W.
Impressive isn't even the word for this tank. It's FREAKING incredible.
Arctic Turbo Sub-Ohm Tank: Best Prices From Around The Web
---
The Smok TFV4 Sub-ohm Tank is a truly stunning piece of kit. Made from stainless steel and rocking the company's patented triple sub-ohm coil heads, the Smok TFV4 Sub-ohm Tank is one of the very best setups currently on market.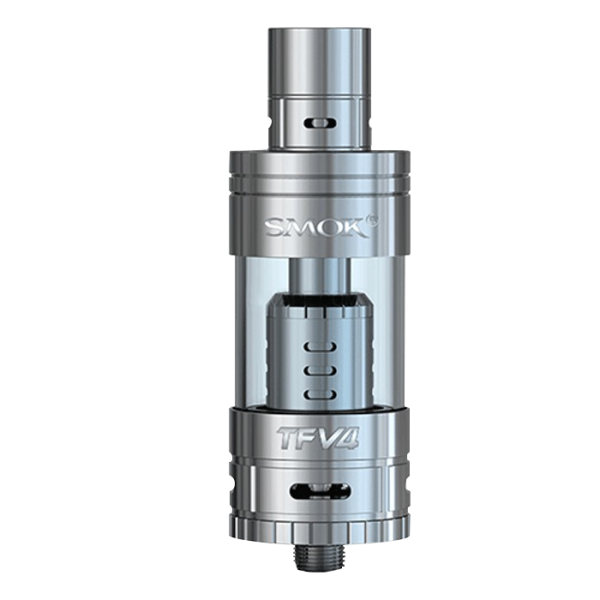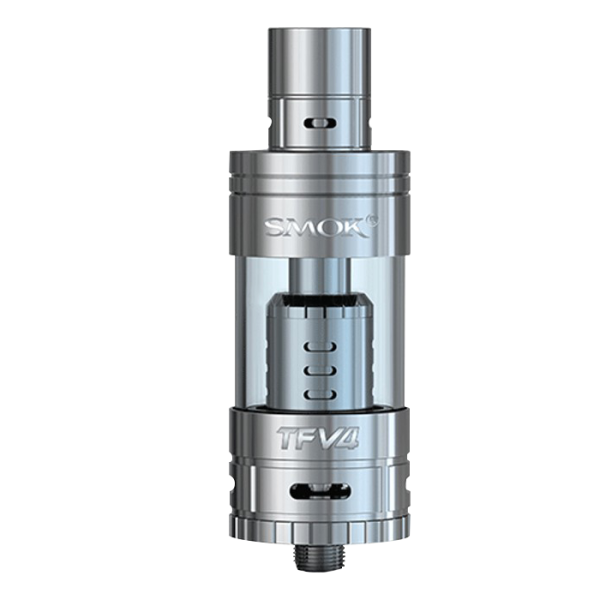 It supports RBA heads (both, single and dual), fills from the top for ease of use and has a very precise, adjustable airflow system located on the base of the tank. It is also one of the most customisable tanks available today with 10 atomizer options ranging from single coil RBA to a six coil head. A tinkerer's paradise, if ever there was one!
Smok TFV4 Sub-Ohm Tank: Best Prices From Around The Web
---
Sense's Herakles tanks are fast becoming one of the most sought after brands in vaping. The original Herakles tank was something of a beast, easily one of the best tanks on market, but now Sense has released an update and, well, it is EVEN better.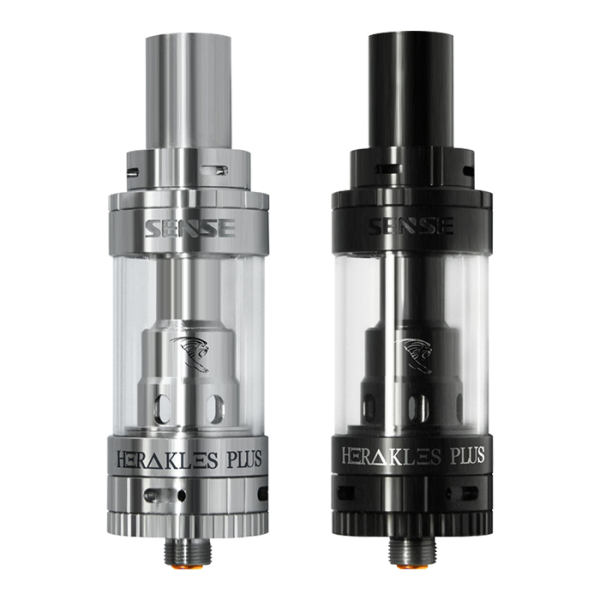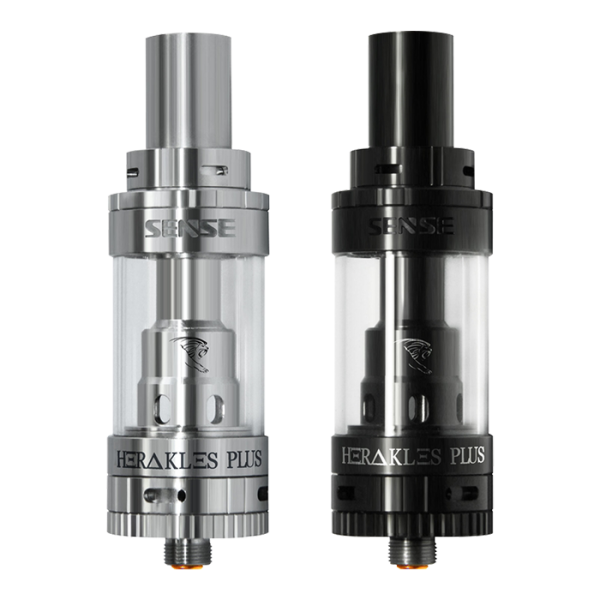 Focussing on airflow, the latest tank from Sense, the Herakles Plus Tank, sends air current directly through the coil which improves efficiency and flavour as well as keeping heat-bleed to a minimum. And, like the UWELL Crown, the Herakles Plus Tank now fills from the top as well as the bottom, making it even more practical.
For unparalleled flavour and performance, you really cannot go wrong with the Herakles Plus Tank.
Herakles Plus Tank by Sense: Best Prices From Around The Web
---
UWELL CROWN
I do love a good top-filling tank, especially when it's as well put together as the Crown by Uwell. This subtank is one hell of a fetching piece of kit, looking like a cross between a piece of jewelry and something you might find attached to the side of a Harley Davidson motorcycle. Needless to say, VB quite likes this one.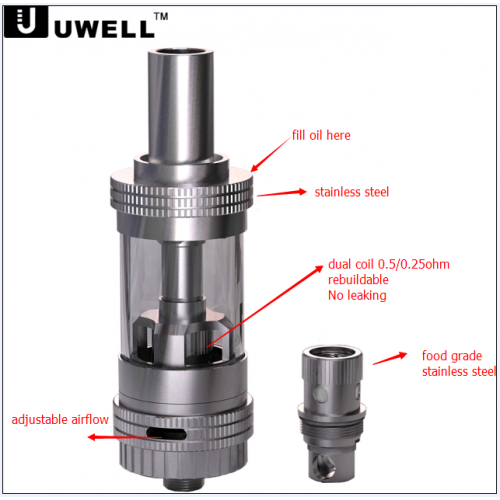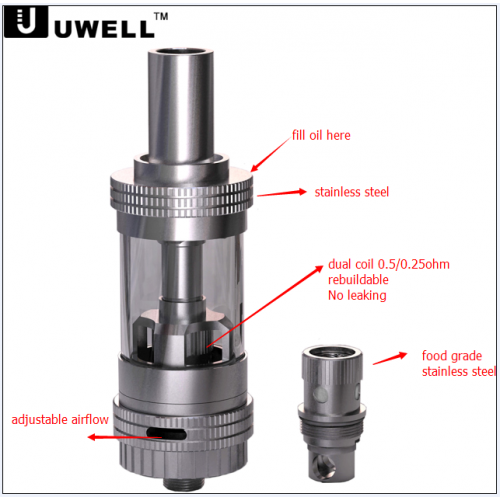 The tank itself is a top-filling setup, rare in today's marketplace, and has a capacity of 4ml. Uwell, a relative upstart in the vaping scene, produces a range of very decent coils, single and dual, which allow the tank to straddle anything from 10W right up to 120W. The tank itself is stainless steel and the coils we sampled were all 100% imported organic cotton.
This is a great setup for pretty much anybody, though you'll probably want a decent box-mod to really get the most out of it. Cloud production and flavor are excellent and, mercifully, the drip tip doesn't heat up all that much, ensuring a smooth as silk vaping experience. The price isn't bad, either – you can pick up the Crown for just £19.99.
UWELL Crown: Best Prices From Around The Web
---
Keep an eye on our social feeds — Facebook, Twitter and Instagram— for updates. Also, why you're here why don't you subscribe to our  AWESOME newsletter and be in with a chance to win a DNA 200 Mod, Tons of eJuice and a New TANK!
Do it, DO IT NOW!
The Best E Juice Guide 2017
| E JUICE BRAND | MICRO-REVIEW | RATING | PRICE | BEST PLACE TO BUY |
| --- | --- | --- | --- | --- |
| ONE HIT WONDER | OMFG! | 10/10 | $49.95 (180ML) | DIRECTVAPOR |
| ANML E JUICE | TASTY AS HELL | 9/5/10 | $29.99 (60ML) | VAPORDNA |
| DINNER LADY E-LIQUID | GORGEOUS | 10/10 | £14.99 (10ML) | UK ECIG STORE |
| VAPORFI – MULTIPLE LINES | HIGH-QUALITY-SHIZZ | 9/10 | VARIES BY RANGE | VAPORFI |
| COSMIC FOG | LEGENDARY STUFF | 8.5/10 | $23 (60ML); $44.95 (100ML) | DIRECTVAPOR |
| NAKED E-JUICE | SO VERY MOREISH | 9/10 | $21.95 (60ML) | DIRECTVAPOR |
| BEARD VAPE COMPANY | EPIC. JUST EPIC | 9.5/10 | $23.95 (60ML) | DIRECTVAPOR |
| JUICE ROLL UPZ | FLAVOUR-EXPLOSION | 9/10 | $24.95 (60ML) | DIRECTVAPOR |
| ELEMENT | EXTENSIVE LINEUP | 8.5/10 | $29.95 (60ML); $12.05 (20ML) | DIRECTVAPOR |
| FLAWLESS | LOVELY STUFF ALL ROUND | 9/10 | $24.99 (60ML) | VAPORDNA |
| VAPETASIA | LIKE LICKING A STAR | 9/10 | $23.95 (60ML) | DIRECTVAPOR |